---
Overview
In the last decade, Ghana has enjoyed strong economic growth rates and benefited from stable governance. But not all of the the 29.6 million people who call Ghana home – almost 60 percent of whom are under age 25 – experience the benefits of the country's development equally.
Ghana has areas with entrenched poverty and sustained environmental issues that create fragile pockets in the country. Relief International's role in Ghana is focused on monitoring and providing technical support to programs that address causes of deforestation.
More than 80 percent of Ghana's population relies on solid fuels such as charcoal and wood for their household cooking needs. This reliance increases pressure on local natural resources, leading to environmental degradation. Inefficient cooking practices also contribute to climate change through emissions of greenhouse gases such as carbon dioxide and methane, and aerosols such as black carbon.
Exposure to smoke from cooking is harmful to health and can lead to early childhood pneumonia, emphysema, cataracts, lung cancer, bronchitis, cardiovascular disease, and low birth weight. Smoke exposure is responsible for nearly 4 million premature deaths each year, 18,000 of which are in Ghana.
Since 2003, we've worked with local communities to develop, produce, and market a fuel-efficient charcoal stove – the Gyapa™ cookstove. This cooking solution is a safe alternative to traditional cooking methods and the toxic fumes they emit. The Gyapa, which means "good fire," cooks food more quickly, uses 50% less charcoal and is affordably priced at under $10.
The award-winning Gyapa is now a self-sustaining network of Ghanian small businesses run by our local nonprofit partner, SUDRA, and is widely acknowledged as one of Africa's leading social enterprises. More than 13,000 stoves are produced each month by 350 local manufacturers and sold at more than 600 community retailers across Ghana. As a result, "Gyapa" is now a household name in the country.
Sales growth is supported by an innovative carbon financing mechanism that uses the Gold Standard in partnership with Climate Care, a social impact company that specializes in carbon markets. Over 1.4 million Gyapa stoves have been purchased by low-income households in Ghana, saving families more than $100 annually in fuel costs and providing a safer and higher-quality cooking experience.
Our past projects in Ghana also include a USAID-funded water, sanitation and hygiene program that was implemented from 2010-2014. This robust project's successes include:
Partnering with 160 communities to connect 60,000 people to clean water through 300 boreholes, 150 hand-dug wells, two small-town piping systems and eight surface-water kiosks
Reaching 70,000 people through construction of latrines for 4,700 households and more than 100 schools and clinics
Installing sixty rainwater harvesting systems, mostly located at kindergarten, primary and junior high schools, to bring schoolchildren year-round access to clean water for handwashing and hygiene.
Today, our local partners continue to grow a thriving, climate-friendly business that's driving a drastic reduction in carbon emissions. During the Gyapa's 12 years of production, the stoves have reduced emissions of over 4.2 million tons of CO2 equivalent, which equals about 333,300 cars' annual driving emissions in the U.S.
The Gyapa also provides a reliable source of income for thousands of Ghanaians. "Gyapa has provided employment for me and my family for about eight years now," explains Addison, a producer of the stove's ceramic liners.
And that steady income is empowering families to invest in the next generation. "Our children are now in university through this work," says Lucky, a Gyapa distributor.
+

EXPAND ALL
---
Gyapa Cookstove: By the Numbers
1.9M
Gyapa cookstoves sold
$190M
saved in fuel costs to date by families in Ghana
5M
tons of CO2 equivalent cut
1K
people with increased income from producing or selling the Gyapa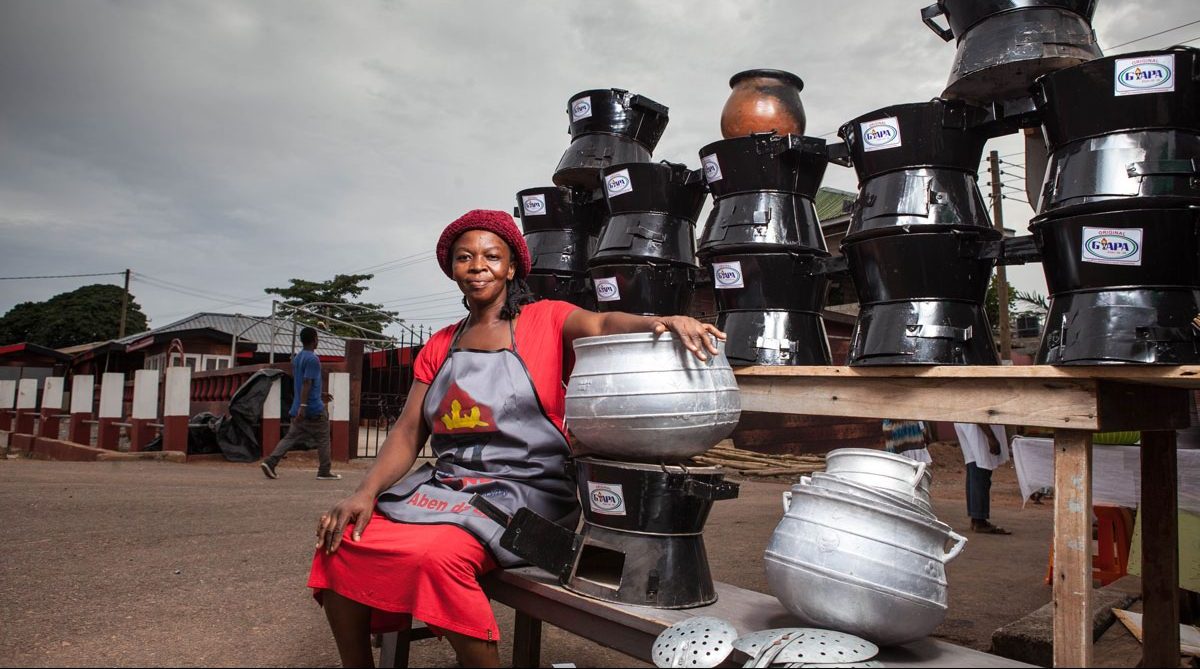 Featured Story
The Gyapa Cookstove: A Thriving, Climate-Friendly Business
Since 2007, Relief International has worked alongside Ghanaian communities and the CO2 emissions experts at ClimateCare to design, produce and sell a safer cooking solution: the Gyapa™ cookstove.
Donate to Relief International
Make a difference today
Your gift to Relief International helps us protect the environment and create climate-friendly businesses in Ghana and other fragile settings. Pathways to brighter futures filled with innovation and opportunity all starts with you.
Donate