The first 23 patients have arrived at a new 144-bed isolation and treatment center for COVID-19 cases with moderate to severe complications. Run by Relief International in partnership with the UN Refugee Agency, UNHCR, the center is the largest facility of its kind currently up and running in Cox's Bazar, providing patients from both the Rohingya and Bangladeshi host communities with potentially life-saving care.
Two ambulances are collecting desperately ill people who have tested positive for COVID-19 at any of the numerous testing stations throughout Cox's Bazar. As the virus spreads throughout the refugee camps, where some 860,000 people live in cramped and unhygienic conditions, the number of admissions to the center is expected to quickly escalate.
"It is a ticking time bomb," said Alejandro Agustin Cuyar, Relief International's Cox's Bazar Program Director, "The refugee camps are intensely over-crowded, with shared water sources and communal toilets and washing facilities, so preventing viral transmission is near impossible. Once the virus takes hold, it will be incredibly challenging to flatten the curve, so we are gravely concerned the numbers needing treatment will soon be overwhelming."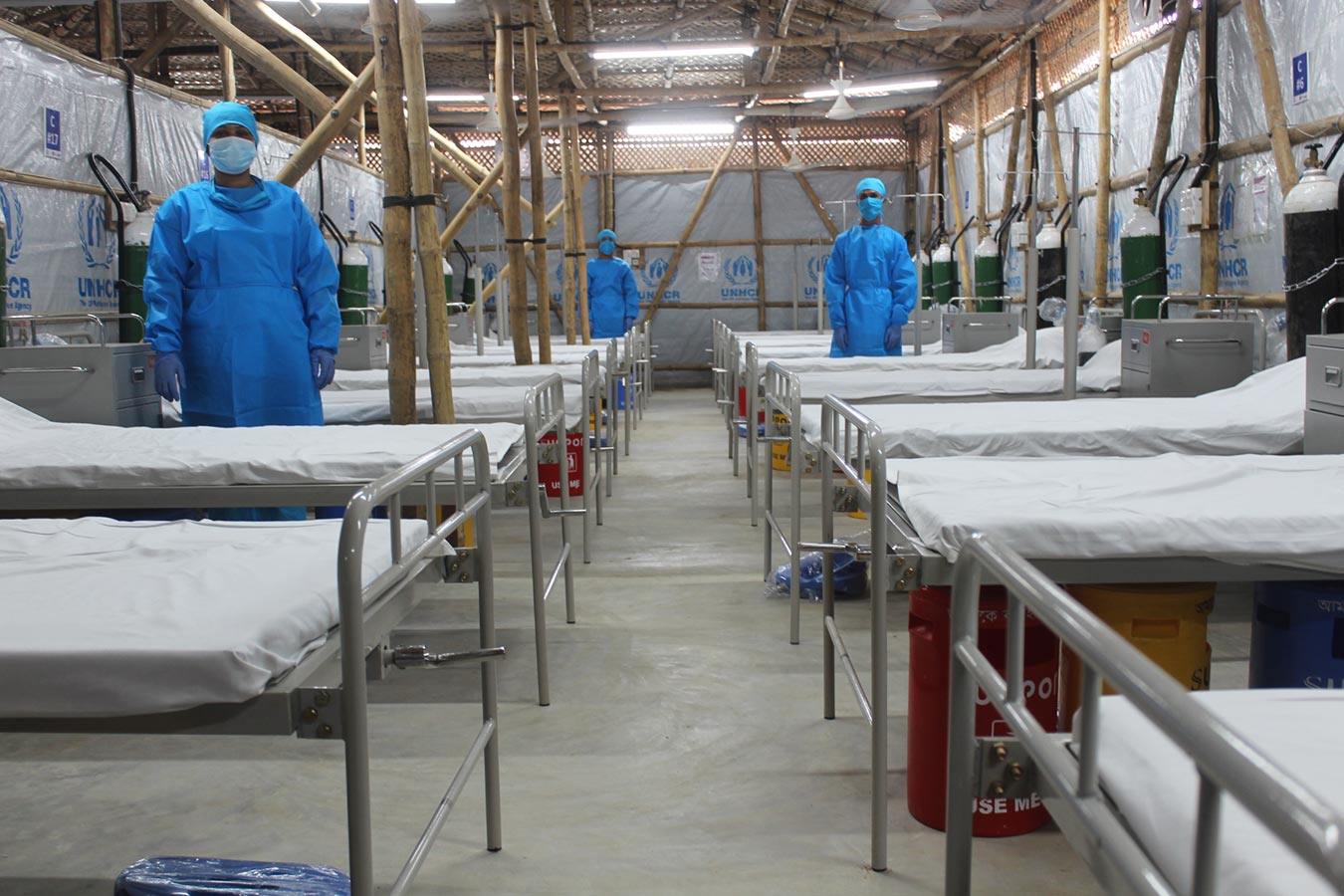 Aiming to be operational before the outbreak was widespread in the region, the isolation and treatment center opened on May 26, only one week after the first confirmed case of COVID-19 inside the camps. It has four wards – with separate urgent treatment and recovery wards for both males and females. There are also ambulance docking stations, a maternity delivery suite, and a morgue with a family viewing room.
With meticulous procedures in place to mitigate contamination risks, all 212 staff – including doctors, nurses, pharmacists, cleaners and security guards – underwent rigorous health and safety training. Frontline teams completed numerous dry runs, donning and doffing personal protective equipment (PPE) through designated contaminated red zones for patients and low-risk green zones, in preparation for the intake of patients.
This is the first step in an overall effort by the humanitarian community to provide 1,900 treatment center beds in Cox's Bazar, in support to the Government of Bangladesh, as well as isolation centers, quarantine facilities, and an intensive care unit in Cox's Bazar hospital. Additional measures are being established to provide homecare to up to 75,000 families within the camps with less severe symptoms.
In the camps, Relief International has transitioned facilities to provide two COVID-19 health posts and a primary healthcare center, offering frontline support, immediate treatment for less severe cases, and making referrals to other services when necessary. Mobile medical teams will be visiting affected households to deliver home care and trained refugee community health worker volunteers will be identifying new COVID-19 cases.
Relief International's Alejandro Agustin Cuyar continued: "Relief International teams have been working nonstop to mitigate the spread and impact of the outbreak, and help save the lives of Rohingya refugees and local Bangladeshis who contract COVID -19. Only time will tell how much damage the virus will wreak. We've prepared for the worst, and are hoping for the best."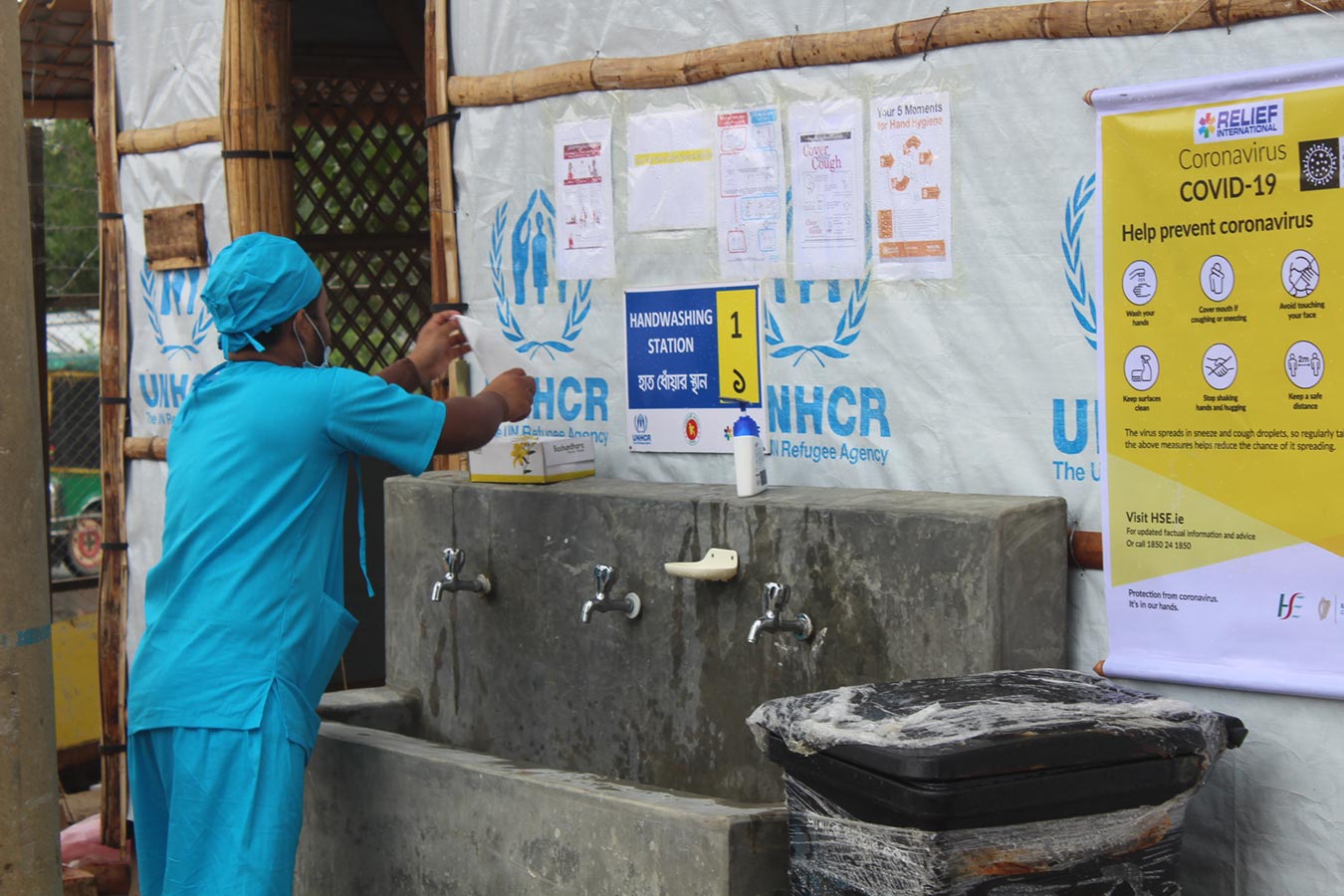 ****
Notes to Editors
Photos of severe acute respiratory infection isolation and treatment center available.
Spokespeople available in Cox's Bazar, Bangladesh:
Alejandro Agustin Cuyar, Cox's Bazar Program Director at Relief International

Patricia Azikiwe, Health & Nutrition Program Manager at Relief International

Benjamin Larned, Program Manager at Relief International

For photos or to organise interviews, please contact:
Kay Ali on [email protected] or +44 7947 396 616
Kathleen Prior on [email protected] or +44 7534 909 145
To get the latest updates or make a donation to Relief International's COVID-19 response in fragile settings around the world, including Iran, Afghanistan, Philippines, and South Sudan, visit: https://www.ri.org/coronavirus