"In late February, when cases began to skyrocket across Iran, we realized that the country was on the verge of becoming an epicenter for COVID-19. That's when we quickly began to ramp up our response by importing tens of thousands of masks, coveralls, testing kits, and other medical supplies to protect frontline health workers. We knew we had to be ready for an uphill battle."
Iran is a country we know well – Relief International has worked here continuously for thirty years responding to major natural disasters, including the Manjil Rudbar earthquake in 1990, and subsequent earthquakes and floods in recent years.
Because of our long history responding to humanitarian emergencies inside the country, our teams know how dangerous a major outbreak of COVID-19 could be for Iran's health system and in the lives of the people we serve.
Providing Medical Supplies for Frontline Health Workers
My biggest concern with the COVID-19 outbreak was the increased demand for personal protective equipment, or PPE, in the very early days of the pandemic. At that time, there was a huge shortage of masks, gloves, and hospital coveralls worldwide.
We faced the additional difficulty of importing these supplies into Iran as strict international sanctions can make vendors wary of working with us – or delay shipments of life-saving gear for days, or sometimes weeks, as they undergo internal vetting procedures. All health workers need personal protective equipment in order to work safely, but with such a limited supply the prices skyrocketed. Even for Relief International, this shortage was a huge challenge in the early days of our response.
Despite these roadblocks, Relief International has imported tens of thousands of PPE into the country. One of our most recent deliveries was to the Iran University of Medical Sciences, which oversees the COVID-19 response in western Tehran. We delivered 1,000 PPE kits — each kit contains a mask, gown, a large bottle of hand sanitizer, shoe covers, and a pair of gloves — which are essential to protect nurses, doctors, and health workers treating patients who have tested positive for the virus.
My team also delivered 40,000 testing kits to Pasteur Institute of Tehran. Increasing the availability of testing kits is crucial for the quick identification of cases, speedy treatment for those who have tested positive, and immediate isolation to prevent the spread of the virus.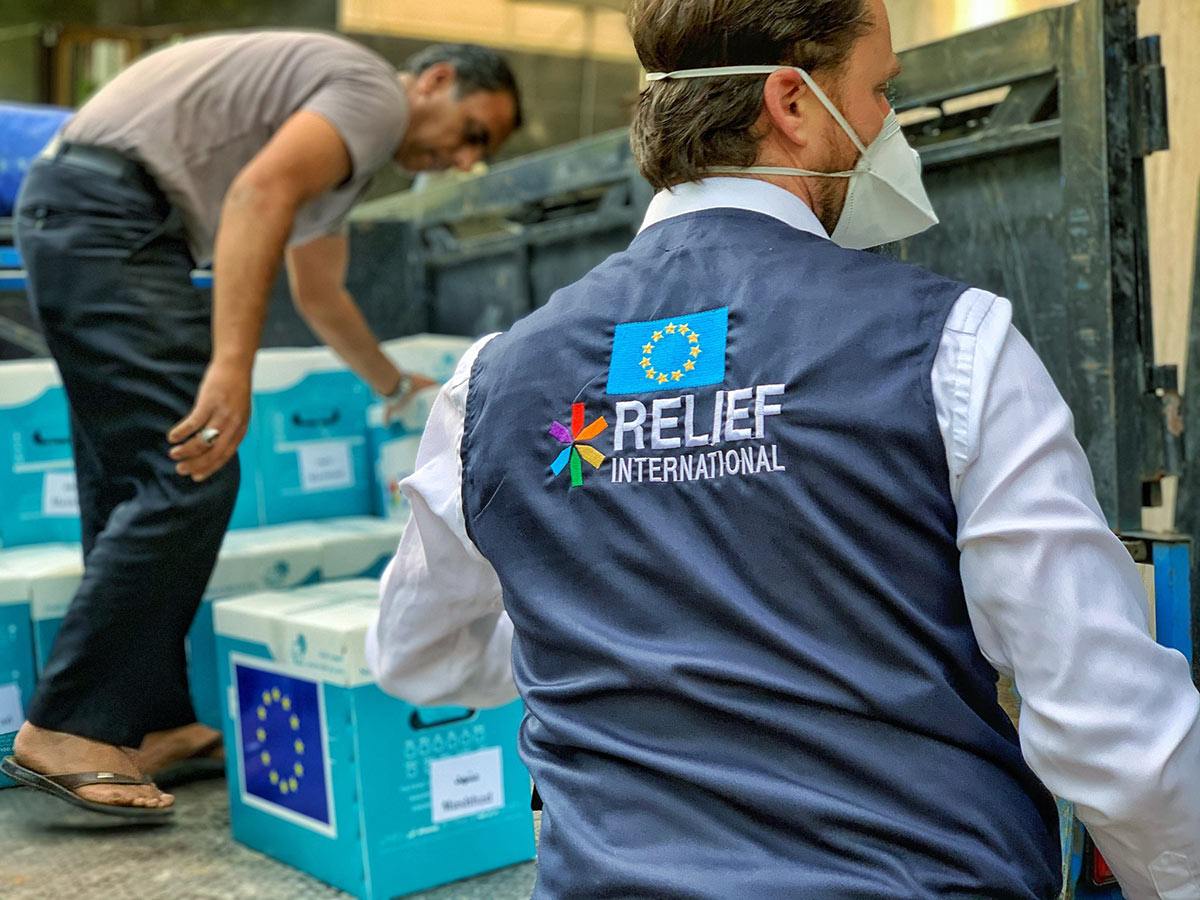 Producing Medical Gear Locally Inside Iran
As COVID-19 cases continue to rise in Iran, so does the urgency behind protecting frontline health workers so that they can do their jobs safely. To meet this growing need, we've launched a program to produce more of these protective supplies locally so that we can deliver them to frontline health workers in record time.
Our new workshops provide Iranian women and Afghan refugees with the opportunity to use their tailoring skills to produce high-quality masks and hospital coveralls needed by healthcare workers, while earning enough to support their families during this difficult time.
Providing Critical Cash Assistance for Displaced Families
Major disease outbreaks often require that measures be prioritized in order to save lives, but healthcare represents only a fraction of the needs on the ground in COVID-19 hotspots. Unemployment, school closures, and an economic downturn all add serious burdens on the people we serve.
My team is ramping up our multi-purpose cash assistance to families living in vulnerable situations in Iran, so that they may meet their most urgent needs.
And we are not stopping there: we are continuing to reach out to families in the city of Mashhad – home to the largest Afghan refugee population in the country– to offer information about cash distribution and determine eligibility for the program.
Decreasing Barriers to Education
My team in Iran has been supporting schools in the suburbs of Tehran for the past several years, striving to increase access to quality education. During the pandemic, we have delivered new textbooks, white boards, desks and other learning materials to under-resourced schools so that they may be ready to welcome students and teachers back once it is safe to do so.
The safety of students and staff remains our top priority, so we have arranged these supplies in accordance with proper social distancing guidelines to protect against the spread of COVID-19.
Fighting Disinformation about COVID-19
While Iran offers world-class healthcare to its citizens, we are concerned that the pandemic has begun to overwhelm the country's healthcare system over the past five months.
This has caused some to see hospitals as a potential zone of infection. Many people are delaying seeking medical attention until their symptoms become life-threatening. My team in Iran is working quickly to dispel their fears and to raise awareness for how families can protect themselves against the spread of the virus.
As I write this, my team has delivered more than 9,000 bottles of hand sanitizer to Afghan refugee settlements in Kermanshah, Khorasan Razavi, Markazy, and Yazd. We have also reached more than 6,000 families in settlements with guidance on preventative measures, such as how to properly wear a mask and how to practice social distancing.
I hope the pictures below, featuring my team and myself, will further highlight the various ways in which we are working hard to respond to the coronavirus outbreak in Iran and to provide much-needed support.
Photo Gallery