Over the last 40 years, more than 3 million Afghan refugees have fled the war in their native country to seek shelter in Iran. Their large number, however, puts pressure on the country's ability to provide essential services such as mental health treatment and formal and informal schooling.
Refugee children face many challenges, including lack of access to education, family's ability to afford school-related expenses, cultural barriers, discrimination, forced child labor, mental trauma due to the loss of loved ones, displacement, safety, and difficult journeys they take to seek food.
RI supports these children at the Multipurpose Service Centre in Golestan, an urban region east of Tehran with a high population of Afghan refugees. The Centre, managed by RI's national partner organization PDA (Pars Development Activists), provides a platform to build preventive awareness, delivers a safe space for girls and women, and assists Afghan refugees in improving their overall well-being.
The Centre also provides a one-stop information point, providing children with informal education and extra-curricular activities, life skills, and digital and computer skills at no cost.
"We draw and paint together. Everyone in the Centre is kind to me here," says Zahra
Since the establishment of the Centre in 2020, Relief International has assisted 1,036 people – helping them recover, get back on their feet, and reintegrate into their communities.
"When we first arrived in Gorgan, everyone told me to visit the Centre because they would support us in being introduced to Bureau for Aliens and Foreign Immigration and benefiting from registration services provided in the center, as well as classes for my children and free consultation services," says Maryam, one of the women attending the center's consultation sessions.
"The majority of the children that come to this center are experiencing difficulties at home and in their families," says Mr. Tajari, the Centre's manager. "In the hours that the children are at this center, we aim to make it a fun place for them."
The Centre includes a computer lab where children learn computer skills, an English language class, an art studio where children learn to draw and paint, a playroom, and a playground where they learn how to ride bicycles, exercise, and grow their talents.
These facilities provide a safe environment for children to engage with other children, develop a feeling of belonging, and learn essential life skills to shape their lives and contribute to their community.
"Because Afghan students had language issues and couldn't interact with Iranian classmates, they couldn't play together at first, and we didn't obtain good feedback in group work," says Ms. Sarjami, one of the center's psychologists.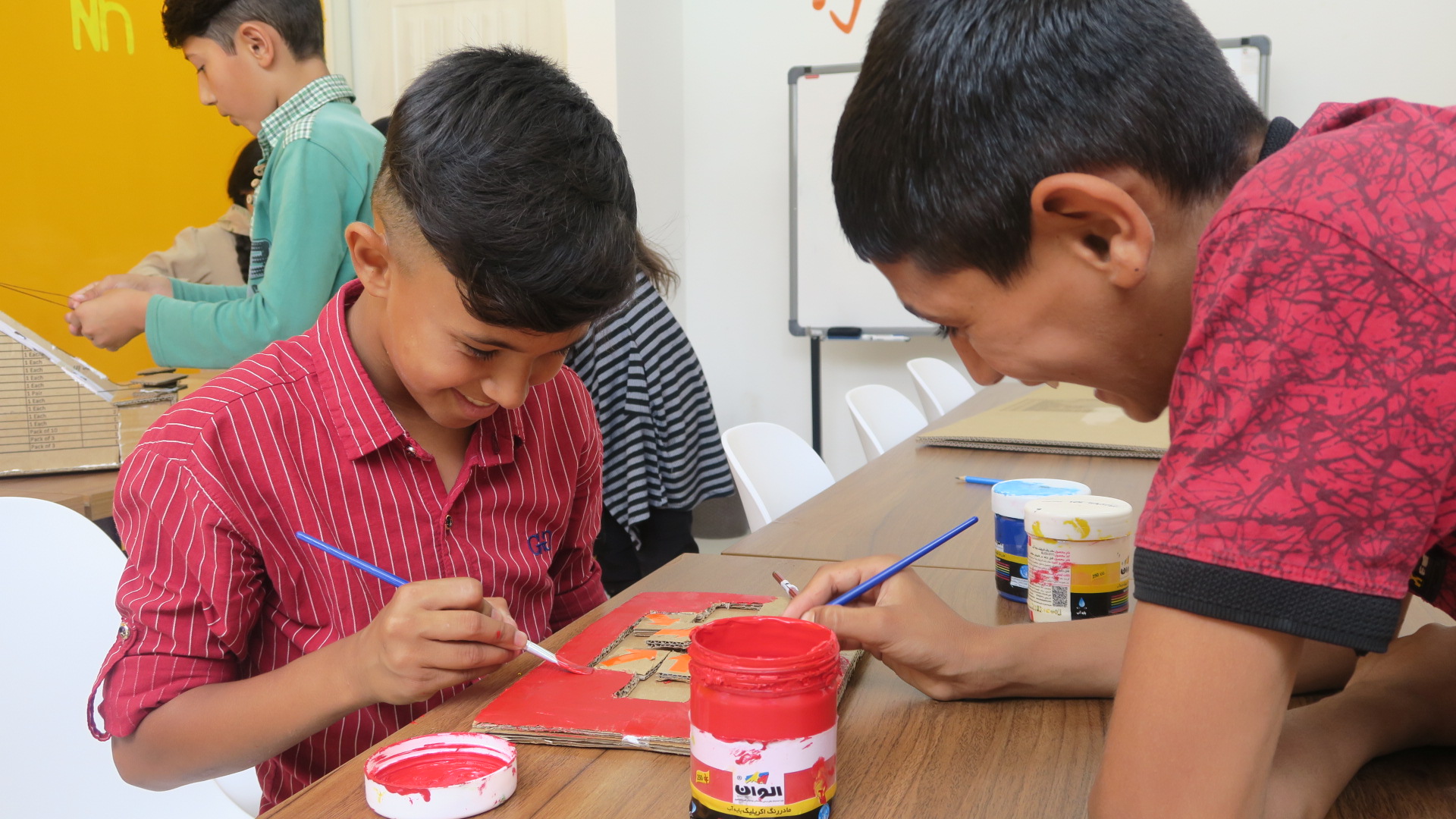 "We increased the number of group games in the classroom so that students had to communicate and make friends. We could see the difference after a while. The students began to get along better, and we saw a better classroom atmosphere," adds Ms. Sarjami.
"One of our aims is to teach children to value their environment and nature. Therefore, we take them out occasionally to collect trash and plant seedlings to teach them how to care for the environment," says Ms. Bayan, Golestan Centre Teacher.
"Our activities are not only for children; we also conduct classes for Afghan women. They take classes in embroidery, handicrafts, language and literacy, and so on. We also have psychologists that assist Afghan men and women who require expert consultation," says Mr. Tajari.
With an aim to build economic self-reliance among women, Relief International also provides vocational training at the Centre. Here, women learn how to sew leather, embroidery, tailoring, and computer skills. During their activities, they share experiences and advice one another on how to resolve problems and address challenges affecting them.
Relief International also provides mental health and psychosocial support services for women at the Multipurpose Service Centre, such as counseling, therapy, and recreational activities, to help in healing, reduce stress and anxiety, and promote overall mental well-being.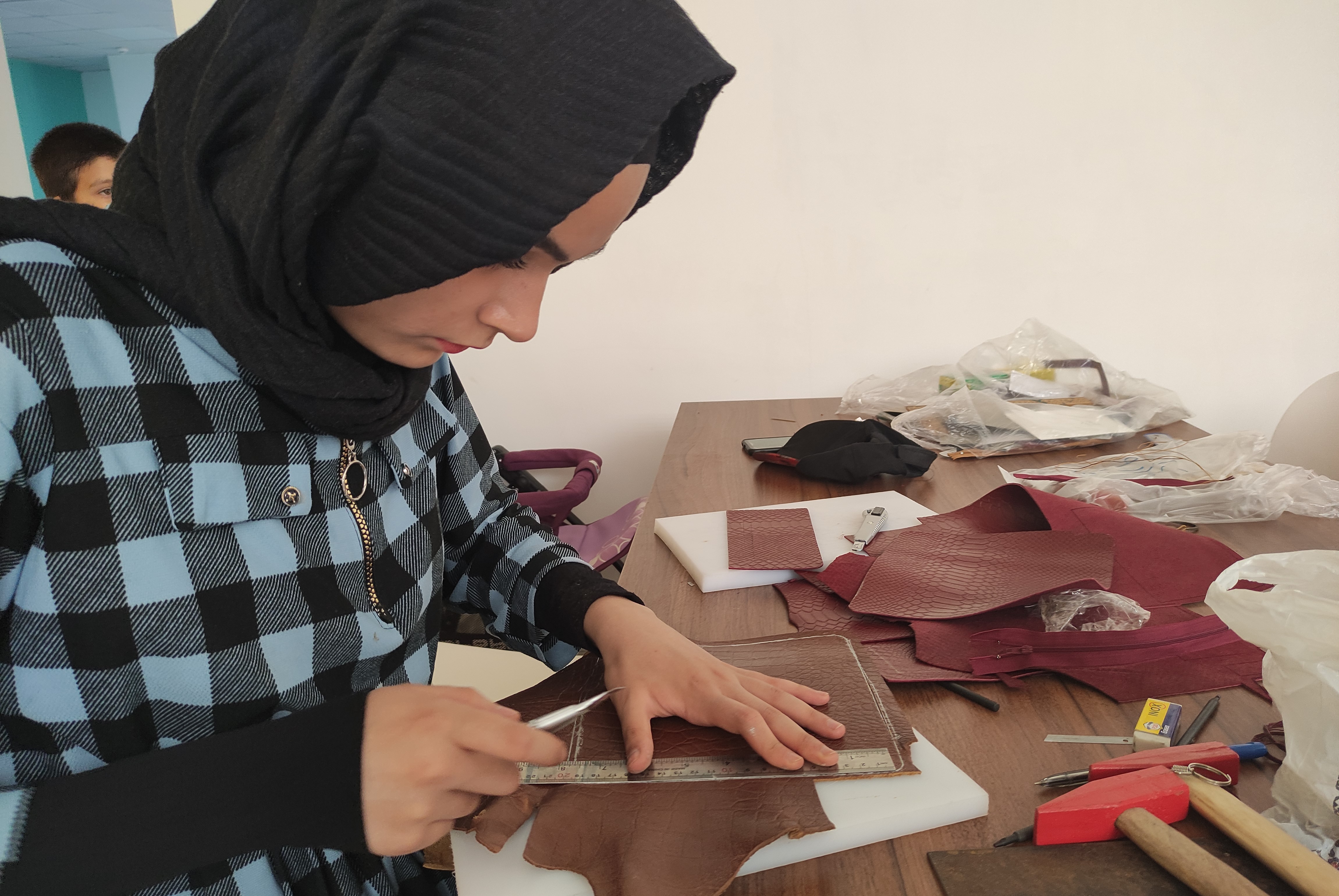 "During an event held in the park by Multipurpose Service Centre, we sold all the bags we had made. I was overjoyed to make money with my work and skills," says Mina, one of the Afghan women who participated in the handicrafts workshop.
RI and national partners jointly organize community events, sports, and cultural exchange initiatives to promote social cohesion and strengthen awareness and integration among refugees and host communities.
"The sustainability of these services is critical, as this place serves as a community for Afghan refugees and families. They see this center as a haven for themselves and their children. The continuance of the activities and programs depends on the financial assistance provided by Relief International," says the manager of the Centre.