"When we help a child to walk again, we return the laughter to them," says Fatima, a prosthetics technician working in Relief International's specialist center in Turkey. "When I see a child that I worked with playing in the park with their parents when they had not been able to do so before – it really touches me."  
Fatima works at the National Syrian Project for Prosthetic Limbs, a modest but miraculous center in Turkey, located just one mile from the border with Syria where refugees are receiving treatment for devastating war injuries. 
More than 86,000 Syrians have lost limbs as a result of a decade of civil war and many of them have limited or no access to the medical care they need. This center provides life-changing prosthetics and orthotics, as well as extensive physical and psychosocial therapy.  
Relief International NSPPL Center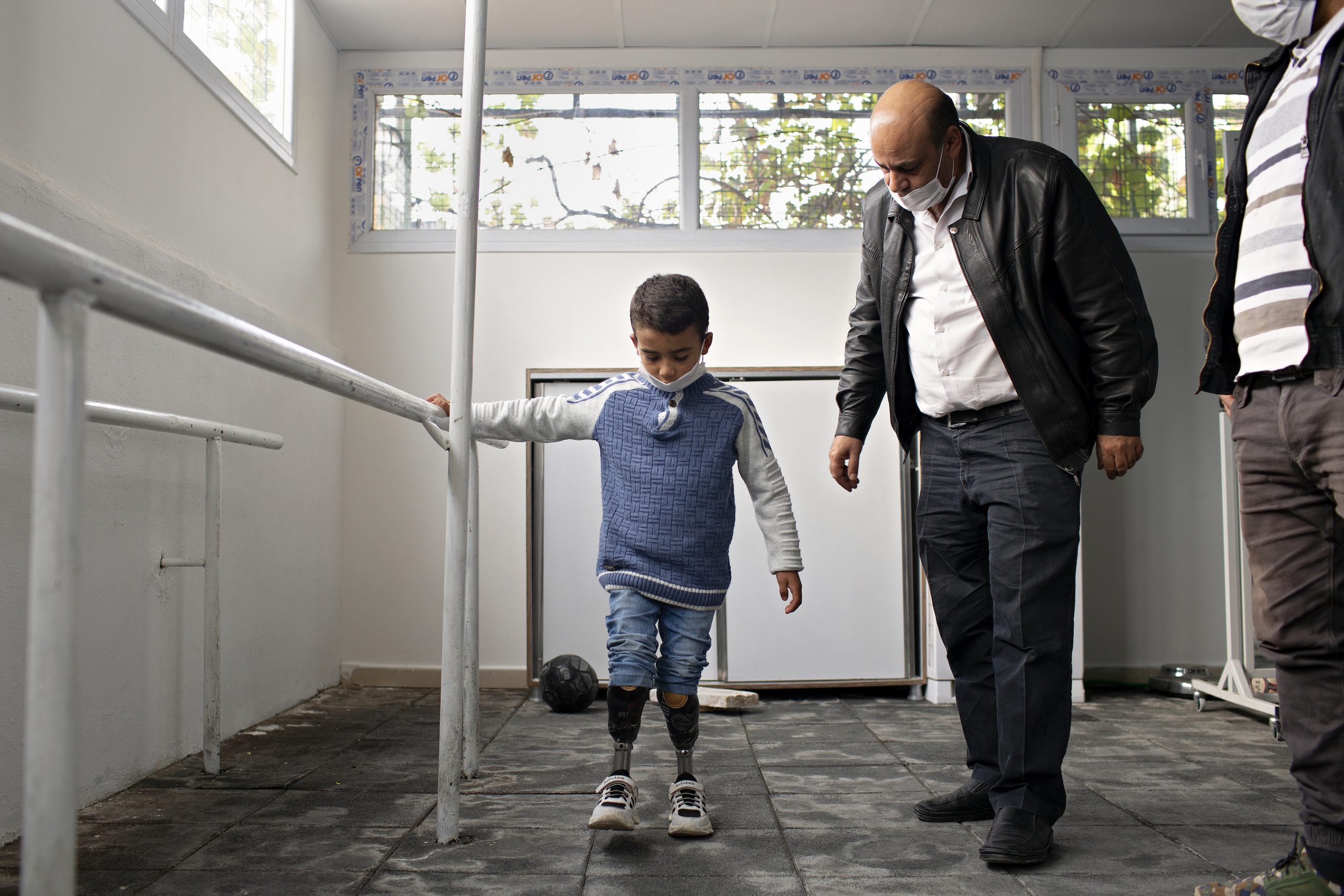 Relief International NSPPL Center
Fatima, like most of the staff at the center, is a Syrian refugee and was trained as a prosthetics technician at the center. Every patient at the clinic has their specific needs carefully assessed by Fatima and the rest of the team. The prosthetics are handmade in the workshop and the whole process takes 15 days. 
From first meeting to discharge takes an average of 50 days, including over 40 hours of physiotherapy, as well as fittings and counselling sessions.  
Fatima remembers working with Hassan, a little boy who lost both his legs in an explosion when he was just two years old, and had become a very withdrawn child.  
She says, "His parents would tell me he didn't use to be like this, he would interact with the family. They struggled to help him understand and accept his condition. When he wore his legs the first times, he would pull them off and throw them, as if he was saying 'I don't want this.' But now, he wears them everywhere and almost sleeps with them!" 
A multidisciplinary team consisting of a psychologist, physiotherapist and prosthetics technician supports each patient to prepare – both mentally and physically. Fatima takes careful measurements and tailors the casts for a perfect fit while the physiotherapist works with the patient to build muscle and increase range of motion in preparation for the prosthesis. Meanwhile, the psychologist works to support the person mentally, to accept the idea of a prothesis, to manage their expectations and help them recover from the trauma of the injury.  
"Since Hassan had been able to walk before, it was hard for him to adjust. He had lost the ability at such a young age, but we encouraged him and little by little he got better. He started going to school. He no longer takes them off – he wears his legs wherever he goes. 
"Seeing this gives me a sense of satisfaction and pride in my work – and in what I have accomplished. It pushes me to further my knowledge to benefits patients better."  
Relief International has been supporting the center where Fatima works since 2017. Since then, the center has provided prosthetics and orthotics for 827 people, many of them children. This support includes over 7,500 physiotherapy sessions. Despite Covid-19 the NSPPL center has stayed open safely and continues to support Syrians every day.   
This March, we are highlighting the lives and stories of Syrians affected by a decade of war. Fatima's story is part of this series.