Through the sharp pains of labor, Kadija listened intently as a Relief International midwife disclosed that her baby was transverse, or positioned horizontally. While many babies are sideways during the early weeks of pregnancy, few remain this way when labor begins. This position is incredibly dangerous for both mother and child, even under the best of circumstances.
Relief International is one of the leading providers of healthcare in Yemen. Over the past six years, our medical teams have routinely seen the most severe maternity cases because of women's limited access to routine primary healthcare and prenatal services.
The war in Yemen, which escalated in March 2015, has shuttered the country's healthcare system. Hospitals and health clinics have been damaged or destroyed by the fighting. The country's remaining health facilities are severely under-resourced, suffering from shortages of essential drugs, medical staff, and basic equipment like incubators. Without access to these critical resources, the lives of millions of patients remain in a precarious balance.
In Yemen, one mother and six newborns die every two hours due to complications during pregnancy or birth.
Safer births in Yemen
This time last year, Kadija, 35, readied herself to welcome her fifth child. In the quiet morning hours on January 15, she felt the familiar pains of labor. After a relatively problem-free pregnancy, Kadija hoped for an easy delivery without any complications.
While medical needs in general are high across the country, mothers and their young children bear the brunt of Yemen's prolonged crisis. In a country defined by a humanitarian crisis, one out of every 260 women dies during pregnancy and childbirth, and one out of 37 newborns dies in its first month of life.
For Kadija, who lives with her husband and four daughters in a remote village in Yemen's northern Amran governorate, life has grown increasingly difficult as the war drags on. Her husband, Jemal, works part-time as a farmer, earning $3 USD per day. This was the only job he could find. Given the family's severely limited resources, Kadija could not afford pre-natal care and did not see a doctor during her pregnancy until she went into labor.
After receiving the distressing news about his wife's pregnancy, Kadija's panicked husband started calling family members to update them on her condition. He also searched for ways to find her the medical attention she needed. Fortunately, Kadija's brother had heard from fellow community members about an obstetrics ward run by Relief International at the local district hospital. Together, they worked to arrange for a car to transport Kadija there for immediate care.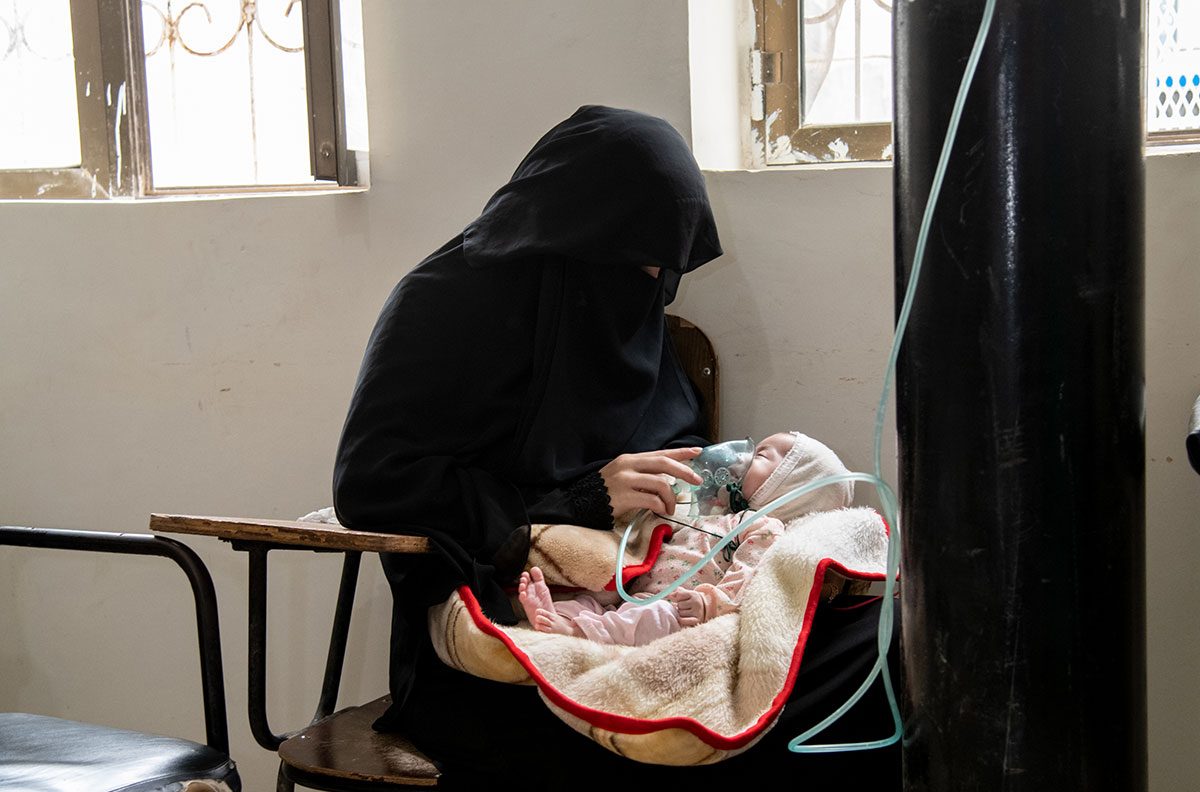 Relief International established an obstetrics ward at the Amran district hospital in early 2019 to improve the availability of maternal health services for approximately 90,000 women living in this fragile pocket of the country. Our staff assists expecting mothers during all stages of labor and delivery. These services are provided to patients free of charge.
Once Kadija arrived at the hospital, our teams immediately prepped her for an emergency caesarean section. Much to her family's relief, the operation was a success. Her newborn daughter, Amal, whose name means "hope," was placed in the hospital's first incubator installed by Relief International just hours before, where nurses monitored her vitals.
Three days later, Kadija and her healthy new daughter were discharged from Relief International's obstetrics ward.
Being born into fragility
This month marks Amal's first birthday.
She was one of the lucky ones in this setting – brought into the world in a safe, properly equipped hospital and cared for by a team of highly skilled medical staff. But like other children born in Yemen, she will face unimaginable hardships over the course of her life. While Yemen is no longer on the brink of famine, hunger still stalks millions of people, with its effects felt strongest by children.
"Every day, the situation in Yemen has only worsened," shares Relief International's Regional Director for the Middle East Johan Lefebvre Chevallier. "The people of Yemen cannot afford for this war to go on."
*Names changed to protect identity.