Since the start of the Syrian conflict, which escalated in 2011, more than one million children have been born in exile as refugees. Thousands of these children are now living in Jordan, growing up in one of the most challenging settings in the world for a young child: a refugee camp.
The largest of Jordan's refugee camps, Za'atari, has evolved from a makeshift campsite to a bustling micro-city with its own economy. More than half of the 80,000 refugees that call the camp home are children.
For years, community members in the Za'atari refugee camp wished for a safe place for their young children to play together. "Before the center opened, most kids stayed at home in their caravans, isolated from other children their age," shares Sabah Abdulrazeq, 29, Relief International's Nursery Facilitator in Za'atari Camp. "Now, these children have a space all their own where they can learn, take their first steps, and make new friends."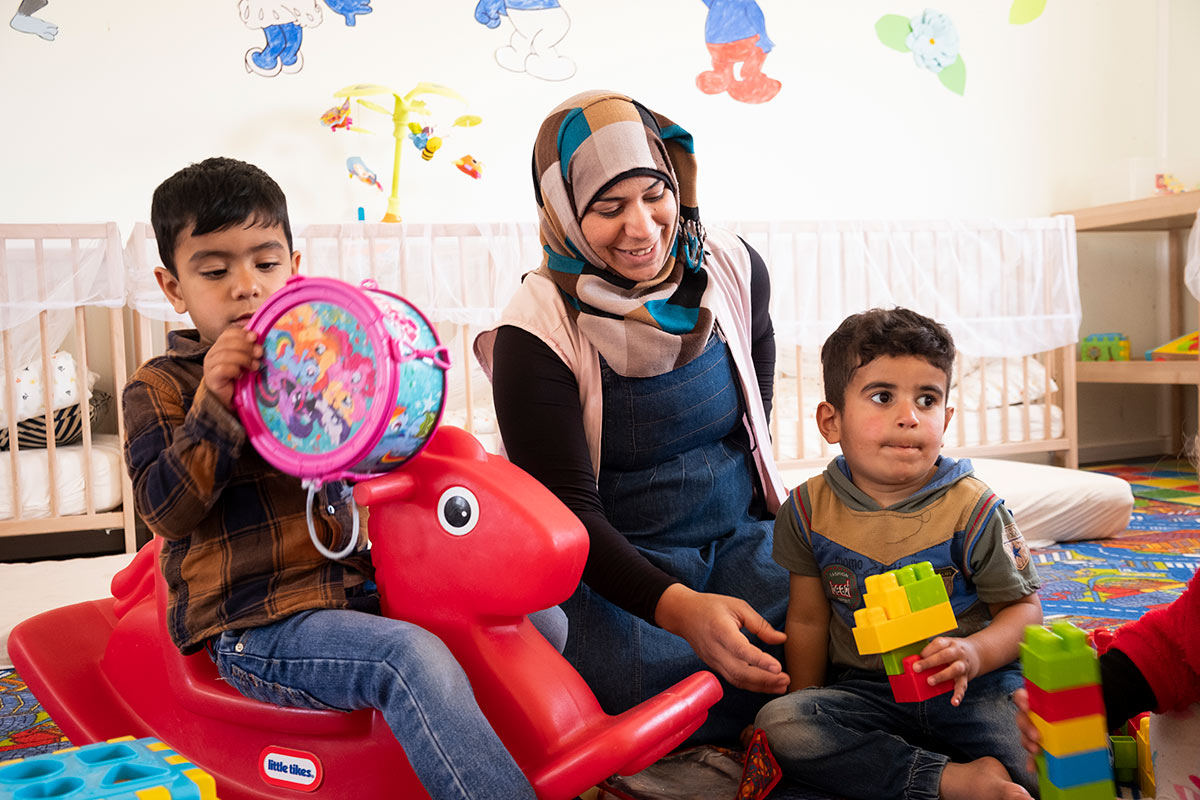 In 2018, Relief International opened an Early Childhood Development Center in Jordan's Za'atari and Azraq refugee camps. These early learning centers offer safe spaces for nearly 300 children, ages 0 to 5 years. Unlike most other centers, we accept children from birth to ensure their mothers and caretakers can resume their education or work responsibilities as soon as possible.
As one of the leading providers of education for Syrian refugees living in Jordan, our teams are acutely aware of the need for adequate childcare in both camps. Many students enrolled in our remedial education courses, Drop Out program, and Tawjihi prep course are either married with children or serve as the primary caretakers for their young siblings.
"These centers are so much more than daycares – they are a lifeline for students," shares Sabah. "Without these centers, the women and girls enrolled in Relief International's Drop Out program would have to put their educations on hold indefinitely to raise their children or younger siblings."
These early learning centers offer young students the support they need to continue their studies, while ensuring their children are well looked after. The centers are located just steps away from Relief International's classrooms, making it easy for young mothers and caretakers to drop off their children before class, visit them during breaks, and pick them up after study groups.
"This work takes heart. These kids have become like my kids. If they're absent, I miss them." –Sabah Abdulrazeq, Relief International's Nursery Facilitator in Jordan's Za'atari Camp
While her oldest child is too old for the program, Sabah sometimes brings her younger son Mohammad, 4, with her to work when her husband or family members cannot look after him. Mohammad suffers from a brain tumor, which is incredibly sensitive and requires around-the-clock monitoring.
"It's clear that he's not as developed as his peers, but he knows how to say Mama, Baba, and some others words," shares Sabah. "The teachers at the center help him to learn new words every day. The support he receives in the early learning classroom helps him to feel the same as any other kid his age." Sabah welcomed her third child, Malak, in August 2019. She also joins her at the center each day.
Photo Gallery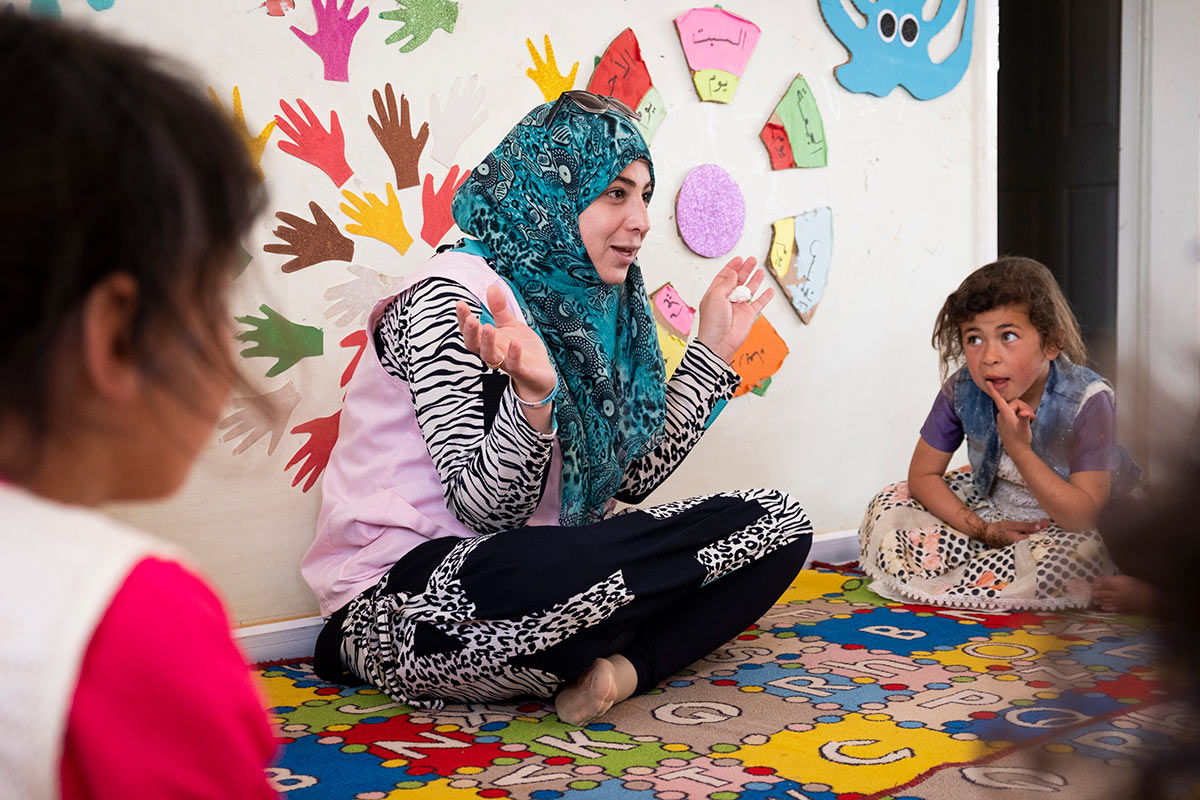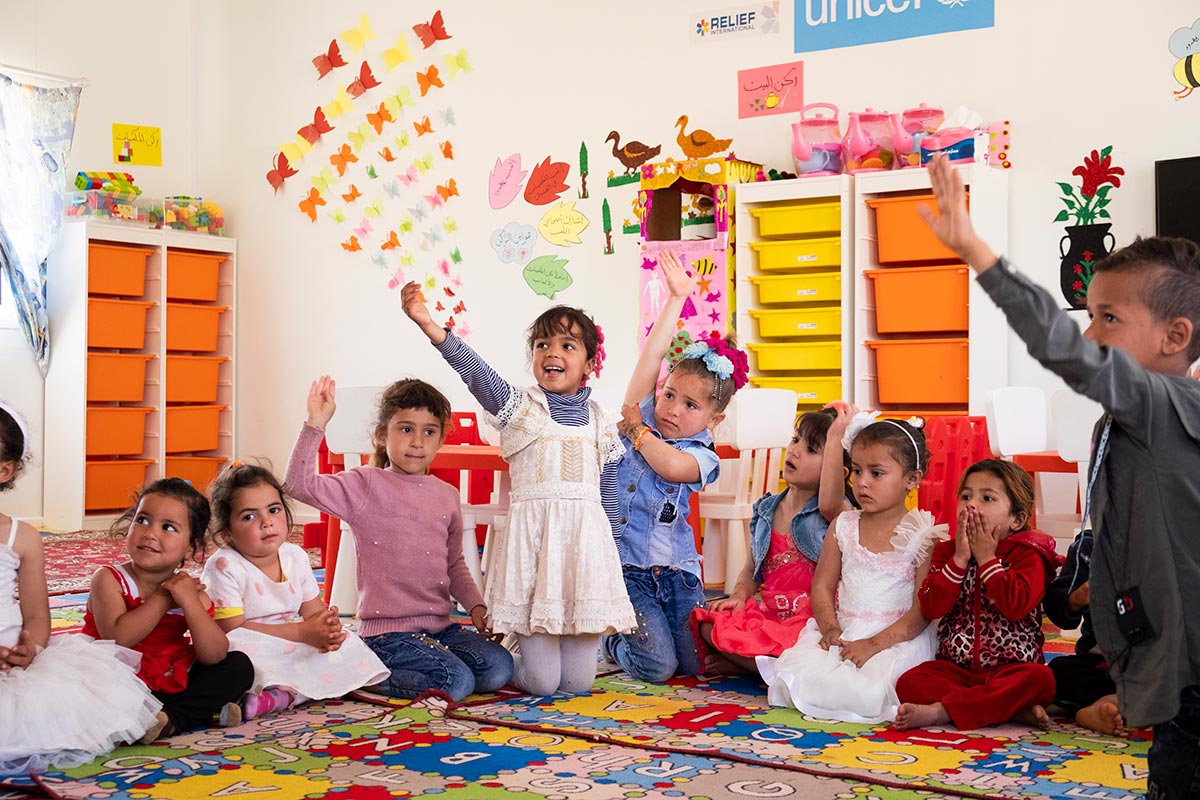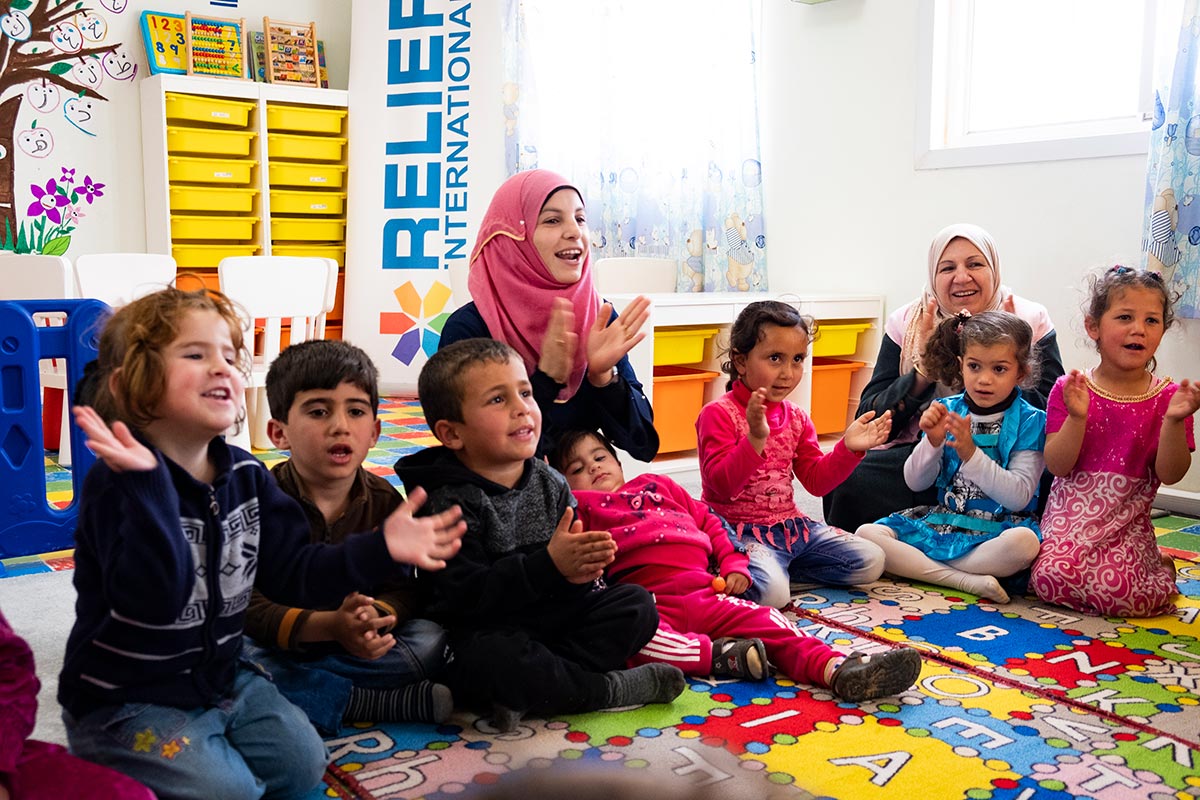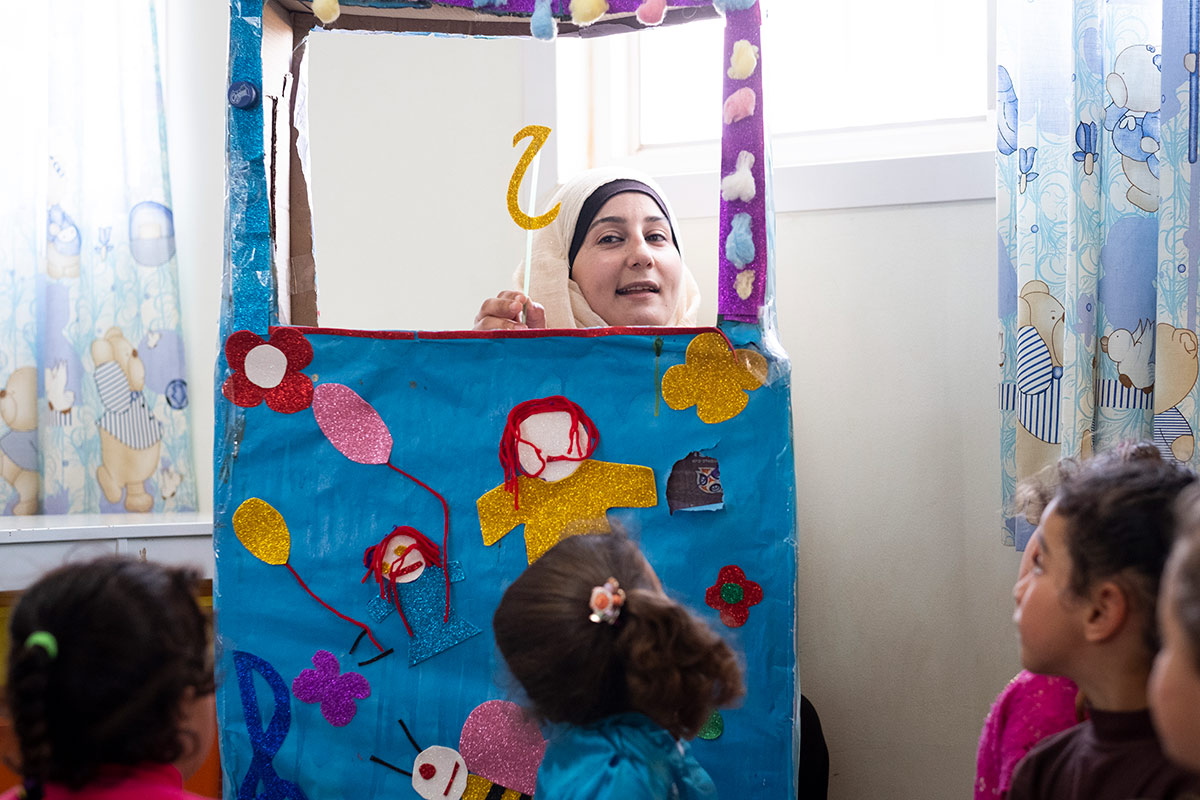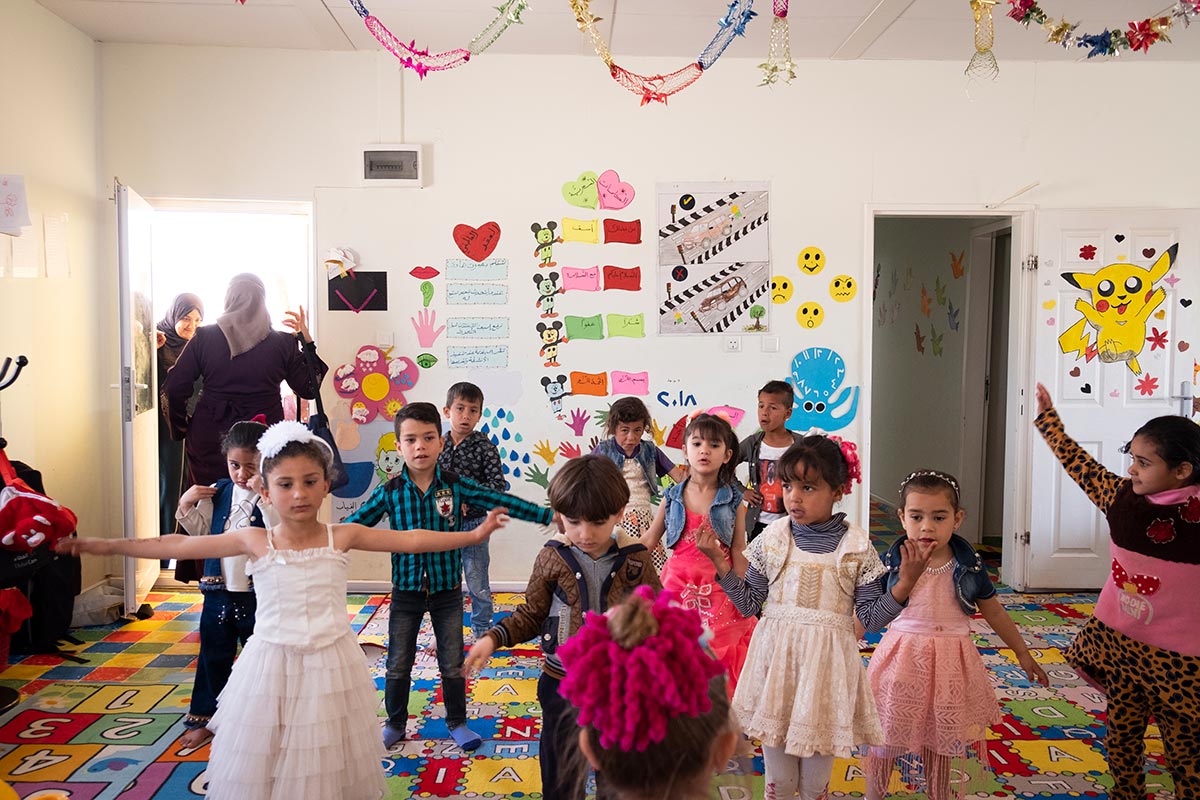 Relief International's early childhood development programs are the foundation for lifelong learning and wellbeing, and utilize play-based activities and lessons to prepare the youngest generation of Syrian refugees for kindergarten. Play offers refugee children a chance to overcome past trauma, learn, and connect with other children their age. These are some of the only child-friendly spaces in the camps that offer the youngest Syrian refugees a place all their own – a place where a kid can just be a kid.
When children enter the center, they soon become lost in a world of make believe, filled with costumes and props that let them be superheroes or throw a tea party for their imaginary friends. "We are constantly working to invent new activities for the kids – everything from hopscotch to puppet shows to synchronized song and dance routines. These activities all help the children discover the world around them and imagine a future filled with possibility," shares Sabah.
Many parents have already noticed tangible improvements in their children's behavior since the centers opened two years ago. For Amin Alshalabi's family, who arrived in Jordan's Za'atari refugee camp in 2013, the center has had a tremendous effect on his daughters Bessa, 3, and Fatemah, 2.
"It's incredible to see how much they've learned over the past six months," Amin shares. Prior to enrolling in the program, Bessa and Fatemah used to get very bored sitting in the family's caravan all day. "Now, they're excited to wake up in the morning to go to the center and see their friends and teachers," he says. "They've started to learn the alphabet, numbers, and even small skills like brushing their teeth in the morning. They even teach us some new things when they come home! I love seeing that my girls are learning and I hope maybe one day they will be more educated than me."