"I like my friends here. I like playing games like hide-and-seek and tag with them" says Omer, a 10-year-old Syrian refugee living in Reyhanlı, Turkey, with his family.
Omer's life is good in Reyhanlı. Omer likes the nature in the area, and enjoys painting landscapes. He likes wandering outside, and loves watching the trees sway and clouds move in the sky.
He enjoys studying and does well at school. "I would like to be an architect and construct a big castle for my family."
Before moving to Turkey, Omar's life in Syria was difficult. Children in Syria continue to suffer the effects of the ongoing war. In 11 years, 12,000 have been injured or killed.
Omer is one of these children. He lost the lower part of his right leg in an airstrike that hit his house when he was 2.
Omer's father will never forget that day. "I was not at home when it happened. A helicopter was flying in the sky [above our neighborhood]. I noticed that the first barrel had landed near our house. I started to run to my home."
"When I got back, I saw Omer outside and there was a piece of shrapnel in his knee. At the hospital, they cut off his leg right away" says Omer's father.
"Our baby boy was dead, my daughter was injured, and my wife lost both her feet. I lost both my parents and aunt in the strike."
Omer's recovery from the incident took a long time. Eventually he received his first lower limb prosthesis from a center in Syria.
"I had tears of joy when his first prosthesis was installed" says Omer's father.
"When Omer started using his first prosthesis his physical development progressed rapidly, and he just started walking" says his mother.
However, as Omer grew, he began to have issues with his prosthesis and his leg. Stump overgrowth is a common complication after stump amputation in children, and can cause pain, issues with skin breakdown, and poor prosthesis fit. For Omer, it was very painful and hampered his ability to walk.
During this period, the family moved to Turkey in search of safety.
They settled in Reyhanlı, even though they did not know anyone there, because it had the medical facilities Omer and his mother needed.
"Life is hard [here] but the only and the most important thing that makes me happy is having health services in Reyhanlı," says his father.
After they moved, Omer was referred to a local hospital in Reyhanlı where he had a surgical excision on the overgrowth in the stump of his amputated leg. The surgery was a success and soon after he visited NSPPL, a local prosthetics and rehabilitation center, located in the town.
The NSPPL center is operated in partnership with Relief International and funded by European Union Humanitarian Aid.
At the center, Omer attended physical rehabilitation sessions that focused on strengthening his muscles after his operation.
While he was taking these sessions, the center's technicians worked on manufacturing a new prosthesis for Omer's right leg.
Once his leg was strong enough, he received his prosthesis, and therapy sessions started. These sessions included practices on how to use the device, improve his balance, and strengthen his muscles.
"I feel very happy when I have sessions with Ahmad [the NSPPL technician], he is very nice and monitors all my progress" says Omer.
"The center service providers are very professional and services are accessible" says Omer's father.
Omer's mom has seen her son transform as a result of the operation and the new prosthesis. "Omer was a sad child," she says.
"Now, he is mentally and physically much better. Having appropriate treatment changed his life and thinking."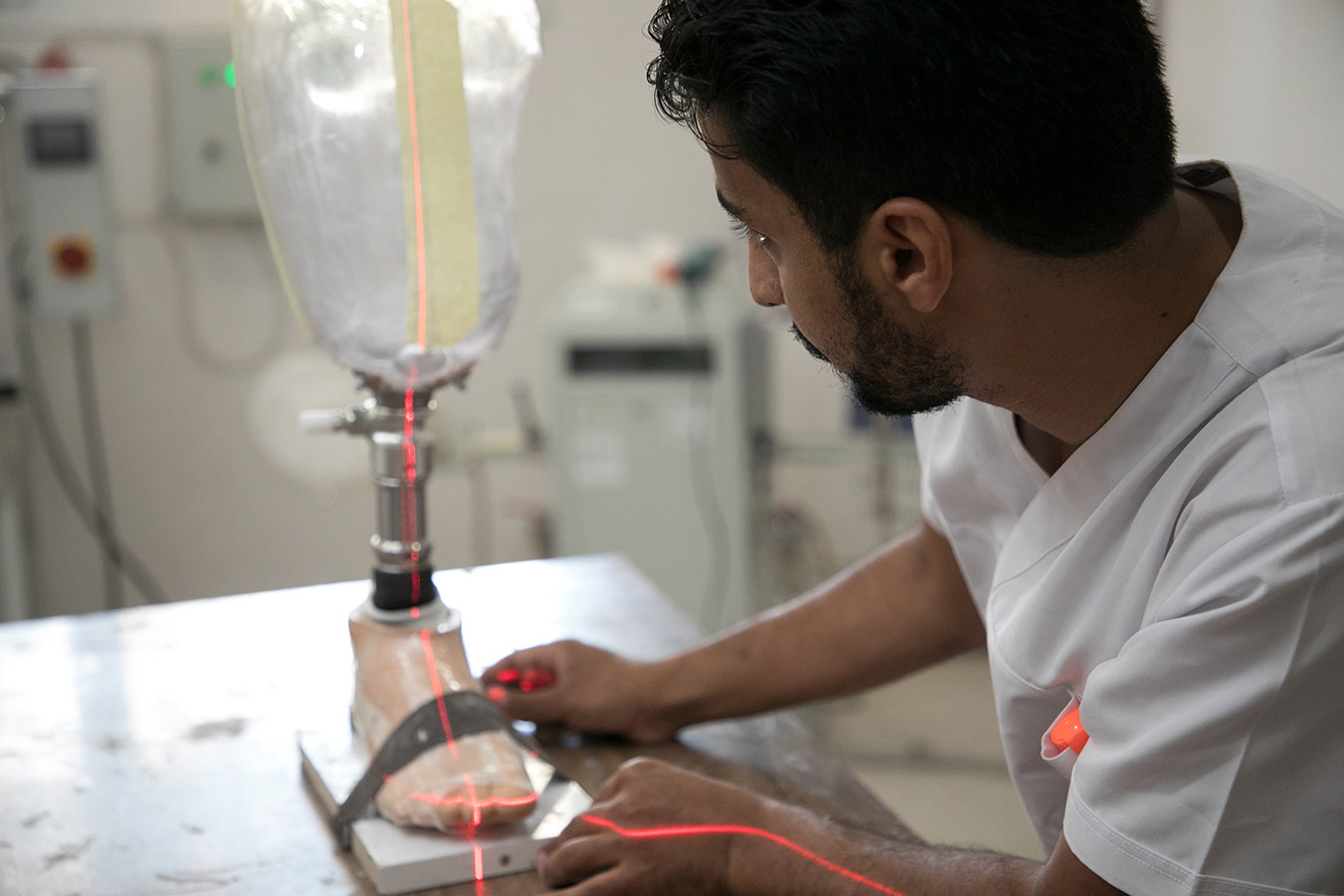 Relief International in Turkey
RI has worked in Turkey since 2013, providing health services and livelihood opportunities to the large Syrian refugee population in the country, as well as vulnerable members of the communities that host them.