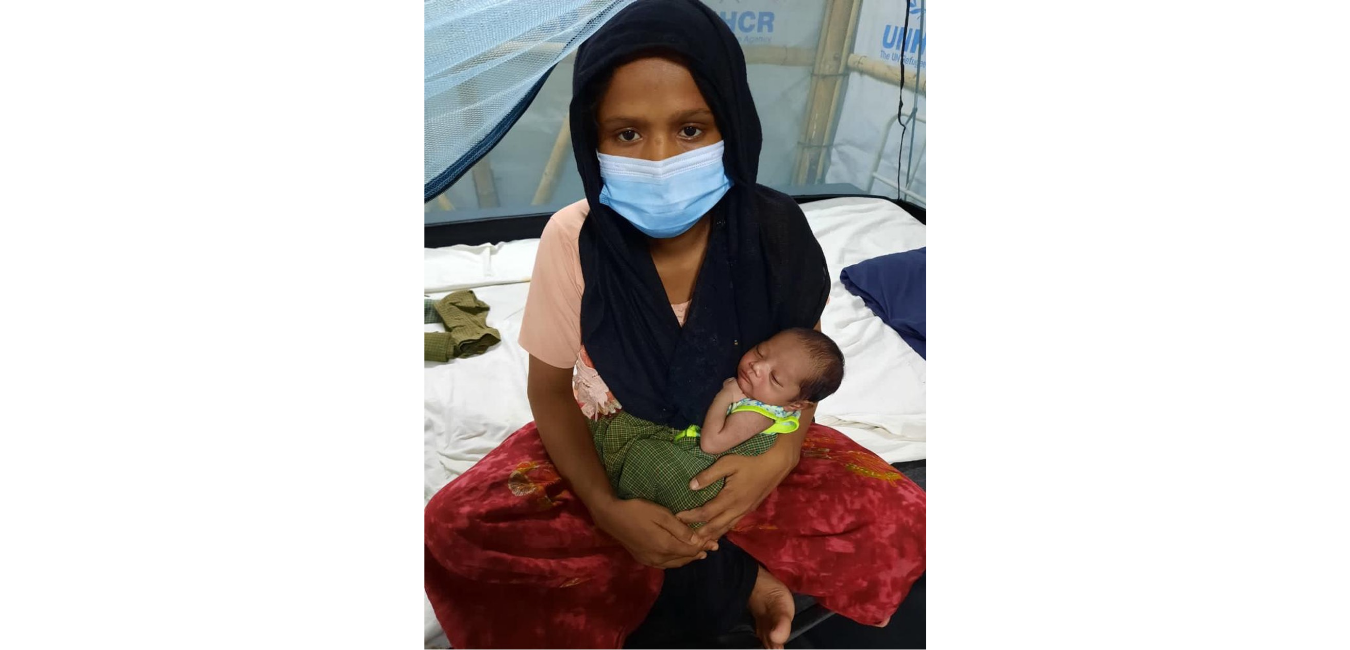 Mother and baby are doing well
Awaiting the arrival of a baby is a time of excitement and anxiety in some equal measure for families across the globe. The Covid-19 pandemic has caused expectant parents to face increased uncertainty and anxiety. Whether awaiting the arrival of a baby in Europe, Africa, Asia or the Americas the added worry about contracting the virus or passing it to one's unborn child has been universal.
*Khurshida, 22, was nearing full term in her pregnancy when she began to feel feverish and developed a cough. Khurshida is ethnically Rohingya and lives in the refugee camps in Cox's Bazar, Bangladesh. When she learned she had tested positive for Covid-19 she was scared – both for herself and for her baby.
She visited a medical center where a volunteer recommended that she be admitted to Relief International's Covid-19 Isolation Treatment Center, a fully equipped 100-bed medical facility that cares for Covid-19 patients while ensuring they can remain separate from their families – a challenge in the overcrowded refugee settlement and surrounding areas.
"When I heard I had Covid-19 I was shocked and worried and upset because I was nine months pregnant. I was thinking only about my baby. At first, I refused to go to the treatment center, but the volunteer listened to me and assured me that the services are good and that I would be ok there."
Eventually Khurshida agreed and an ambulance came to pick her up, along with a nurse, midwife and medical assistant who were all ready with support, information and reassurance. The very next day, Khurshida went into labor, giving birth to a healthy baby boy with the help of the Relief International medical team.
The Rohingya camp in Cox's Bazar is the largest refugee settlement in the world, home to more than 860,000 people who live in close quarters. When the city of Cox's Bazar reported its first confirmed case of Covid-19 in March 2020, many worried that the virus would quickly take hold in the densely populated Rohingya refugee camps.
Relief International's isolation and treatment center in Cox's Bazar is part of an overall effort by the humanitarian community to provide treatment beds and isolation centers to care for patients who have tested positive for Covid-19. Relief International's center was especially designed knowing that 18% of all those living in the camps and surrounding areas are women of reproductive age. The center is staffed with two midwives and is equipped with a delivery room to support pregnant women in their care.
Khurshida says, "The doctor, nurses and all the staff gave me such good service. I was so happy to see the staff take care of my baby as if he were their own. I was given updates on my health and my baby's health and I was able to speak with my family using their phone.
"I'm completely recovered now and so happy to have delivered my baby safely. I can't describe in words how happy I am. I was so upset and worried to have Covid-19 and thought what will happen to my baby. But after being admitted, they relieved my tension by giving me good mental and physical care."
*Name changed to protect identity