There are an estimated 2. 5 million Afghan refugees residing in Pakistan including all registered refugees, undocumented refugees and Citizen Cardholders. Most of these refugees have fled violence and terror in the hopes of finding safety and a higher standard of living. The reality is often more difficult. Finding work in Pakistan is very hard for Afghan refugees, leaving many adults with menial jobs making small wages and struggling to cover the costs of shelter, food and support for their families.
For the approximately 300,000 primary school aged (5-11 years) child refugees in the country it is also hard, with the majority unable to access local schools for education. This was the case for Laiba, Nazia, Salma and Sania; four cousins between the ages of 8 and 9 whose families live and work together in the Peshawar region of the country.
"We were having less opportunities… for our children in Pakistani Schools" states Najeeba, mother of Salma & Sania.
Afghan families often do not have the money or institutional knowledge to navigate the educational system in their new country alone, frequently resulting in their children missing out on the chance of going to school.
Relief International is changing this in the Peshawar, Nowshera and Swabi regions of Pakistan through an innovative program that aims to create more equitable access for Afghan children in Pakistani government primary schools.
The project involves enrollment campaigns where RI staff teach the local Afghan community about the enrollment process for schools; a school readiness program where children can go to "catch-up" educationally to their peers already attending school at no cost to their families; and a mainstreaming process where the Afghan children then join the Pakistani school fully, taking classes with other children their age.
Between 2019 and 2021, 1341 boys and 1690 girls have taken part in the program in 70 schools throughout the regions.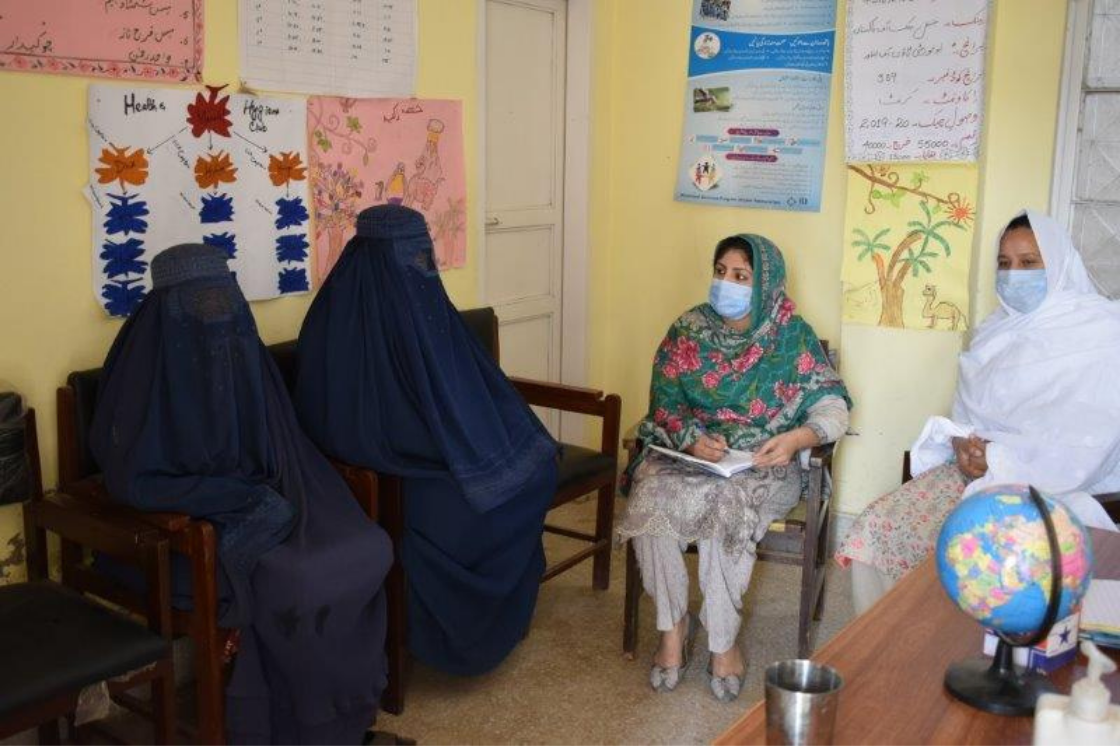 Laiba, Nazia, Salma and Sania all took part in the program, beginning with RI's staff going to their family homes to discuss educational opportunities for the girls. "[RI Staff] came to our house and had a detailed meeting with us …  about our daughter's right to education,' states Najeeba.
After numerous conversations with their parents, all four girls were enrolled in the school readiness program.
"A few days after admission in school, I observed a very positive change in my daughter's behavior," states Rozeena, Laiba and Nazia's mother.
"They exhibited good manners and a polite attitude towards us and their brothers, and are helping in domestic work after they return from school," Rozeena continues.
All four girls excelled in the school readiness program, and were then mainstreamed into the local school.  "When I conducted a proper assessment of the girls [during the mainstreaming process], I found them to be outstanding and …. promoted them [one step ahead] to Grade One instead of Nursery" states Ms. Tamseela, Head teacher of the Government Girls Primary School in Pawaka.
Najeeba and Rozeena are incredibly proud of their daughters' success. "We will [continue to] send our daughters to school because we know that the education will contribute to their futures.''