The explosions on Tuesday night are made all the more tragic given the fragility of Lebanon today. The country is currently battling an economic crisis, refugee crisis, and the destruction of the city of Beirut — all while the COVID-19 pandemic worsens with each passing day.
Already, our teams have donated reserves of personal protective equipment and other critical medical supplies in the immediate aftermath of the explosions to two hospitals that are treating victims of the blasts while also grappling with a spike in COVID-19 cases.
We are now turning our attention to focus on rebuilding and supporting primary healthcare centers damaged by the explosions. At least three major hospitals and 20 primary health centers sustained structural damage during Tuesday's blasts. To make matters worse, the country's health system was already struggling to provide care for patients who have tested positive for COVID-19, and now many hospitals are at capacity with the rising number of cases and thousands injured from the blast.
You can donate to our response in Beirut and other ongoing humanitarian crises here.
August 31
Since the explosions, Lebanon has seen a record-breaking spike in COVID-19 cases, with nearly 600 new cases reported in the last 24 hours. Now, it has become even harder for people to practice social distancing and other preventative measures while they are living in damaged homes or sharing temporary shelters with other families.
Our teams continue to support recovery efforts in Beirut by donating medicine and other critical supplies to staff at Sacre Cour hospital.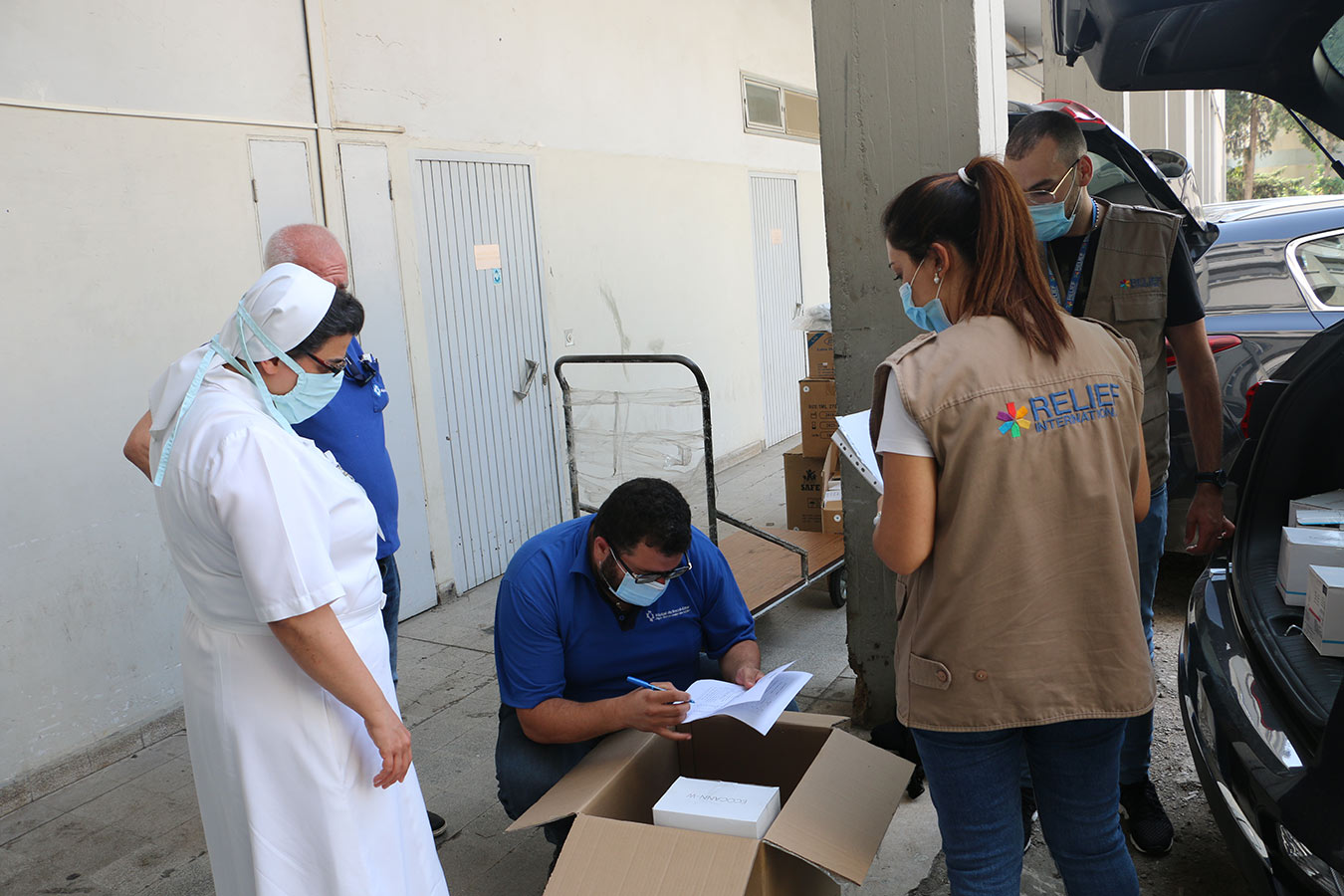 August 11
Most health facilities in the explosion's blast radius reported major wreckage, including to doors, windows, cupboards, and even cracks in the walls that may indicate structural damage. In addition, the blast destroyed critical medical equipment needed to treat survivors and other patients in need of care.
Our urgent priority is to immediately support eight health facilities directly affected by the explosions, including the rehabilitation of five of them. We will also subsidize the cost of medical appointments, including consultations and tests, provide new medical equipment and supplies, and offer mental health services for those directly affected by the blasts.
August 10
Our teams donated additional personal protective equipment and other critical supplies to staff at Sacre Couer Hospital. We also have one doctor and eight nurses on standby to offer surge capacity to hospitals in the Beirut area who may need additional support in the wake of this tragedy.
August 9
Relief International staff donated reserves of personal protective equipment and other medical supplies to the Middle East Health Institute hospital in Bsalim, located on the outskirts of Beirut.
August 8
Our team met with a group of Lebanese teenagers, who volunteered to help clean up the debris from the blast, to understand how our response can support ongoing recovery efforts. The group shared that, "People need a place to sleep right now, at least a ceiling to protect themselves. We [and the country as a whole] need more public hospitals and a system to help those who lost everything in a matter of seconds."
This latest crisis will only deepen the struggles of the Lebanese people. "We're doing everything we can to help those most impacted by the blast. We have no one beside us except each other."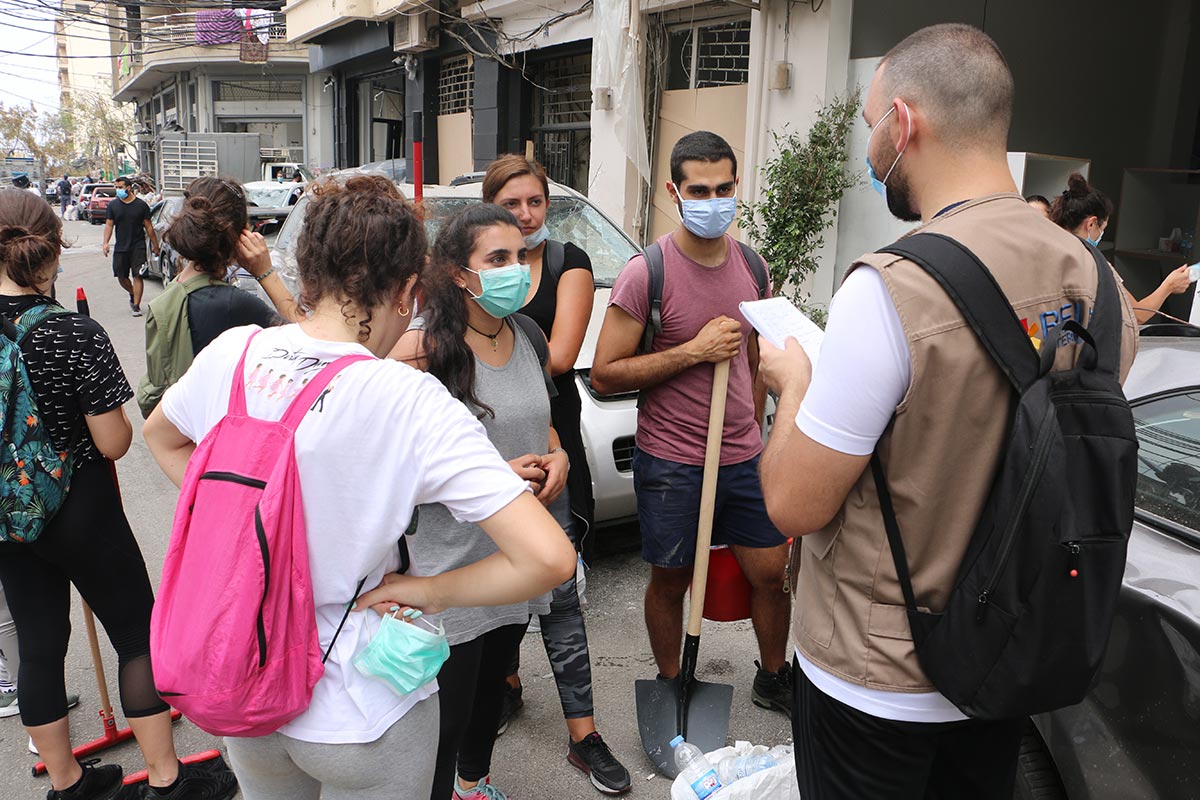 August 7
Our team in Lebanon visited neighborhoods closest to the blast zone to assess the damage. We met with displaced families, refugees, and business owners to understand their most urgent needs.
In Beirut's Gemmayzeh's neighborhood, we spoke with Shehade, 67, whose home was destroyed by the explosions. He shared, "I've lived through so many wars in Lebanon, but what I felt, heard, and saw during the port's explosion was incredibly shocking. I flew from my place when the explosion occurred."
Shehade is now homeless, living in the streets outside of where his home used to stand. "Anything would be helpful right now," Shehade shares.
A building close to the port of Beirut sustained significant damage during the blasts.
Our staff surveyed the damage to the port of Lebanon days after powerful explosions rocked the city of Beirut.
Go inside Relief International's work in Lebanon:
Relief International began working in Lebanon more than a decade ago, delivering humanitarian aid to communities affected by conflict. As people began fleeing the war in Syria, we expanded our programs to support refugees and the vulnerable Lebanese communities hosting them. We work in the North, the Bekaa, Arsal, Mount Lebanon, and Beirut providing critical healthcare, mental health, education, cash assistance, and livelihoods support services.