"My children are at the top of their class. But after the Tawjihi, will that be it for them?" asks Ahlam Al Mohammad*. As the Syrian crisis grinds on for the eighth year, many international aid agencies are prioritizing other humanitarian crises as they crop up around the world. These funding cuts have hit the education sector especially hard as the number of scholarship opportunities available to Syrian refugees in Jordan falls to record lows.
Without them, most Syrian refugees cannot afford the financial costs of pursuing higher education, which include transportation, lodging, book fees, and tuition, among other things.
While donor support for scholarships is on the decline, Syrian students' appetite for higher education continues to rise.
In Jordan's Azraq refugee camp, Syrian teachers and fellow refugees Shadi Zahed and Muteeb Hamdan are working to make their students' dreams of higher education a reality. Despite mounting academic and financial obstacles, these dynamic teachers implement a rigorous test prep course in partnership with Relief International to prepare their students for Jordan's final exam required to graduate from high school, called the Tawjihi.
"Before we settled in Azraq camp, no one here had taken the Tawjihi. There was no one to teach them the test's subjects," shares Shadi Zahed, who teaches math, chemistry, and physics as part of Relief International's Tawjihi program.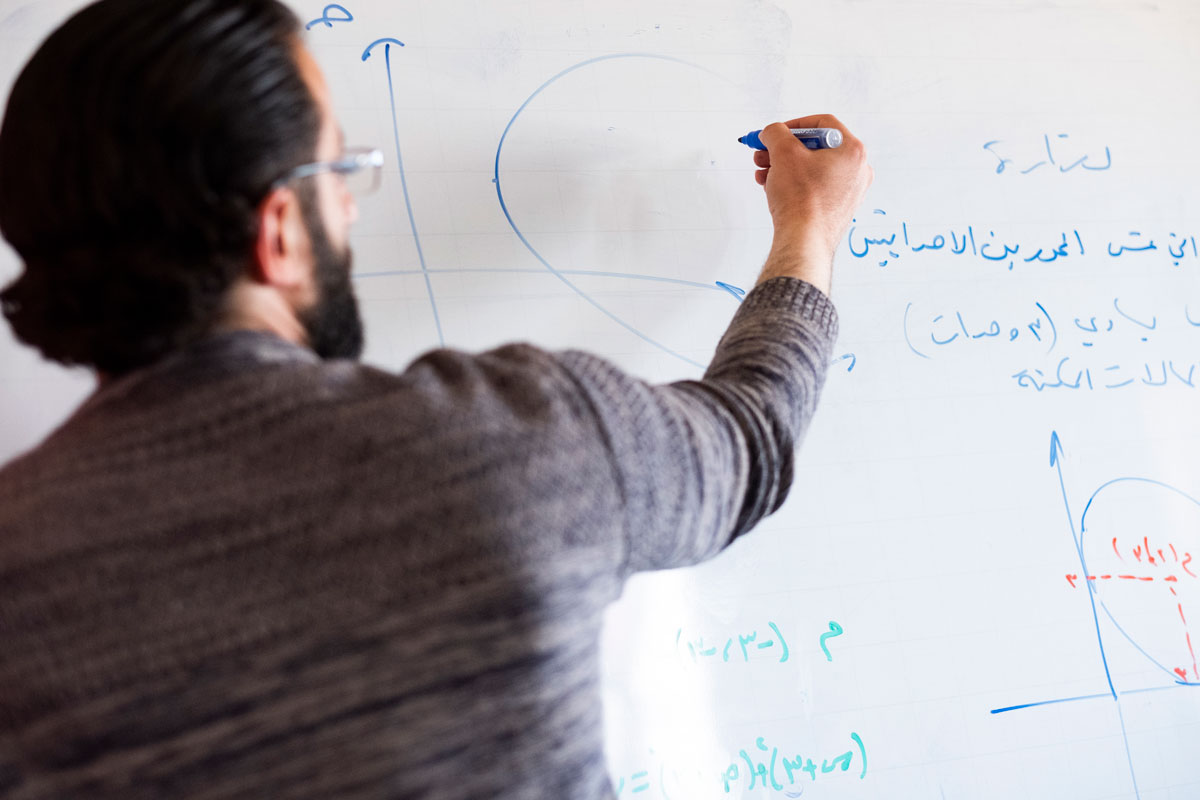 Neither Shadi or Muteeb worked as teachers when they lived in Syria. Shadi was a professor's lab assistant for three and a half years while he pursued his Master of Physics degree, while Muteeb worked as a tour guide in Syria's capital city, Damascus. But over the past four years the duo have established a reputation as the "Changemakers of Azraq Camp."
Proudly beaming, Shadi and Muteeb recite the names of their students who have passed the Tawjihi and gone on to study at university.
Muhammad.
He was the first of our students to pass the Tawjihi exam. Now he's in his third year studying business administration.
Assir.
She's studying to become a pharmacist.
Mahmoud.
He's studying to become a doctor in France.
And the list goes on…
When Shadi first started the Tawjihi program, students from across Azraq camp would ask him for tutoring in the basic principles of math, physics, chemistry, and, sometimes, English. News spread quickly of his grasp of complex scientific theories and mathematical principles. He'd spend hours with students pouring over the thousands of pages of material covered on the exam.
"That's how my career in teaching started," shares Shadi, who began working with Relief International in March 2015. "The program began with one student and quickly grew to two, then six, then seven. Now, 54 of our students have passed Tawjihi."
Some of their students have been out of school for months or even years at a time – often the result of prolonged displacement – which makes this pass rate doubly impressive. In addition, most scholarships require high grades on the Tawjihi in order for consideration, which is particularly hard to do when living in a refugee camp where conditions are harsh and electricity is available for limited hours during the day.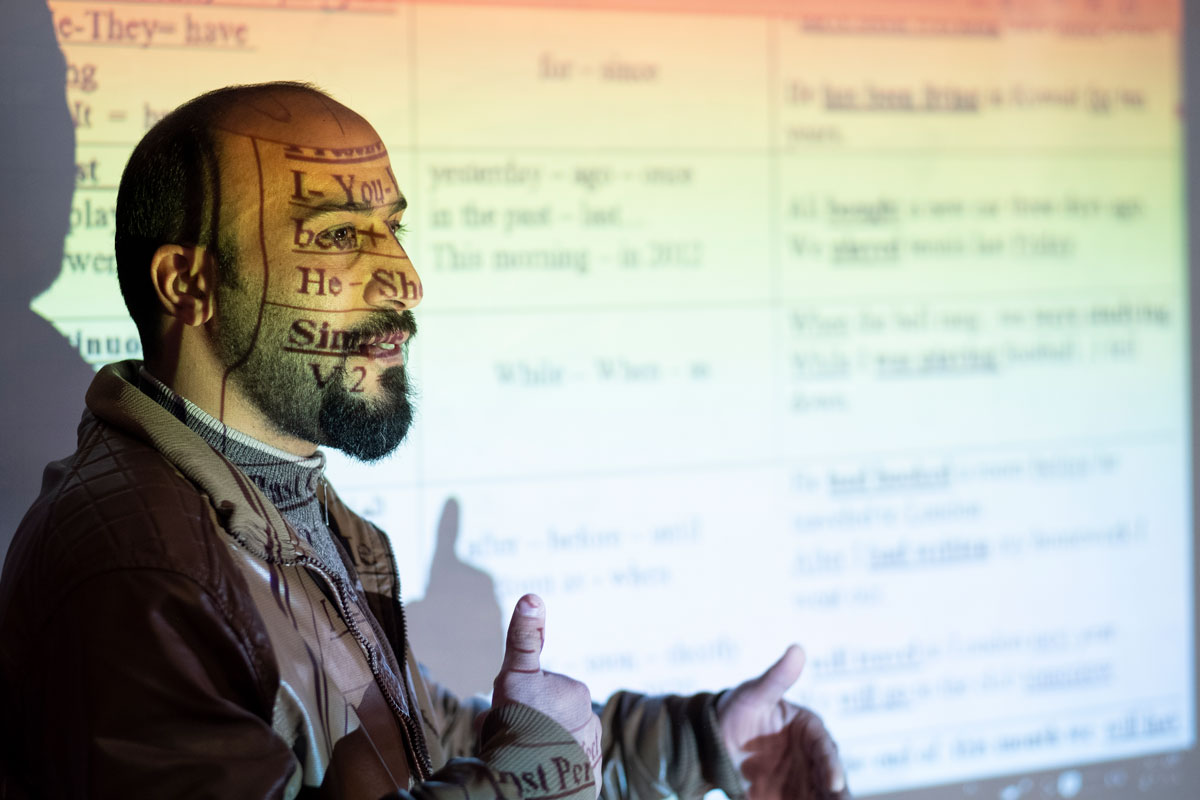 Students enrolled in Relief International's Tawjihi program devote upwards of 8 hours a day studying for the exam, in addition to the time they spend attending government-supported schools in the camps. Through innovative exercises, practice exams and hours of preparation, Shadi and Muteeb instill in their students the concepts and materials covered on the Tawjihi exam – and a love of learning. "This isn't just a job for me," shares Muteeb. "Working for Relief International has been one of the greatest achievements of my life."
Of their 34 students who passed the Tawjihi exam last year, eight received scholarship opportunities to attend universities in Jordan and abroad. "We treat our students like our brothers and sisters. It's easy to remember them, even after they've gone on to university. We all keep in touch," says Muteeb. Shadi still sends his graduated students math and physics quizzes every day via text message.
Despite the program's resounding success, some students remain discouraged from taking the Tawjihi exam. The reality is that the number of available scholarships is much lower than the number of students in need. One of Shadi and Muteeb's students Akeel, 20, says that if he passes the Tawjihi without a scholarship he would "put my degree in a drawer and find a job. It's useless without a scholarship."
Both teachers warn their students not to pursue an education with the sole intent of obtaining a scholarship, advising them that learning is a lifelong journey and not all paths lead to university. Education remains essential for developing the skills and qualifications necessary to rebuild Syria after the war.
"If I've learned anything from this war, it's that ignorance doesn't reach agreements or make peace in the world," shares Muteeb.
*Name changed to protect identity.