Though the past year has been characterized by relative peace, years of instability have taken an immense toll on peoples' emotional well-being in Arsal.
There is documented evidence of the pervasive mental health issues in Arsal. However, Relief International's teams encountered one major problem: no one wanted to talk about them. "Often, mental health issues are perceived culturally as weakness, which turned out to be the case in Arsal. It's taboo for people to talk about their feelings publicly," shares Rayan Aziz, a Relief International Mental Health Supervisor and Psychotherapist. "Often, the patients we work with wait to accept counseling until their condition deteriorates to the point where they can no longer function in their daily lives."
To overcome this obstacle, Relief International recruited a small team of Syrian refugees. These volunteers go tent-to-tent in the informal settlements where they live to discuss the important benefits derived from caring for one's mental health after trauma with members of their communities.
One of those local volunteers is Iman Al Saddik.
As a Syrian refugee, mother of two, and a nurse in her home country, Iman uses her role within her community to broach the taboo subject of mental health. Below, she shares why she was motivated to serve refugees in her own community.
"Normally, I am not a person who likes routine, but this is the one ritual I cannot give up," says Iman.
Every morning around 6 a.m. I wake up and gather the ingredients to make tea for my husband. We drink it as we watch the sunrise. It's these little moments together in the morning that help keep us sane.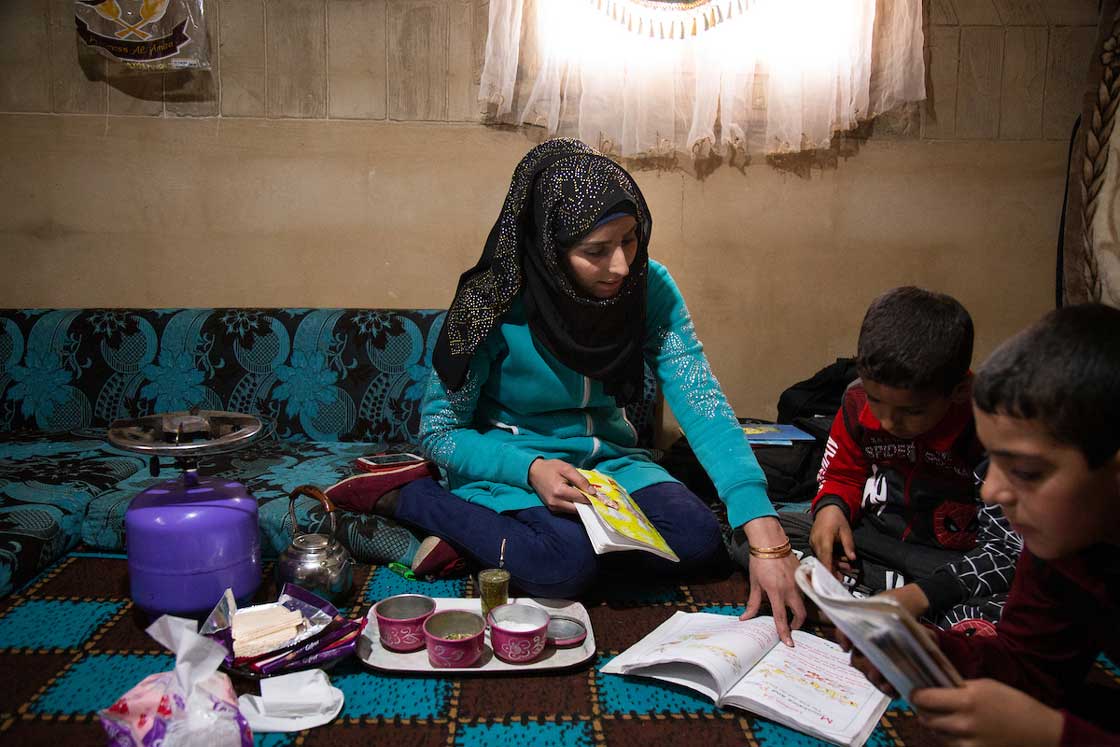 We usually sit like this for an hour until the sun rises high above the horizon. Then, I'll go back inside to make breakfast for my two boys, *Mohammed and *Haasim. I try to let them sleep for as long as possible, waking them up around 7 a.m. Each morning before school, we sit together on the floor of our living room and go over their homework from the day before. Mohammed and Haasim both attend the school's second shift in the afternoon, which is reserved for Syrian refugee children. The first shift is for the town's Lebanese students; the teachers working overtime to accommodate refugee families like ours. Their late start to the school day means I have to leave them alone for an hour or so on the days when I volunteer with Relief International – but they're good boys so they don't get in too much trouble.
Each week, I spend about twelve hours organizing mental health awareness sessions in my neighborhood, which is one of the smaller refugee settlements in Arsal. Since the war broke out, we've all endured great loss and had to redefine the concept of home – all experiences that are difficult to talk about. Many people don't even realize how the hardships they've experienced impact their physical and mental well-being. That's why my role as a mental health volunteer is so important.
This is my way of helping my community. I didn't study for so many years to become a nurse not to use my skills to give back.
When I organize these sessions, I never know who to expect. Often, it's a mixed group of men and women, most of whom I recognize – like my landlord or neighbor – sitting on decorative cushions that line the edges of the room.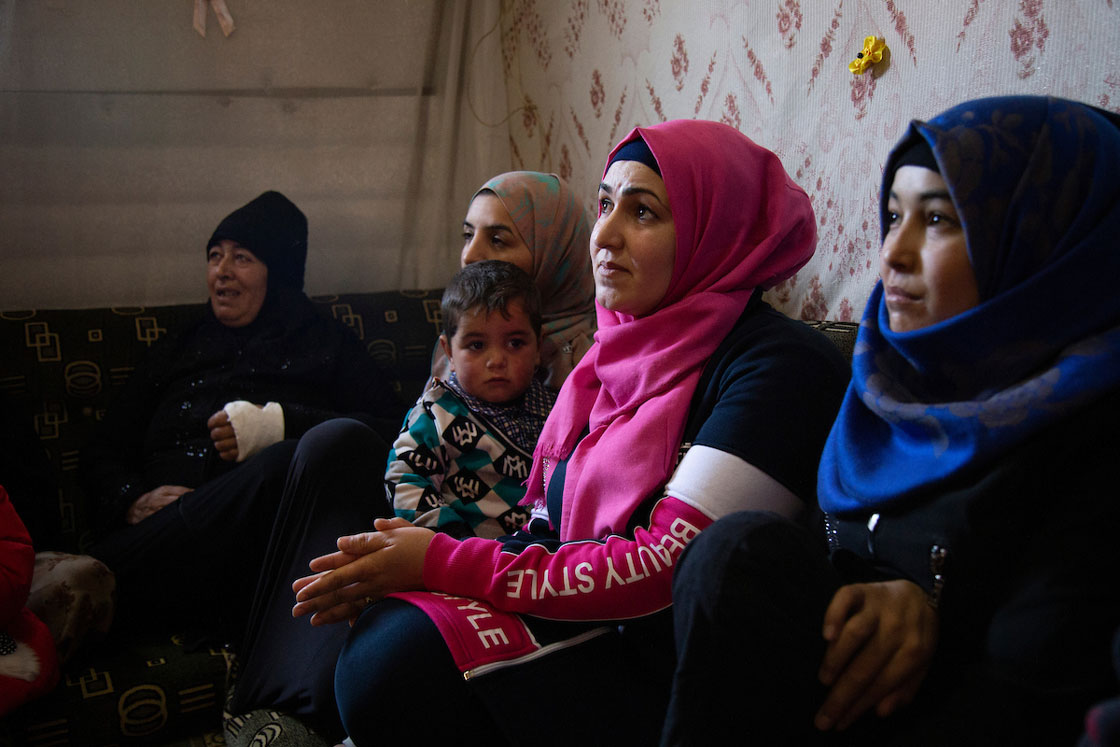 Relief International Social Worker Fatima Abdul Wahed, who is Lebanese, joins me for most of these meetings. Together, we kick off the session by asking the room how they feel today. The room erupts into a chaotic chorus of voices all speaking over one another.
"There's always a tear in my eye."
"We're always worried. We don't sleep at night."
"Either you're extremely happy or extremely sad. There's no in between. Even if we have smiles on our faces, we're acting. We're not happy."
Unfortunately, the group's comments aren't unique. They are, however, unusual in a good way. Just a few months ago, I used to go tent-by-tent to speak to people about the impact of mental disorders on their health as well as the signs that they should look out for. As a fellow refugee, people are more likely to trust me, but it was still difficult work to get people to be open about their troubles.
Now, as people start to see that their friends, siblings, and even their parents are starting to feel better after Relief International's mental health sessions, many more refugees are willing to ask for these specialized services for themselves. More and more, people are coming to me directly, either by attending these sessions or by meeting me at my home to seek out help. I've become quite famous around here!
Fatima and I always end the session the same way. "You still have to stick to hope. No sadness lasts forever. No happiness lasts forever. This is the nature of life." This has become our mantra for these awareness sessions.
After the session, my neighbor Aasma approaches me to request a one-on-one meeting with Fatima and me.
Fatima and I walk Aasma back to her house, crisscrossing back and forth through the maze of tents that connects our settlement. When we arrive, the sun is high in the sky, bathing the entryway of her tent home in light. But when we sit down, Aasma's face falls.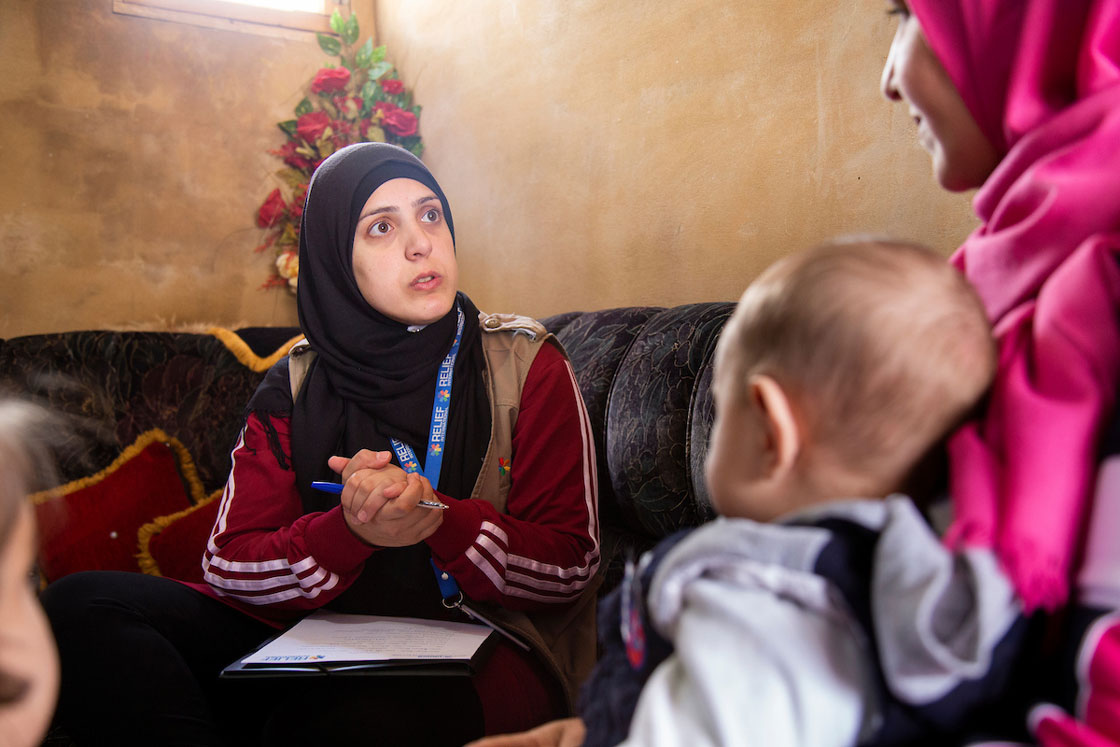 One of her greatest fears is not being able to provide a bright future for her children – a fear that I share. This is one of the hardest aspects of my job. It's difficult to distance myself from the problems that my neighbors, family, and friends are experiencing because I often feel the exact same way. Like Aasma, when my husband and I decided to have kids, we never dreamed that we would be raising them as refugees. We had a home, jobs – we planned for them. Because this work makes you reexamine your own life, it takes a really strong person to do this job.
These one-on-one sessions usually average thirty minutes. Somehow, the problem feels less insurmountable when it's shared with others.
We wrap up the session as the sun starts to dip below the horizon. On my way out, I hug Aasma and Fatima goodbye before walking the few steps back to my tent. Today was a long day. Inside, I can hear Mohammed and Haasim playing together as the TV blares in the background. I join them on the floor and put on another pot of tea as I prepare to do it all again tomorrow.
*Names changed to protect identity.