Seven-month-old Saqr was diagnosed with acute malnutrition with complications when he was referred to Ma'abar hospital in North Yemen by one of Relief International's (RI) Nutrition Assistants. He is just one of nearly 2.3 million children under the age of five in Yemen who are thought will suffer from acute malnutrition this year. *
Since war escalated in Yemen in 2015, the situation has been desperate. The economy is shattered, half of the country's health clinics and hospitals have been destroyed and 80 per cent of the country's population is in need of humanitarian assistance.
Saqr lives with his father, stepmother and two stepbrothers in Dawran district in Dhamar governorate in North Yemen. In their remote village, access to healthcare is limited at best and malnutrition is prevalent. His family have no means to feed him or themselves, and no money to access healthcare.
They used the last of their money to bring Saqr to their closest health center where he was assessed by RI-supported staff. The Nutrition Assistant knew that Saqr needed care that he could only get at Ma'abar hospital, but his family were worried because they have no means to make the journey there and to get him the treatment he urgently needed.
Saqr's father Waleed** said: "I have no source of income, so when I was told that my child should be referred immediately, I was thinking of the transportation and how it could happen. But despair quickly turned to hope when I was told that everything would be supported by Relief International."
Thanks to Relief International's emergency healthcare referral system, all transport, admission, and treatment costs would be covered as well as a per diem allowance. The program, launched in 2019 under the ECHO-funded project which provides an integrated intervention to conflict-affected communities in Dhamar, is designed to refer medical cases in Dhamar to health facilities where vital healthcare can be provided without any costs to the patients and their families.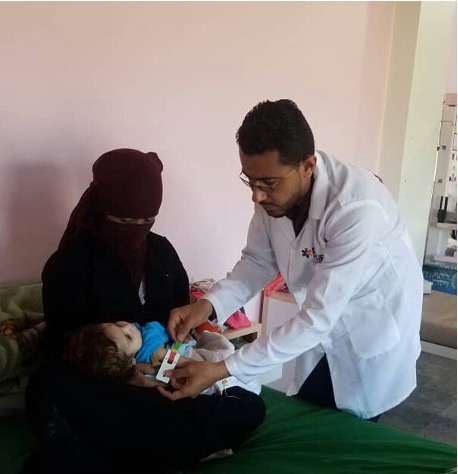 Saqr receives treatment at the Therapeutic Feeding Center in Ma'abar Hospital
In response to increased malnutrition and food insecurity coverage of the communities was scaled up by a supported network of Community Health Volunteers (CHVs.) The volunteers provided screening and referrals for both acute malnutrition and other emergency services. CHVs were in turn linked with the referral assistants at the supported health facilities to support with transportation of referred cases.
Upon his admission to the Therapeutic Feeding Center in Ma'abar Hospital, a sunken-eyed Saqr was severely dehydrated, had persistent diarrhoea and a complete lack of appetite. He was attended to by health specialists who gave him nutrition supplements and also treated him for parasites with antibiotics.
When Saqr was discharged, both his weight and energy had increased significantly and he was no longer sick, much to the relief of his family. Saqr's father Waleed said:
"I want to thank the referral team and Relief International for making sure Saqr got the help he needed. Such interventions are helping the whole community. If they succeed, stories such as Saqr's will become a thing of the past."
From April 2019 until February 2021, Relief International implemented the ECHO-funded Integrated Multi-Sector Intervention for Conflict-Afflicted Communities in Dhamar and Shabwah Action, through which it targeted six districts across the two governorates in North and South Yemen with health, nutrition, and complementary WASH services. Through this project, RI reached a total of 46,250 unique beneficiaries with life-saving assistance, providing 144,548 primary health consultations and 11,882 secondary health consultations. Over the course of the project, RI provided support for 208 severe acute malnutrition cases with complications. Additionally, malnutrition screenings were conducted for 10,135 children under 5 (CU5) over the course of the project.
* https://www.unicef.org/emergencies/yemen-crisis
** Name changed to protect identity