Meet some of our colleagues responding on the frontlines of the COVID-19 pandemic and other ongoing humanitarian crises in Lebanon, South Sudan, and Afghanistan.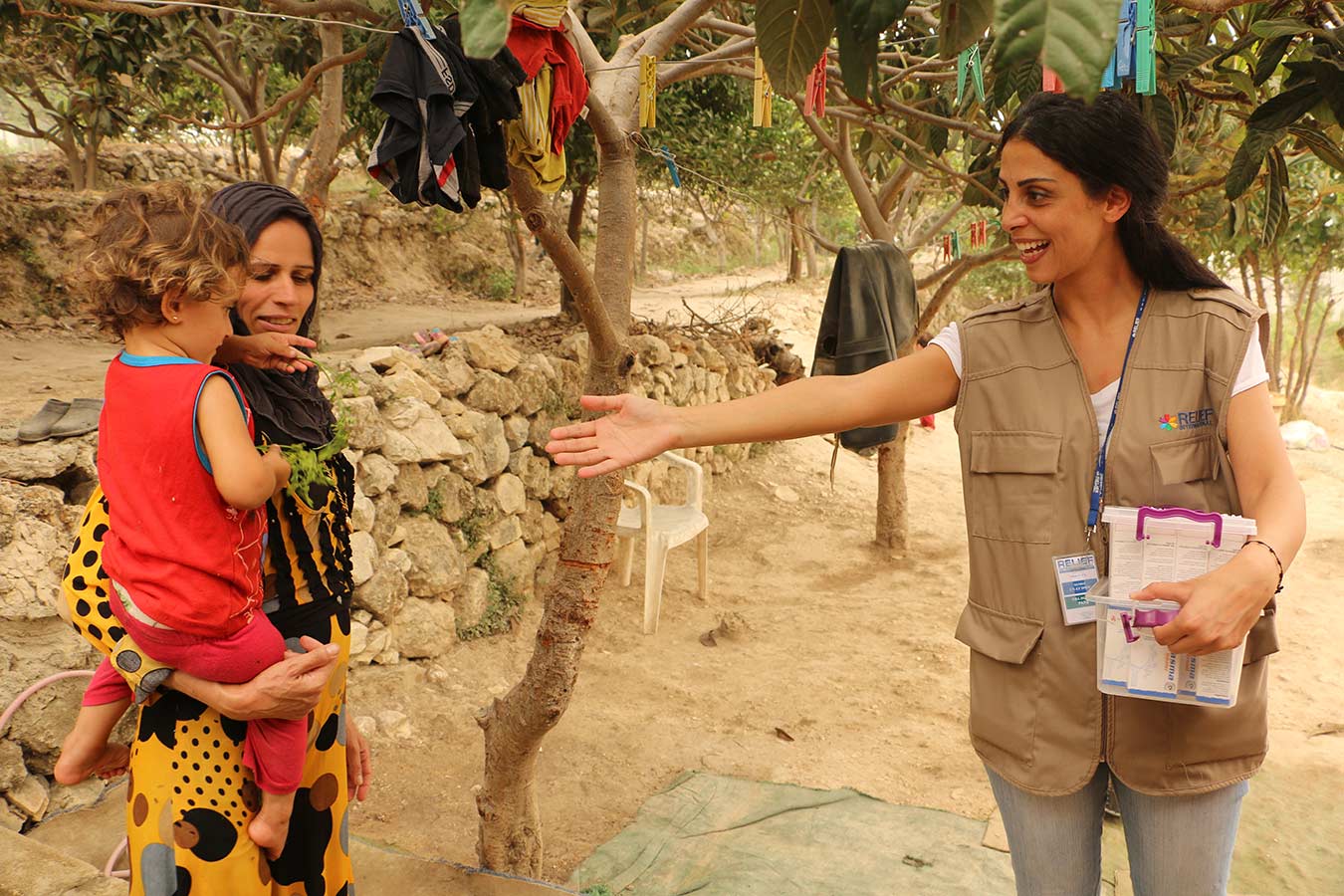 Sandra Nakhle
> Beirut, Lebanon
"All Lebanese are devastated to see Beirut destroyed."
When Sandra began working for Relief International in 2013, she worked on the frontlines of the Syrian refugee crisis as a Community Nutrition Promoter. More than 1.5 million Syrian refugees have fled across the Syrian border into Lebanon to escape the country's civil war. Unfortunately, many refugees and their children are subjected to new hardships in Lebanon, including extreme poverty and malnutrition.
She is motivated by the impact she has been able to have on the people she supports through her work — including Syrian refugees and their children as well as Lebanese families that are struggling to survive in a country that has descended into an economic crisis.
"When I first joined Relief International, humanitarian work was new to me. And yet, it was so fulfilling to visit Syrian refugees in their homes each week, and to see their children's health improve. This – and the bond I built with these families – was the most rewarding part of my job."
Since then, Sandra has worked her way up to serve as Relief International's Program Director in Lebanon, overseeing all of our humanitarian programs in country.
Relief International - Sandra Nakhle Reports on Beirut Explosion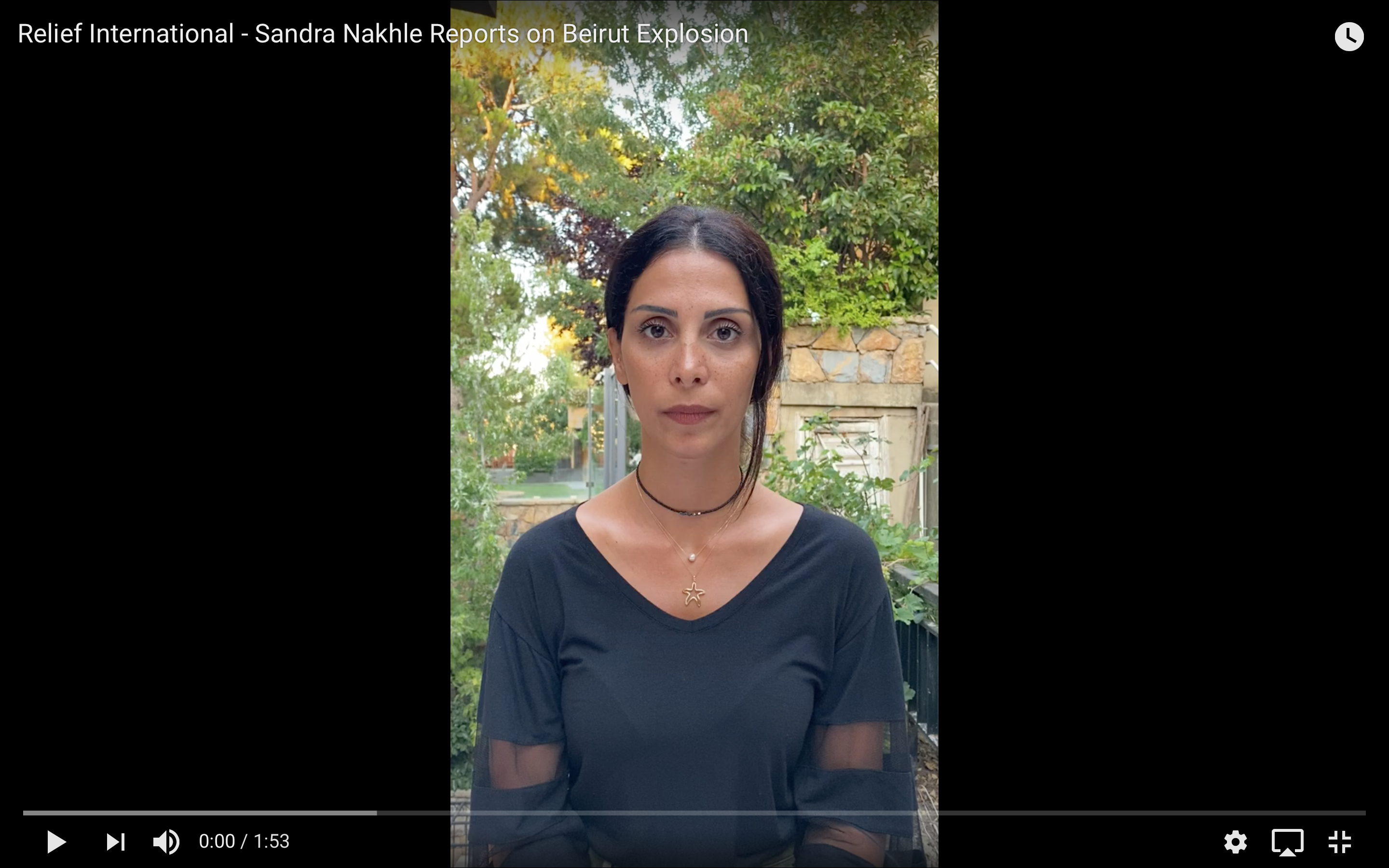 Relief International - Sandra Nakhle Reports on Beirut Explosion
Today, her days are incredibly busy as she responds to the overlapping crises unfolding on the ground in Lebanon. The country is currently struggling with a worsening economy, refugee crisis, and the devastation from the explosions in Beirut — all while the COVID-19 pandemic worsens with each passing day.
"Overall, we have to lookout for those most affected and displaced by the explosions in Beirut. We also must ensure that the needs of Syrian refugees and vulnerable Lebanese families across the whole of Lebanon are not forgotten as the country struggles to recover from the impact of the blast."
Just days after the blast, Sandra organized Relief International's efforts to donate reserves of personal protective equipment and other critical supplies to overwhelmed hospitals in Beirut that are treating victims of the blasts while also grappling with a spike in COVID-19 cases. Now, she is directing her team to launch a program to provide emergency cash assistance to Lebanese and Syrian families that were left devastated by the explosions.
As these crises worsen, Sandra stresses that it's important to remember that humanitarians are also people — and that we must continue to care for their mental health amidst the pandemic, but especially in the wake of the Beirut explosions.
"We are busy looking after the mental health of our Relief International staff who either lost family and friends during the blast or experienced damage to their homes. We are all shocked to see Beirut totally destroyed, which is only adding to the stress of the entire situation."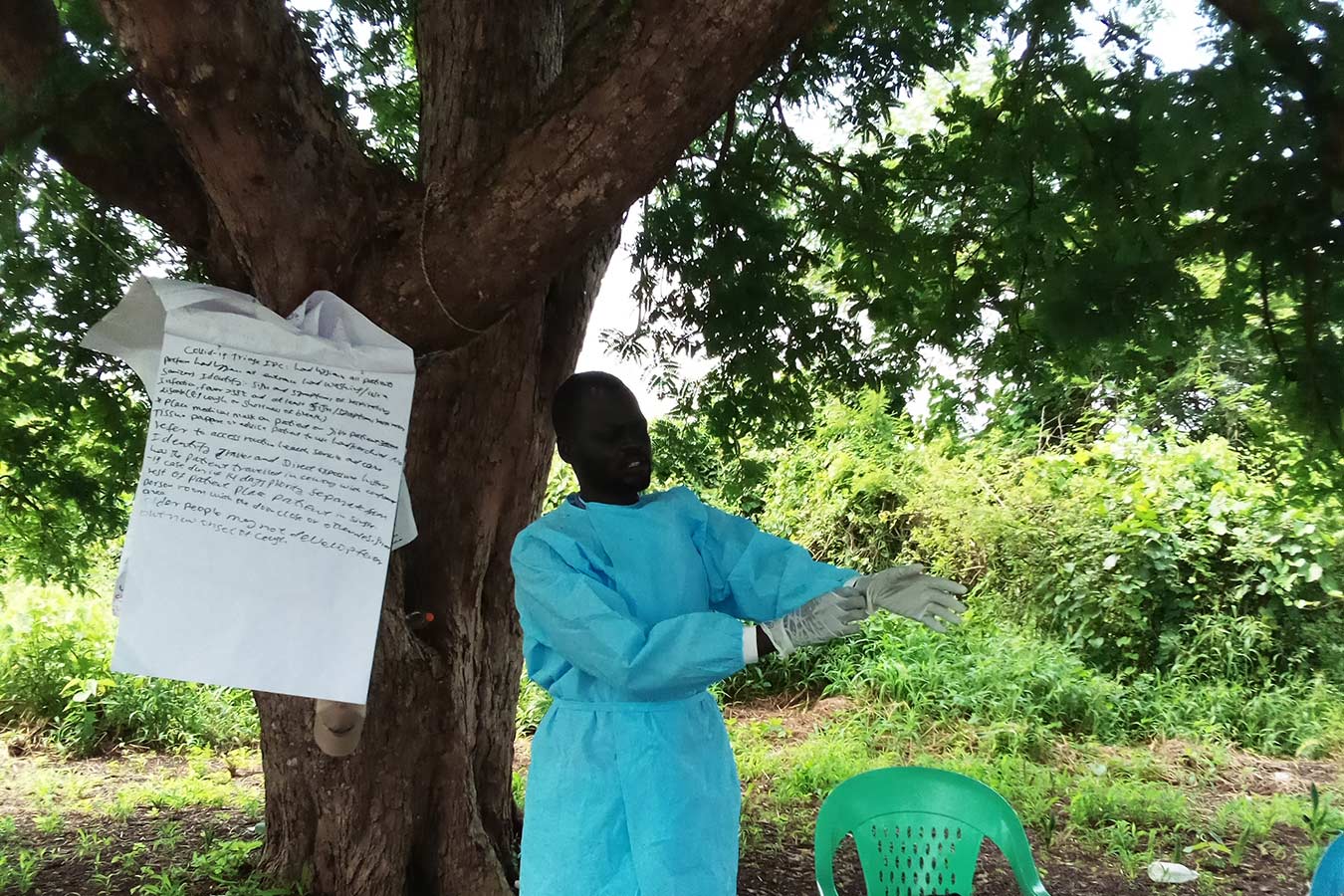 Koang Kunyok Khat
> Maiwut, South Sudan
"What gives me strength is knowing that I'm caring for my people in South Sudan, even as the coronavirus pandemic makes my work more difficult. I'm up for the challenge."
Originally from South Sudan's Maiwut County, Koang works as a health worker in his own community, providing critical information for families on how to protect themselves against COVID-19. Using his background in infection prevention and control, he's working to slow the spread of the virus in one of the world's most fragile settings.
Over the past six years, there has been constant conflict in South Sudan, prompting major shortages of food, clean water, and safe spaces for shelter. Now, these needs are exacerbated by the COVID-19 pandemic.
Koang has been instrumental in ramping up our response in Maiwut County. This area of South Sudan's Upper Nile State is already difficult to work in as frequent flooding has washed out all roads leading to our health facilities. And yet, Koang still continues his life-saving work, often when conditions on the ground make it hardest to do so.
So far, he's trained 121 frontline health workers on how to protect themselves and their communities against the virus — by offering guidance on staying at home, avoiding large gatherings, and washing hands frequently.
Although work during the pandemic is challenging, he remains motivated by the fact that he's helping members of his community survive this latest crisis.
"I take my work very seriously. I am caring for the health and safety of my family, friends and community. There is nothing more important to me than this responsibility."