Message from CEO, Nancy Wilson: COVID-19 Update, April 23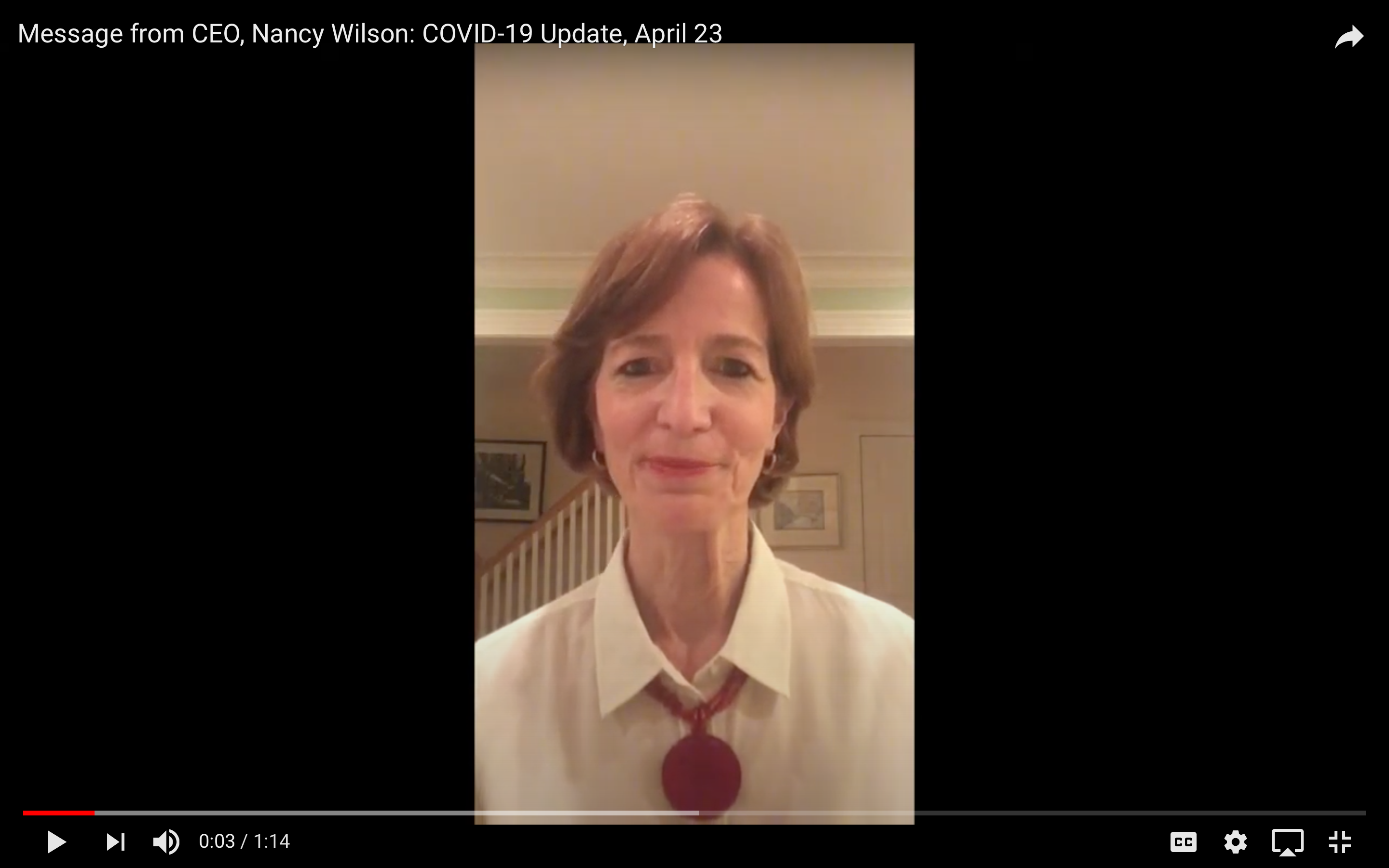 Message from CEO, Nancy Wilson: COVID-19 Update, April 23
This week, the number of confirmed coronavirus cases topped 2.5 million. While these are challenging and uncertain times for all of us, it's in moments of crisis that reveal the everyday hero within each of us.
Consider for a moment the incredible work of frontline humanitarians and health workers fighting COVID-19 worldwide. They've stepped up in this moment of crisis to support refugees, displaced families, and those living in fragile settings who will be hardest hit by the pandemic.
Many of us are under stay-at-home orders. But, Relief International's teams are on the ground operating on the frontlines of the coronavirus outbreak. We are ramping up our responses in the world's most fragile settings to help prevent the spread of the coronavirus – and keeping our current programs up-and-running at this difficult time.
In Iran, our teams are working nonstop to import tens of thousands of protective medical supplies to safeguard health workers fighting to slow the spread of the coronavirus. We also imported 40,000 diagnostic kits to test patients in outbreak hot spots.
In Afghanistan, where estimates say COVID-19 could infect up to 80% of the country's population, we are setting up isolation facilities in provincial hospitals in Farah and Nimroz, located along the country's border with Iran.
In Syria, the first case of coronavirus was confirmed on March 23. In one of the most challenging contexts in the world, Relief International is preparing our health facilities to handle an influx of COVID-19 by purchasing supplies, including pharmaceuticals, PPEs, and other medical supplies.
In Bangladesh, we are constructing a 144-bed Isolation and Treatment Center for Rohingya refugees living in Cox's Bazar. We are also purchasing pharmaceuticals and protective medical equipment for health workers as they treat patients who have tested positive for COVID-19.
In Yemen, where years of civil war has shuttered the country's healthcare system, we have purchased PPE materials for all of the health facilities we support in order to allow medical workers to continue providing services safely. We are also working to strengthen infection prevention and control measures in order to better respond to COVID-19.
In Somalia, where communities are still recovering from widespread famine in 2011, our teams are working remotely with Somali farmers to prepare them for the upcoming planting season. We are prioritizing food security amidst this global pandemic to ensure the most vulnerable will have access to the food they need to survive.
In Lebanon, our teams are working in some of the country's informal tent settlements for Syrian refugees to help detect people with symptoms of COVID-19. We are also referring these patients to our health facilities, which we've transitioned to serve as triage and treatment centers.
In Turkey, our staff are using telemedicine to continue providing physical therapy and mental health services for Syrian refugees living with war-related injuries.
In Jordan, staff are on mandatory lock-down as schools and education centers in the country's largest refugee camps have shut down to slow the spread of the virus. To overcome this, our team has moved classes onto Facebook, the ubiquitous locally accessible social media platform. Syrian refugee students have enrolled by the thousands, ensuring they do not have to put their educations on hold, yet again.
In the Philippines, our teams are using their experience responding to the country's polio epidemic to protect people against COVID-19. We have been distributing hygiene kits and pamphlets with information on how to identify symptoms in at-risk communities in Mindanao.
The coronavirus will undoubtedly hit communities in fragile settings the hardest, overwhelming not only their health systems but grinding all other services to a halt. We cannot allow this to happen.
Every day, and especially during this unprecedented global crisis, I am so proud of our team of 8,000+ strong working on the front lines, often putting themselves at risk, to provide safe and healthy futures for millions of people living in the world's most fragile settings.