In October 2015, Sayid* and his family were at their home in Idlib, Syria, when an attack of heavy bombing changed their lives forever.
"My wife was killed, and my youngest daughter, Malika*, was left paralyzed," says Sayid. "That was the worst day of my life."
Three-year-old Malika was hit by fragments of artillery shelling in her spinal column, paralyzing her from the waist down. Her five sisters were also injured.
The United Nations estimates that more than 20,000 children have been killed or injured in Syria's eight-year civil war. Since the conflict broke out in 2011, it has claimed more than 400,000 lives and forced an estimated 11 million people to flee their homes, resulting in the largest mass displacement of people since the Second World War.
"I knew we had to leave, or we'd all die," says Sayid. "We left Syria that day and spent three months recovering in a public hospital in Turkey, where we were referred to Relief International's center."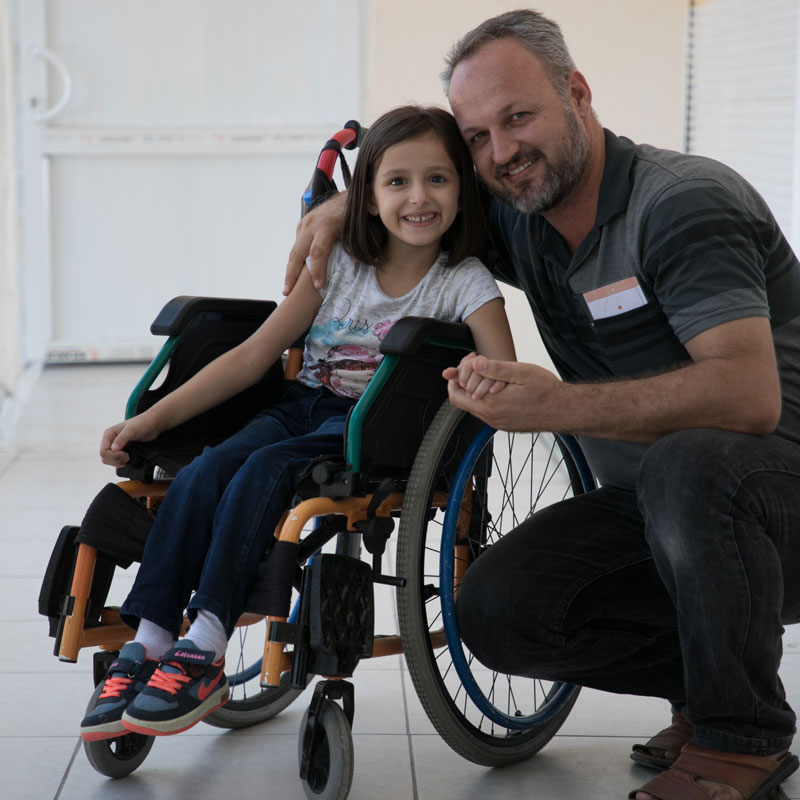 Malika, 6, rests in a wheelchair as she waits for her replacement braces.
© Rachel Elkind/RI
A New Beginning in Turkey
For the past five years, Turkey has hosted the world's largest number of refugees. More than 3.6 million Syrians have sought safe haven there.
Relief International has been working to provide mental and physical healthcare to Syrians affected by the conflict since 2013. We operate 12 centers across Turkey, and our teams supported over 30,450 people in 2018.
In a simple yet functional building located just over a mile from the border with Syria, we support a health center through our local partner, the National Syrian Project for Prosthetic Limbs (NSPPL). The center specializes in providing prosthetic limbs and physical therapy to Syrians with disabilities. We see ten patients a day at our physical rehabilitation center, fitting an average of forty new limbs per month. Most of our staff are Syrian, and some are even former patients.
Here, Malika receives new leg braces and physiotherapy, allowing her to stand up temporarily. She also receives a new wheelchair and her father learns how to best care for her needs. Malika is now six. She is making good progress, and has started to attend school.
"Thanks to Relief International, my daughter is starting to smile again. I can see her health starting to improve with the physical therapy sessions she receives here," says Sayid.
Fitting Prosthetics, Rebuilding Lives
Our center provides world-class treatment to Syrians who have borne the costs of the prolonged war. One and a half million people in Syria are currently living with permanent impairments, including over 80,000 who have lost limbs.
"The prosthetics we donate to our patients are high-quality devices that match international standards," says Rima Naimi, Relief International's Physical Rehab Coordinator in Gaziantep. "We have an in-house unit of international health experts that ensure patients receive services best suited for them."
Rahaf, 25, is from the city of Hama in Syria. She was studying biology at university before the war forced her to flee. Today she works as one of our many technicians responsible for making prosthetic limbs. She decided to work at our center because she wanted to gain practical skills and do something that helps her fellow Syrians.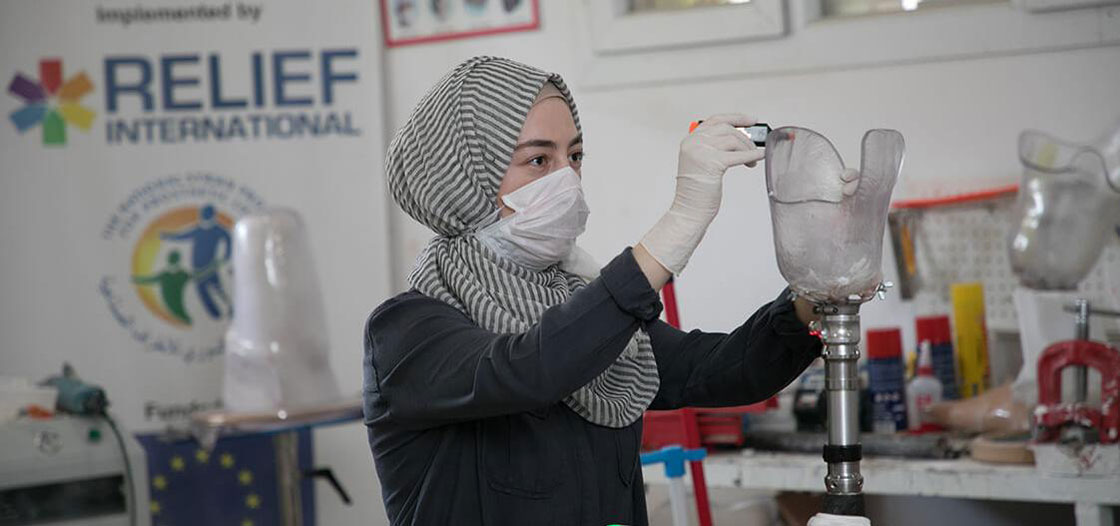 "My work brings me incredible happiness — just to see someone able to walk, run, or feel better than they did before," says Rahaf.
Most of our patients have lost their limbs due to the war. Despite the circumstances that brought people to the center, it's a hopeful place. Daily, we see physical and psychological support provide tangible improvements to refugees' quality of life.
Patients like 11-year-old Muhammed*, who lost both of his legs during a bombing in his hometown of Aleppo in 2017.
A year later, our staff fitted him with two prosthetics – one above the knee and one at the knee level. Creating the perfect fit for prosthetic limbs is a lengthy process. It requires numerous appointments to fit, tweak, and test the new limbs over a six-week period.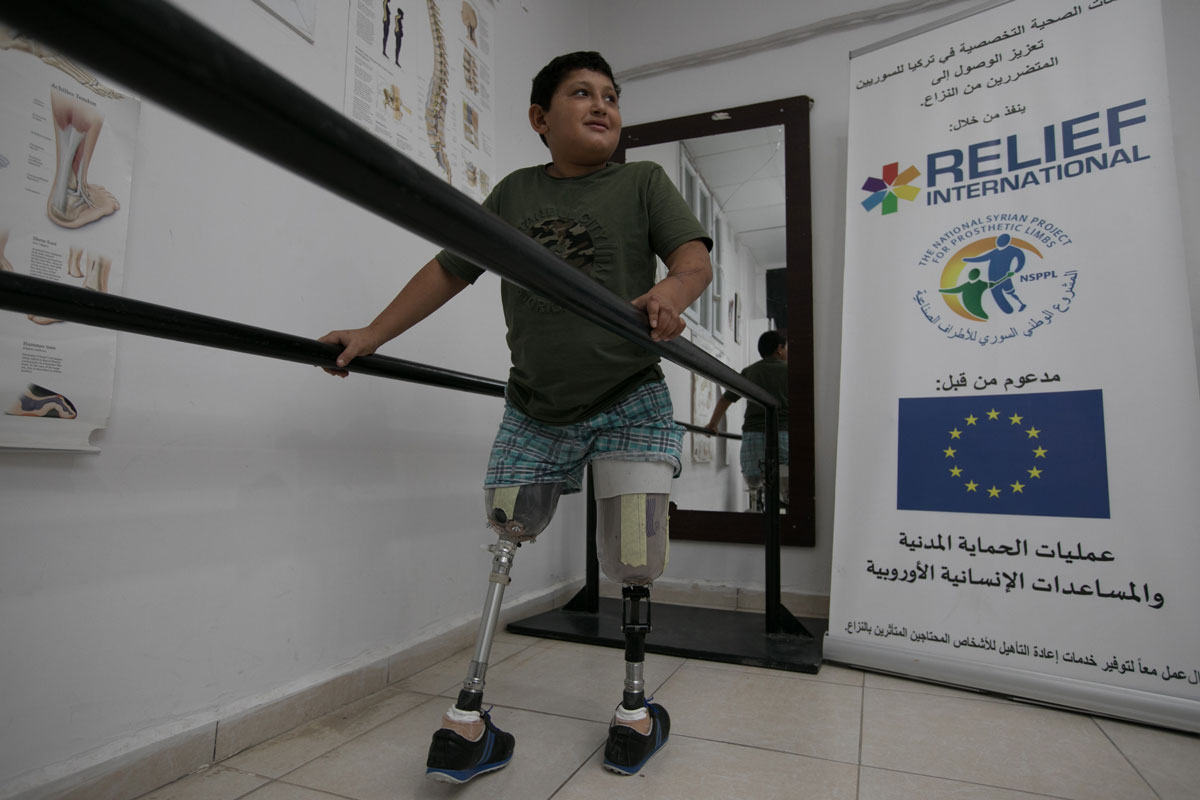 Training and physiotherapy is difficult at first. Slowly, Muhammed is learning how to walk again. At first, the shoes at the end of his prosthetic limbs are turned backwards to enable him to balance himself. This is all part of the rehabilitation process. With each visit to the center, his smile becomes wider. He knows that one day soon he will be able to open the door and walk home.
*Names changed to protect identity.