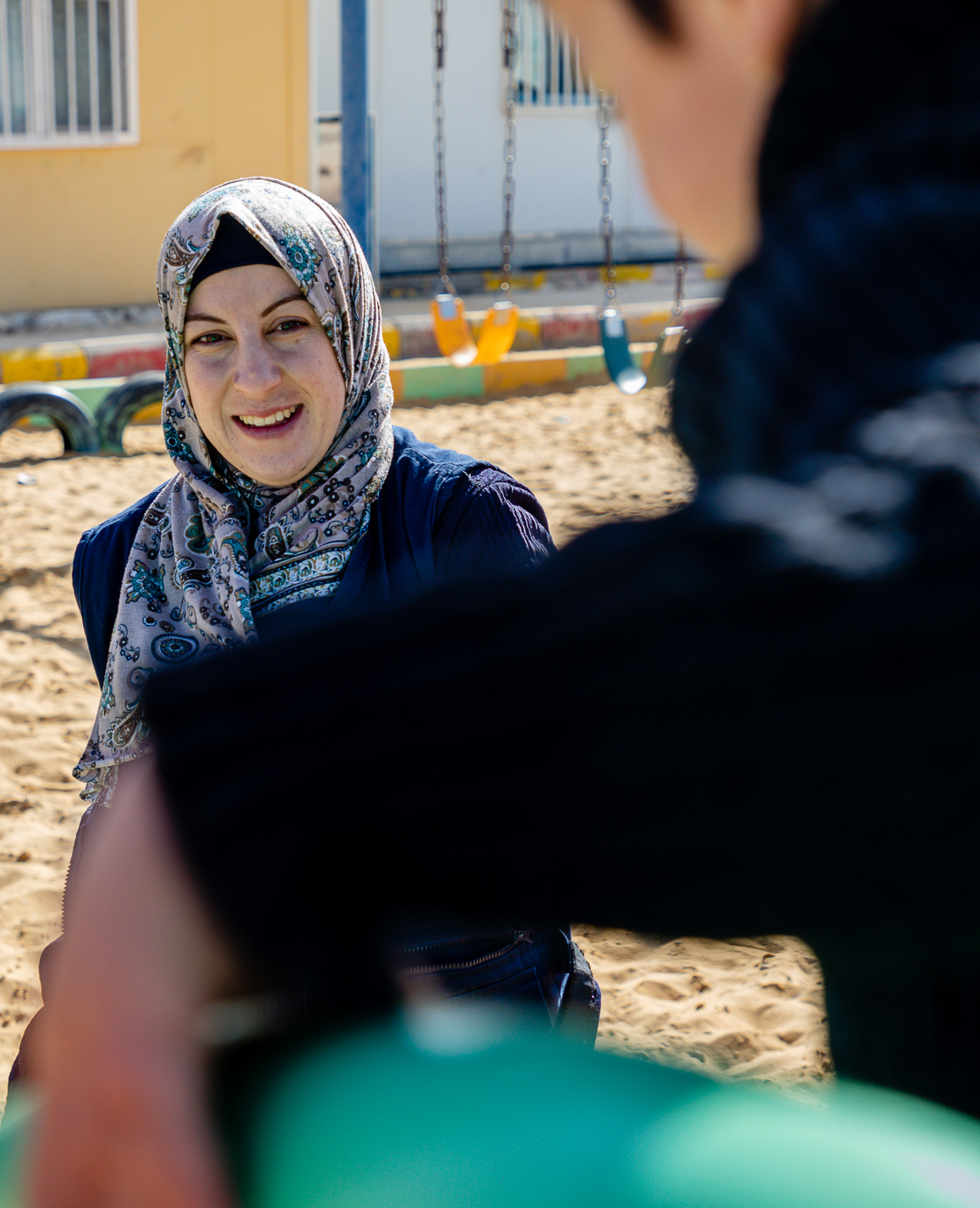 When war broke out in Syria in 2011, the lives of the women there changed overnight. We are highlighting the resilience of Syrian women like Rana*, whose story shows how she – and thousands of others – are overcoming immense challenges to provide for their families.  
"Before the crisis my life was normal, I was happy, there was nothing on my mind, I had no problems and no concerns. Then the crisis started, we started losing close and loved people to us. That period was very difficult everything changed. There was not even a place where you can get something to eat, some days we went without food. 
"I was pregnant at that time. The situation was very hard. When the time came to give birth there were a lot of bombings in the area where our house was, and we had to shelter in a school building. I had to deliver my daughter in this school. I was alone – just my husband and me.  
"After giving birth we returned to our home again and after that, we decided to leave and try to get to Jordan.  
"We travelled in trucks like the ones used to transport livestock. There were lots of families with us, and we were all on top of each other. Some of the children couldn't handle the desert and bumpy roads so they would be sick on each other.  
"We had to keep changing vehicles on the way and make some stops to wait for the next truck to pick us up. We even stayed a night in a mosque until the truck arrived early in the morning. I was with my husband and my two small children – my son was three years old and my baby girl was just two months old.  
"We arrived at the border after 10 days of traveling and we stayed there for a while, waiting for the Jordanian authorities to let us in. We sat on the ground and had nothing with us, we lost some of our bags on the way – even water was very low. Then the authorities let us into Jordan. 
"At the beginning when we arrived at Azraq camp we didn't have electricity, water was very low, the distance between where they located us to live and to the nearest shop or to any other services was very far away.  
"We arrived in the winter, so we didn't have proper heating. The caravan was empty and we didn't have money to buy anything and we had no work. 
"We didn't find any work for a year. Then my husband found a job but only for one month as a cleaner at one of the NGOs. I had never worked in my life, I never had the need to work, but now I needed to find a job urgently.  
"I eventually found work with Relief International as a Case Manager, helping their teachers when a child was absent from school. I would follow up with their parents. 
"I did that for two years. Now, since 2018, I am an educator for children aged from 18 months to 4 years who attend the Relief International Early Childhood Center. The work we do is essential – we need our children to have a basic education.  
In 2018, Relief International opened Early Childhood Development Centers in Jordan's Za'atari and Azraq refugee camps. These early learning centers offer safe spaces for nearly 300 children, ages 0 to four and a half years. Unlike most other centers, the centers accept children from birth to ensure their mothers and caretakers can resume their education or work responsibilities as soon as possible. 
"Even with Covid-19 we have managed to carry on providing a service. We work in shifts and have divided the children into smaller groups. We work online with parents who are home with their children through WhatsApp groups, where we provide them with activity ideas every day.  
"Since getting a job with Relief International things for me are much, much better. Our life has completely turned around. My salary means that I can now get my children all the essentials that they need. I can now buy things for the home too, and even send money and help my family who is outside of Jordan. 
"Before I worked, my kids only played with sand outside the caravan and with rocks because there was nothing else but now, I can afford toys and the camp shopping place even started bringing toys that we can buy. I bought the kids a bicycle and a football. 
"The mental state of our whole family has changed. Before, my husband and I were always frustrated and sad and just thinking about how to put food on the table. The kids would see this and it would bring them down. Now it's different, they are enjoying childhood because as parents we are less stressed, and everything is more stable. 
"For me personally, a lot has changed. I was very shy but now I have gained confidence. I have earned a lot of qualifications after working with Relief International. I am not telling you that life here is 100% good but in comparison to life in Syria during the crisis and the first years of the displacement, it's very different and much better. I feel that I have managed to establish a new life here." 
Rana's story is part of our series highlighting the lives and incredible resilience of Syrians affected by a decade of war.
*Name changed to protect identity.