On June 15, Relief International convened key stakeholders, including aid actors, government representatives, and donors, in an online workshop to discuss refugee children with special needs and the challenges of seeking and accessing essential services.
In her opening remarks, Ameena Ilahi, Country Director for Relief International, noted: "Refugees from conflict-affected regions are at high risk of exposure to traumatic life events such as torture, rape, and loss of family members."
"Due to these stressors, refugee children are at an elevated risk of common mental health conditions: depression, anxiety, and post-traumatic stress disorders, and suffer from other types of physical disabilities due to conflict-related injuries," says Ameena Ilahi.
Türkiye currently hosts 64% of all Syrian refugees – 3.6 million people, half of which are children.
Children with disabilities in Türkiye are more likely to experience poorer health outcomes than those without a disability resulting from an underlying health condition contributing to their disability, higher poverty levels, stigma and discrimination, and other barriers to health services.
Ahmet Atif, the Head of the Counseling and Guidance Department, Ministry of National Education, shared his experience working with Syrian refugee children and noted that children requiring the most support are often unable to access the services they need because they are not Turkish citizens.
Part of the problem in providing services to refugee children with disabilities is a lack of information about the barriers stopping them from accessing services in Türkiye. To fill the gap Relief International, jointly with the London School of Hygiene and Tropical Studies (LSHTM), conducted a study of the experiences of refugee children with disabilities and their caregivers when accessing rehabilitation and specialized health services.
The study revealed that lack of rehabilitation services, resources, limited knowledge of available services, language difficulties, and discrimination from community members are some of the barriers that stop children with special needs from getting the support they need. Moreover, caregivers without options, often turn to herbal and natural remedies in the hopes of finding support.
The study also found that many children with special needs are discriminated against, bullied, and even physically abused at school, in their neighborhoods by other children, and, on multiple occasions, by teachers and educators.
Poor living conditions also negatively impact children with psychosocial disabilities. Most refugee families do not have steady sources of income, so they cannot afford to seek specialized care for their children. Access to these treatments can also be restricted by mobility issues caused by a child's disability and behavioral features of some diseases, such as autism.
"The minibus does not stop for me. If I have a stroller, I have to carry the child all the way," a caregiver of a child with physical impairment told the RI team.
"It is critical to put in place mechanisms to inform the people with disability on their rights," noted Deniz Kaya, SENED during the event. "People with disabilities were severely affected during the recent earthquake since there were no preventive measures provided in the Emergency Response Plan for people with disability."
Partner organizations who attended the event emphasized the need to strengthen partnerships and policies that drive improved service delivery for all – focusing on long-term inclusive solutions for children with special needs. Attendees also encouraged further coordination between the Ministry of Education and other critical authorities and development organizations supporting children with disability in providing quality services.
Ahmet Atif, a representative from the Ministry of Education, stressed the significance of cooperation between non-government actors and the Ministry of Education to tackle the problems facing children with disabilities.
"Public schools prepare special education programs and can set aside a special classroom from which these kids can get specialized care, with the support from non-government organizations," says Ahmet Atif. "This is not a problem the Ministry of Education can solve alone."
"We have to change the perceptions and mentality around special needs – a preventive strategy is vital: to reach the people and raise the awareness on disability issues, inform them of their rights, as well as provide financial support to them. I believe we can overcome this problem," he concluded.
"Relief International is committed to supporting refugees with disabilities through specialized care, including health and education services," said Ameena Ilahi, Country Director, Relief International, Türkiye.
"We support six mental health centers and six comprehensive physical rehabilitation centers across Türkiye for refugees with disabilities," Ameena Ilahi. "These centers specialize in providing prosthetics, orthotics, physical therapy, and mental health services for refugees with disabilities."
"To date, we have served over 200,000 people, mainly refugees – providing free 140,000 physical rehabilitation sessions and 56,000 mental health and psychosocial support sessions and supplying nearly 12,000 assistive devices to those in need."
This work has been supported by the U.S. Department of State's Bureau of Population, Refugees and Migration and the European Union Humanitarian Aid.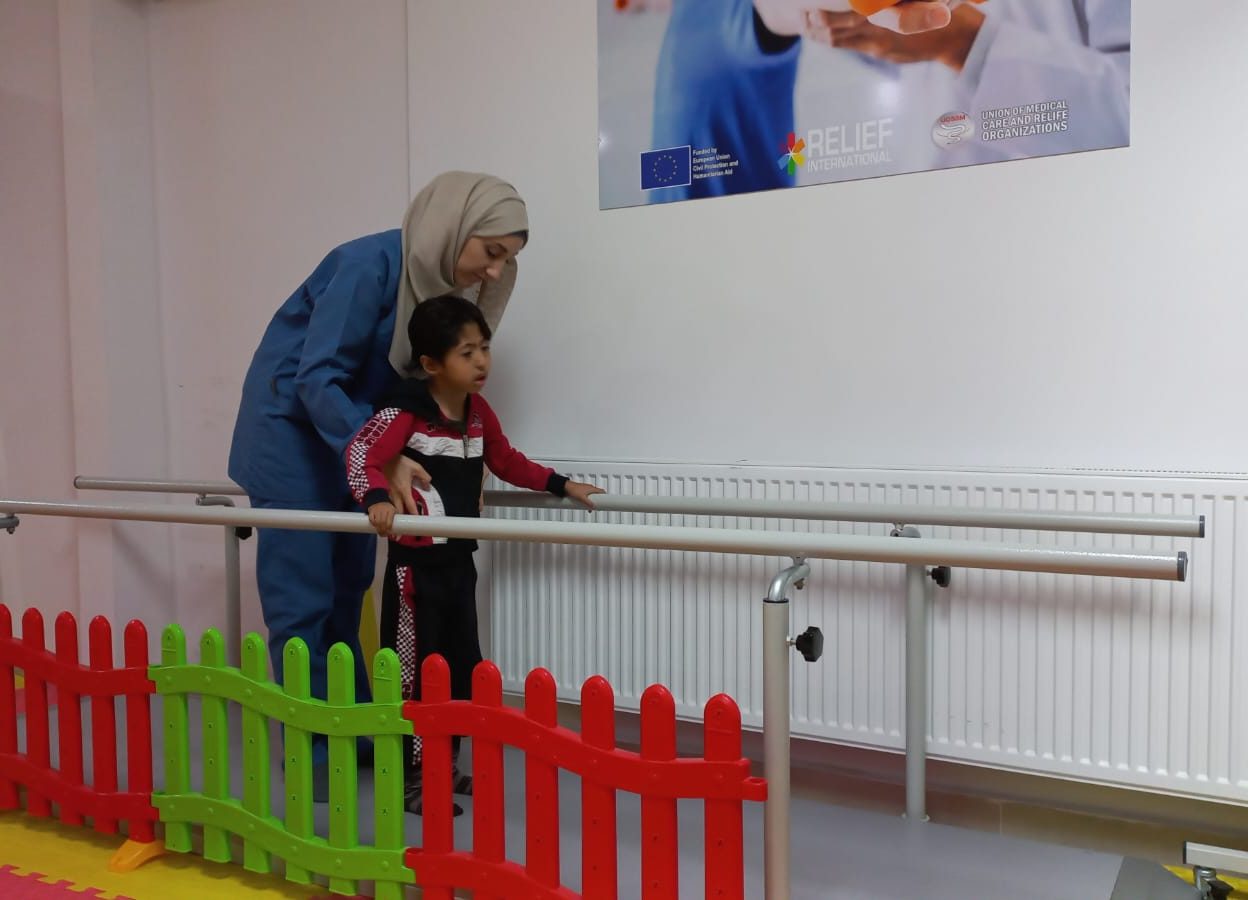 Relief International in Turkey
RI has worked in Turkey since 2013, providing health services and livelihood opportunities to the large Syrian refugee population in the country, as well as vulnerable members of the communities that host them.