Today Iran hosts one of the world's largest populations of refugees. Most are from neighboring Afghanistan where conflict and economic desperation has forced millions of people to migrate in search of a better life.
Generous hospitality is deeply embedded in Persian history and culture. This tradition is so central to Iranian lifestyle that an invitation for tea to a neighbor or stranger can extend to a week's stay.
Iran's open door policy to Afghans over the past 40 years reflects this Persian commitment to hospitality. Four decades of conflict in Afghanistan has led to a flood of Afghan refugees into its neighboring countries. Iran alone has received some three million Afghans, making it one of the largest host countries in the world. An official decree in May 2015 allowed all children in Iran, regardless of their legal status, to access formal education.
Relief International has been supporting Afghans in Iran for more than a decade.
Our programs in Iran focus on providing healthcare, education, and protection support, as well as vocational training and start up funds to help Afghans gain employment in local markets. Our support for Afghans is the mainstay of our work in the country, alongside our emergency response for Iran's frequent natural disasters, such as earthquakes and floods.
Relief International's teams in Iran provide comprehensive and holistic support for vulnerable Afghans, linking them to health services, education support, cash grants for acute needs, and mental health counseling. We also support pathways to official documentation.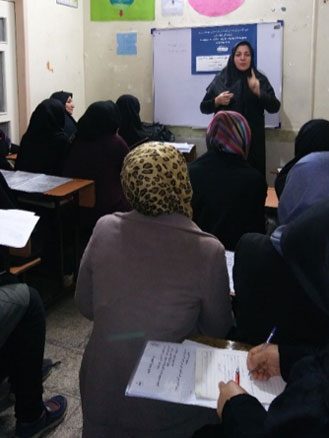 Business Skills Training provides, fulfills and empowers
Most Afghans who have sought refuge as guests in Iran are escaping insecurity and economic desperation in their home country.
As a 22 year old Afghan living in Iran, Hamid* took part in the Business Skills Training Program from Relief International. The program helped him to start a business making novelty gifts.
"The training helped me cost the production if I bought the materials in bulk, and research the market to decide what selling price would be competitive on the local market," says Hamid. "I advertised the gifts on social media, and was able to sell 3,000 of them – so much more than I had hoped! Now that I know I can start a micro-enterprise with these business skills, I am excited to implement my next idea, and provide for my life here in Iran while also sending some money home to help my family in Afghanistan."
Hamid has also taken one of our follow-on training courses to learn to teach others in his community how to start businesses. This has enabled him to provide training for a further 15 people.
"I want to help others learn they can start something relatively easily if they research gaps in the market. Having my own small enterprise has been more fulfilling than working as domestic help or selling in a shop like many Afghans do, which doesn't give you enough income to live a decent life here."
Hamid has now initiated a Telegram channel called "Golshahr Kala" on an app that anyone can use to sell their products. It already has more than 400 members.
In 2018 alone, Relief International conducted six, three-day business skills training sessions for 83 trainees, and a further 607 people benefited from training on rules and regulations that impact refugee small businesses in Iran. In addition to Hamid's successful novelty gift business, trainees from our programs have started enterprises including a bakery, embroidery, leather works, aluminum casting workshop, tech-related jobs, chicken farming, a waste collection and recycling business managing by people with disability, and tailoring services.
Positive relations between Afghans and the local host community bring enhanced benefits for all.
"An important element of our business trainings is that it includes both Afghans and vulnerable Iranians also," says Afrooz Fallahi, Relief International's Protection Assistant. "This not only extends the training to all vulnerable communities in Iran without bias, but it also has the benefit of helping Iranians and Afghans to become more familiar with each other's culture and lifestyle."
Enterprise development is not the only activity Relief International supports. Our teams conduct case management aimed at connecting Afghans to the services they most need. Some of our staff are Afghans themselves, whom we employ as outreach workers. Their role is to help identify families in their communities with the most acute needs, and encourage them to seek our services.
"When Relief International first began doing outreach, particularly in Sistan -Baluchistan province, people wouldn't open the door of their house, wouldn't let us enter and talk to them," continues Fallahi. "It was so challenging to build trust and convey that Relief International's only goal was to improve their quality of life, address their vulnerabilities, and mitigate the protection risks they face.
Our Afghan volunteers were the ones who are changing this dynamic. With our training, these volunteers are able to communicate to vulnerable families to enable us to make home visits or distributions. They will accompany us and the doors will open more readily. Moreover, our volunteers are familiar with sensitivity factors in Afghan culture and this makes all the difference."
A holistic approach
"I remember a family in Yazd we identified as being vulnerable and in need of support. There was a boy of eight years old who was out of school. The family asked us for help to get him registered and to pay school fees. We helped him to interview at his local school, but during the school physical test it was found he suffered from a hole in his heart that needed to be urgently addressed.
Unfortunately, the parents were undocumented and as such unable to go to Tehran to seek care at a pediatric hospital. As a case worker, I helped them negotiate a travel pass from the authorities to approach the hospital. We also arranged for a partner NGO in Tehran to cover the costs of his surgery and care, including provision of accommodation for the parents. Without this they could not afford to stay near the hospital to assist with the recovery of their child. The child's surgery was successful, he returned to Yazd and was able to start school. We then assisted his family further with two cash cards for addressing other problems, including paying for medicines and follow-up care to ensure their son's full recovery."
*Name changed to protect identity. 
Supporting Afghan Refugees in Iran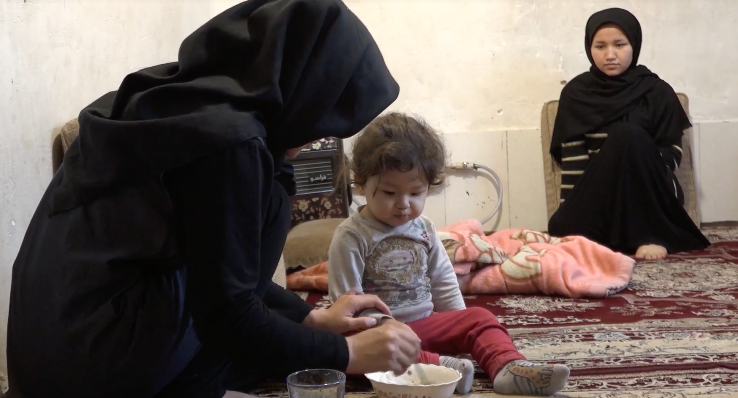 Supporting Afghan Refugees in Iran