"We have experienced many trials in life. There are days when we have nothing left to eat……. we know that this too will pass and we will continue to fight and rise from poverty."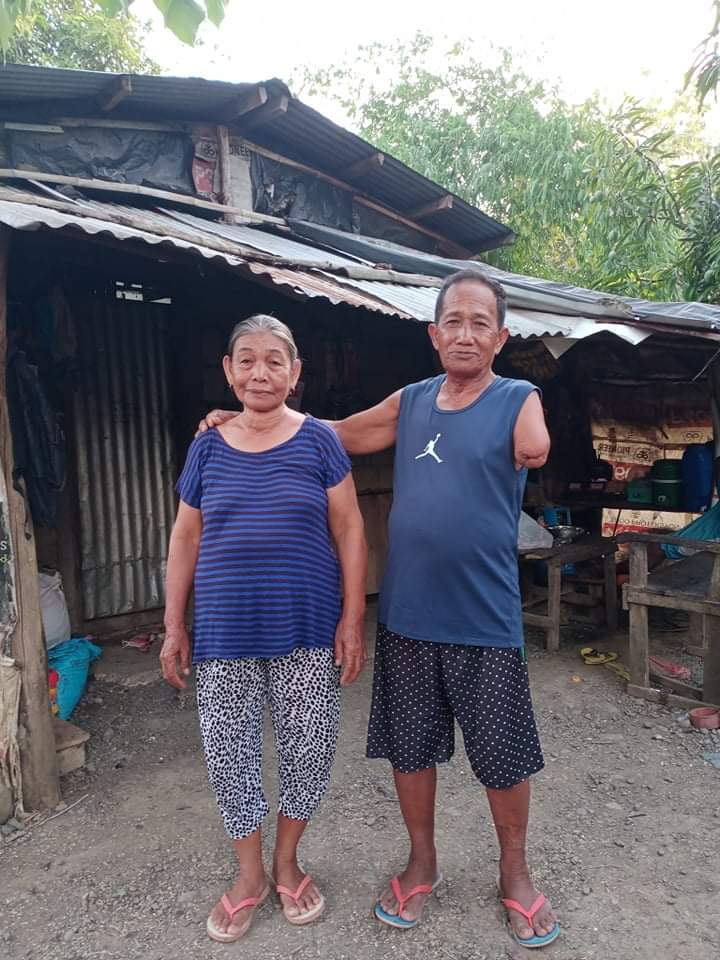 Emergency cash support from RI helped the family cover their most urgent needs while they got back on their feet
Tatay and his family would often struggle to make ends meet but when the super Typhoons Rolly and Ulysses lashed the Philippines they left a trail of destruction in their wake and the family facing extreme hardship.
Typhoons regularly batter the Philippines with around 20 powerful storms each year but Rolly was the most powerful storm to hit the country in nearly a decade. Rolly left many homeless with their livelihoods destroyed, and clean water and food in short supply. Then just 10 days later, Typhoon Ulysses tore through the same communities causing further destruction of homes and livelihoods. In total both typhoons affected 8.5 million people in the Philippines with thousands of people displaced. In Region II, in Cagayan where Tatay lives, one million people were impacted and around 40,000 were displaced.
Tatay and his wife Nanay – a farm labourer – live with their 16-year-old grandchild in Barangay Pinopoc in Alcala, Cagayan. He says he has never known a storm like it. "At this age, this is the first time I experienced such a huge flood. What we went through was so much pain and hardship.
"On the day the flood was coming, I didn't know how I could help my family. I couldn't even help with our things and equipment because of my disability from the loss of my arm.
"When the flood came we went to our roof to survive. We didn't have anything to eat or drink at all. What we experienced was exhausting."
Life had already been difficult for the family, and the COVID-19 pandemic had put the family under extreme pressure to find food to eat. At the height of the pandemic, Tatay and Nanay would go to the fields each day collecting rice that had not been husked and left by the farmers or in the machinery so that they could eat. The typhoons then came, and the family lost everything.
While their house survived, the family lost all their possessions in the flood that followed the typhoons, and damage to crops and infrastructure meant that the cost of foods and everything they needed to rebuild became too expensive.
Relief International teams were able to offer immediate critical relief to those most badly affected by the typhoons. Working with the support of our partner, the Center for Disaster Philanthropy, families like Tatay's were given immediate cash support to cover their most urgent needs such as food, safe drinking water, medicine, blankets, and rent.
Cash assistance enables people to determine their own needs and the best way of meeting them, as well as having a multiplier effect by directly benefiting the local economy.
With their cash grant Tatay's family were able been able to buy rice and other household goods for themselves.
Tatay says: "It has been a huge help, especially to poor families like us…. we had a supplement to buy medicine and daily necessities. We also used the rest of the money to pay for water and electricity."
In addition to providing emergency relief, Relief International has been working alongside communities to protect themselves and their families against future risks. We are partnering with the government and local communities to help build resilience to future typhoons, focusing on strengthening local associations to support the development of resilient livelihoods.
Despite these future risks, Tatay and his family remain hopeful, speaking about the difficulties they face, he says, "We know that this too will pass, and we will continue to fight and rise from poverty."