Floods. Droughts. Floods. Droughts. Floods. Droughts. These extreme weather events are on repeat in Somalia, where the already vulnerable population is ill-equipped to cope with the far-reaching effects of too much or too little rain.
The spring of 2018 brought the heaviest rainfall Somalia had seen in more than 30 years, causing devastating flooding across the country and claiming six lives. Just one year later, in spring 2019, Somalia again faced volatile weather – this time, a drought following a poor rainy season. The situation continues to decline, and the United Nations is warning that severe food shortages could escalate into a full-blown famine.
That's the other recurring piece in the flood and drought pattern: a food crisis. Somalis have endured more than half a dozen periods of extreme food shortages over that last four decades. The most recent were the 2010-12 famine, a food crisis in 2014 and a near famine in 2016-17.
Relief International has more than 100 field staff working out of six strategically placed offices across the country, where we oversee programs that help Somalia's agriculture-dependent population withstand the current catastrophic weather event and prepare for the next one to come. Our 2018 flood response demonstrates how we provide emergency aid when a crisis is at its height.
Relief International Responds to Record-Breaking Flooding
In late April of 2018, Somalia's two major rivers overflowed after weeks of heavy rains. The resulting flash floods forced more than 228,000 people to flee to higher ground, carrying only what they could manage on their backs and loaded onto donkey carts. In the hard-hit Beletweyne district, the waters destroyed crops and houses, closed airports, hospitals, schools, washed out roads and contaminated wells.
Relief International staff evacuated their flooded Beletweyne office and two of four health facilities, and set up a mobile medical clinic out of the rivers' way. With generous funding from Start Network and supplies salvaged from the floodwaters, our mobile medical staff combed through makeshift settlements to deliver clean water, health care and hygiene aid to flood survivors.
Many of the families in this area already were displaced from their homes elsewhere in Somalia — by conflict, drought or the near-famine that plagued the country in 2017. The floodwaters in Beletweyne deluged these tent settlements and brought a new threat: disease.
Most people in Beletweyne get their water from open wells, which were inundated with contaminated floodwater and latrine overflow. With no other choice, however, families continued to drink from them. Dirty water combined with crowding in the temporary camps brought prime conditions for cholera, dengue fever, malaria and other communicable diseases.
As access to safe water became more and more limited, we trucked in clean water and distributed it to 15,000 people. Emergency response teams gave hygiene kits with sanitary napkins, laundry soap, body soap, toothbrushes and plastic combs to especially vulnerable families, such as female-headed households, pregnant and lactating women and families with many children under five years old. Our staff also spread information on how to prevent waterborne illness with radio messages and door-to-door campaigns.
Building Resiliency as Famine Looms
Relief International has been working in Somalia for more than a decade to deliver life-saving emergency aid, as we did in the recent floods, and implement programs that build capacity and promote resilience. But we stay the course after the crisis passes, helping hard-hit communities plan for the future through access to education for boys and girls alike, quality healthcare at our 14 health facilities, and new economic opportunities through start-up grants to local entrepreneurs.
We've reached 130,000 Somalis so far in 2019 with health interventions and improved access to water, a number that's still climbing as our field staff mobilizes life-saving support in preparation for the looming famine. We're working with our partners on the ground to scale up malnutrition screenings, provide disease outbreak education, and stockpile essential medicines to meet the population's growing needs.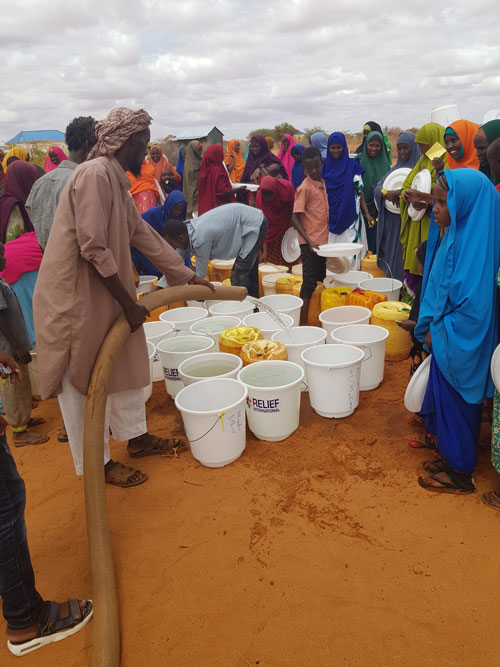 Somalia Drought Brings Food Shortages, Leaving Millions at Risk of Starvation
+ Read article