Ahmad
"Where should we go? This center is a temporary place for us; there are many families here without any privacy for any of us. How long will we [be able to] stay here?" questions Ahmad, a blacksmith who initially moved with his family to now earthquake-affected area to escape the war.
Ahmad, his wife, and four children are now homeless. They have taken refuge at a sports center in the city currently sheltering dozens of families impacted by the earthquake.
He is receiving treatment from Relief International mobile clinic doctors, having badly fractured his left arm in the earthquake, which required metal plates to be set.
The rubble that toppled him during the earthquake also caused injuries to his pelvis and back, and now he struggles to walk.
"We were asleep when the earthquake struck, and I got up alarmed. I woke my children and my wife, and picked up my daughter, telling them to follow me quickly."
"I hurried to the entrance of the building and then it collapsed."
"I didn't know what had happened to my family, and called out to them. The neighbors replied to me, and I asked them about my children and daughter; they replied that all my family members were fine and that the building had partially collapsed."
"I was relieved then."
RI medical staff were only able to help Ahmad because our mobile medical unit teams were on the ground treating people within hours of the earthquakes hitting.
Despite extensive damage to some of RI health facilities, and despite being affected by the earthquakes themselves, and our medical staff worked tirelessly to treat wounded and displaced people across northern Syria, and help them deal with the immediate impact of trauma.
Rawan
"We escaped the bombing, and have now been hit by the earthquake"
"I found myself under the collapsed ceiling of the building. I felt very dizzy, with dust filling my mouth, and I thought about my daughter. I did not know what had happened to her, but I was unable to move or talk."
Rawan (aged 32) is a survivor of the devastating earthquake that hit the north of Syria.
The death of Rawan's husband six years ago prompted her, her mother, father, brother and sister to flee their hometown, before finally settling in the village that is now decimated in the earthquake.
"We erected our tent inside an unfinished brick building because we were unable to rent a house. How should we know that its ceiling would collapse on us?"
"We escaped the bombing, and now we've been hit by the earthquake," says Rawan
A rescue team pulled Rawan out from under the rubble.
Rawan and her family are now sharing a tent with another family.
Relief International medical teams have visited both families at their temporary shelter, providing treatment and medications.
Ibrahim
As the masonry collapsed on Ibrahim, so did his life around him. "You're building a family, and then everything is totally destroyed in the blink of an eye, and you stand there helpless, unable to do anything."
"We were asleep when the building collapsed on our tent; my wife Rania was injured and we took her to the hospital. She died from internal hemorrhaging."
"Now I have only my daughter, who survived with me."
Ibrahim's child, Lina, only two months old, now lives with him as well as his brother, his brother's wife Sawsan, and their four children in a camp  where survivors of the earthquake have gathered seeking shelter and safety.
"It is so dreadful to see a two-month-old baby lose her mother. I am taking care of her, and she will stay with me, as I regard her as my daughter," says Sawsan, Ibrahim's sister-in-law.
"I breastfeed her and change her diapers and I will take care of her even better than my own children."
"Sometimes I look at her and feel very sad for her and for our situation, with our hard economic and living conditions."
"It is fortunate that the mobile clinic sees us here if we need anything, like medications and examinations. It's better than going to the hospital or a private doctor."
One of Relief International's six mobile clinics visits the camp on a daily basis, treating the many injured from the earthquake, providing medication and referring to other services when they are needed.
This article covers humanitarian aid activities implemented with the financial assistance of the European Union. The views expressed herein should not be taken, in any way, to reflect the official opinion of the European Union, and the European Commission is not responsible for any use that may be made of the information it contains.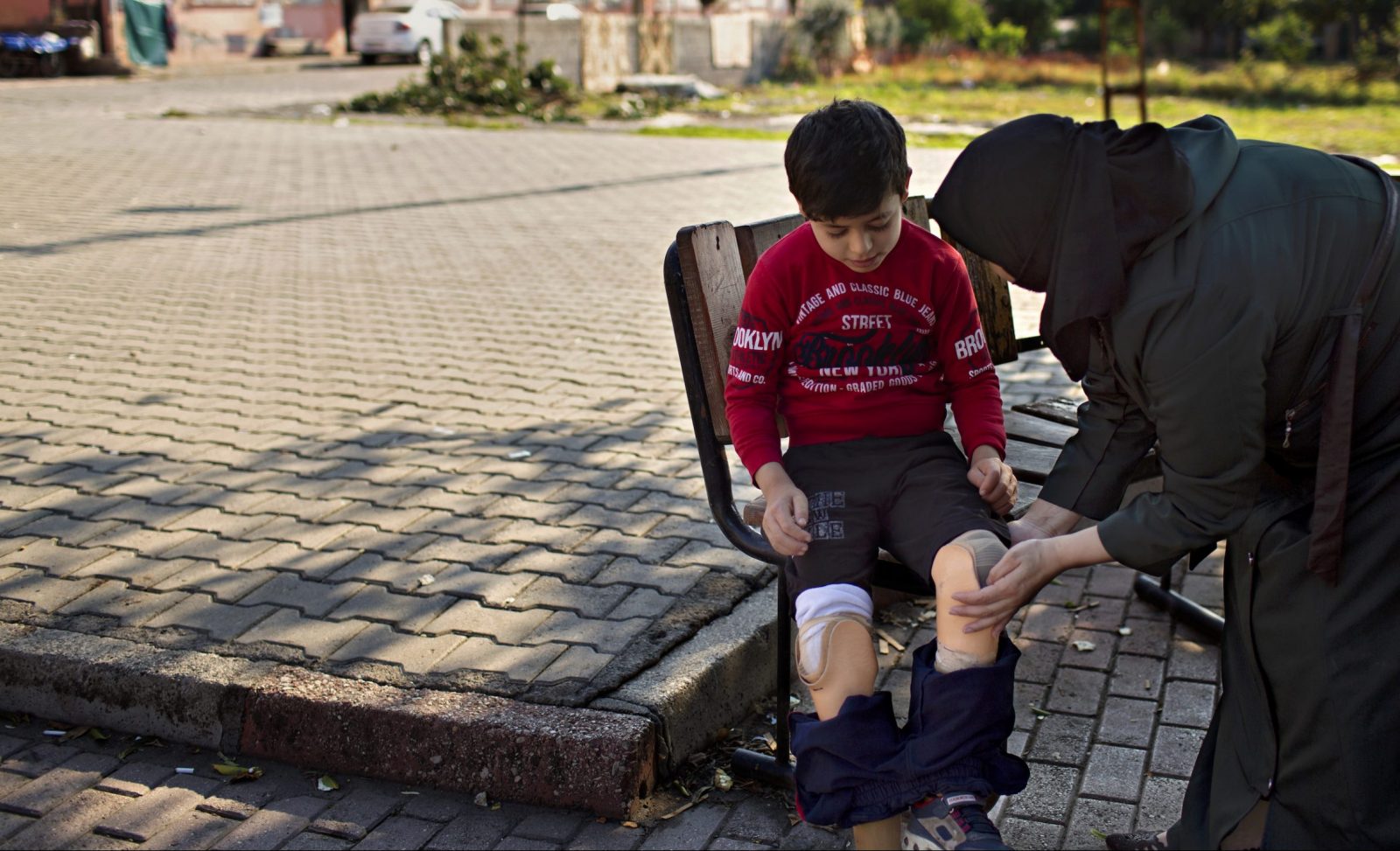 Donate to Relief International
Families across the globe are facing crisis. RI is supporting them every step of the way.
Donate now to help us do it!