For someone who has survived the brutal Syrian civil war, and now a horrifying earthquake in southern Türkiye (Turkey), Hussam is not what you expect.
He replies to text messages with a 'hehehe' and a 'thaaaaank you'; he sends me gifs and stickers on WhatsApp to lighten the mood between videos of damaged buildings. Even the freezing temperatures can't dampen his warmth as a person.
I spoke to him for the first time via a video call on his mobile, on the Saturday morning following the earthquake. He was out walking the streets of Gaziantep, where he lives. It didn't seem like he was going anywhere; he just needed to walk.
I explained that people would want to know what had happened during the earthquake to him and his wife Rama. Without pause, he started sharing a story they will be retelling for the rest of their lives.
Meet Hussam, a Relief International staff member who lived through the earthquake in Türkiye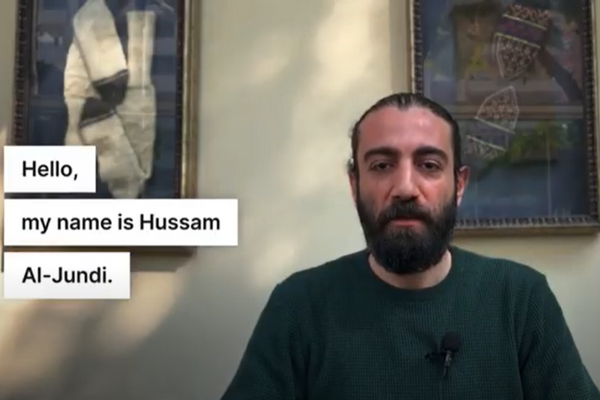 Meet Hussam, a Relief International staff member who lived through the earthquake in Türkiye
"We woke up. It was really terrifying. We didn't know what to do. We hugged each other and then crouched down between the sofa and the wall and started to pray. The whole sky outside the window had turned into this white and blue colour as if something had exploded. You can't imagine the situation."
When the shaking stopped, they ran down the stairs and into the street, where people had started to gather. It only took ten minutes for the first large aftershock to hit. Their ordeal had only just begun.
"We knew from our experiences in Syria, that people go to the closest gathering place and that usually the construction is better in mosques. It was -5 outside so we were also searching for a little bit of heat. There were around 500 people at the mosque, trying to make phone calls, and trying to reach people. The electricity and phones were cut off. It was really bad.
Over the coming hours, news of the devastation across southern Türkiye and northern Syria began to emerge as mobile networks came back online one by one. "Everyone was traumatized. There was a woman crying; you could see it in people's faces. By nature, you talk to people and say things will be fine, but really because of the aftershocks, you don't know what will happen next."
Around dawn, Hussam received a call from a friend in Istanbul who was desperate for news from his mother and sister who lived nearby in Gaziantep. He, Rama, and a few others from the mosque ventured out to see if they could find the building.
They were relieved to find it standing but badly damaged, and the door jammed tight. The mother and sister were unharmed but trapped on the other side. "We started to break down the door, but aftershocks were happening. We were worried that the building would collapse on them and us. It was a scary moment, but we got them out."
It was around noon Hussam, Rama, and some friends found a little café. It wasn't serving food, but they and others were let in anyway. There was a woman in there crying and others comforting her. She had somehow miraculously escaped unharmed from a 15-story building that had collapsed.
"That's when the second earthquake hit; we ran out of the café and into the street. I can honestly say that the street was moving up and down like a wave in the sea."
Seismologists describe this second very large 7.5 earthquake as unusual to have happened just hours after the first, but for people in the impact zone, it was just the largest of the hundreds more aftershocks that have struck since.
"In the first five days, we were getting 10-15 aftershocks per day. We stopped counting them. It felt like every hour; you were running outside, worried that the building you are in will collapse."
"In Syria, you are worried, you are afraid for your life, but in war, you have front lines, areas that you know to avoid, the siren gives you a warning to run into a basement. In this type of catastrophic situation, you can't escape. Another quake can come, and a building can fall on you at any moment; the psychology of the situation is brutal."
Eventually, Rama and Hussam – just shy of 24 hours before the first quake had forced them from their home – found shelter in a mosque that had heating. "It was really full, around 350 people, there was barely a space to sleep, but we finally got some rest."
"The panic management is the same; how to react in emergencies, evacuation plans, what items you need to take with you, how to keep in touch with people."
Hussam grew up in Damascus, Syria. He is a dentist by training and profession, and never imagined that one day he would become an aid worker helping Syrian and other refugees.
"When things started in Syria, people were for freedom, seeking democratic change." Over the coming months and years, other interest groups engulfed the calls for democratic change. "People came from abroad to join one or the other side. At the start, I was supporting the movement wanting respect of human rights, but when things became violent, I stepped back and got involved in humanitarian work."
Hussam volunteered with the national branch of an international humanitarian organisation until 2014, then worked with a French NGO for another year. But with the war raging, the areas where they were able to provide aid were shrinking, and so too was his ability to do good.
"Things got really messy [in Syria]. It was time to move out – I had started getting threats because of my work."
Like 3.5 million other Syrian refugees, Hussam and Rama moved to Türkiye. He sought out a coordinator role with Relief International on a community health program, before going on to manage a mental health and physical rehabilitation project.
Funded by the EU, the project provided physical rehabilitation care and psychosocial support to refugees from Syria at a centre in Gaziantep. It has helped thousands; enabling children and adults  to walk again after losing limbs as a result of the conflict.
Before long the project was expanding into more centres and more teams; providing services for all persons with disabilities. As Hussam makes clear more than once, "we don't discriminate".
All that has now stopped due to the earthquake damaging some of the centres. For now, staff are focused on the immediate work of providing relief to those impacted by the earthquake.
"Everything changed after the earthquake. The first job was checking on staff and partner organizations we work with. We then started communicating with our international team and made arrangements for them to come into the country."
"We purchased the first batch of winterization items and started distributing them out in three cities. Now we are preparing hygiene kits, including diapers for babies, the elderly, and for persons with disabilities. They will be distributed in a couple of days."
His concern for the devastation in his homeland is also palpable. "The situation in Syria is different; even before the war, the country was not ready for any type of disaster. Already 70% of the buildings were destroyed in some cities, and now in the earthquake zone, everything is destroyed."
While larger UN convoys are now starting to get through to the millions who desperately need aid in Syria, international aid efforts were initially hampered.
Fortunately, for thousands of injured Syrians, Relief International had a shipment of medical supplies delivered to its network of hospitals, mobile clinics, and health facilities across the north of the country a week before the earthquake struck, and a further convoy of Relief International trucks with supplies got through in the last few days with more to follow.
I ask Hussam if it is possible to look to the future. The line goes quiet; I assume it is just another of the many times our connection has been temporarily disconnected.
Hussam is still on the line though, taking an uncharacteristic pause before answering. His work responding to the crisis and the precariousness of living with the constant aftershocks had not allowed him the opportunity to contemplate on what would come next.
"The number of people who will need prosthetics and physical therapy after the earthquake will be huge."
"Right now, we are trying to get some new supplies into hospitals in Türkiye, but longer term we will need to provide support to the persons with new impairments."
Hussam came to Türkiye and Relief International and found a role helping others, like him and Rama, fleeing war. There is timid, bittersweet poetry to the notion that this gentle, cheeky Syrian humanitarian is now also helping the Turkish people who gave him sanctuary.
I've kept Hussam on the phone for too long; we're reaching the end of our third and last conversation. I ask him if he has anything else that he wants to say to the people who will read this; I leave you with his words:
"I want to share my condolences for all those who lost family members. I also want to thank all the humanitarian staff at Relief International and other organizations who started working within the first hours of this crisis, despite all the sadness and misery around them. It gets me emotional thinking about them."
"The humanitarian spirit is really, really good."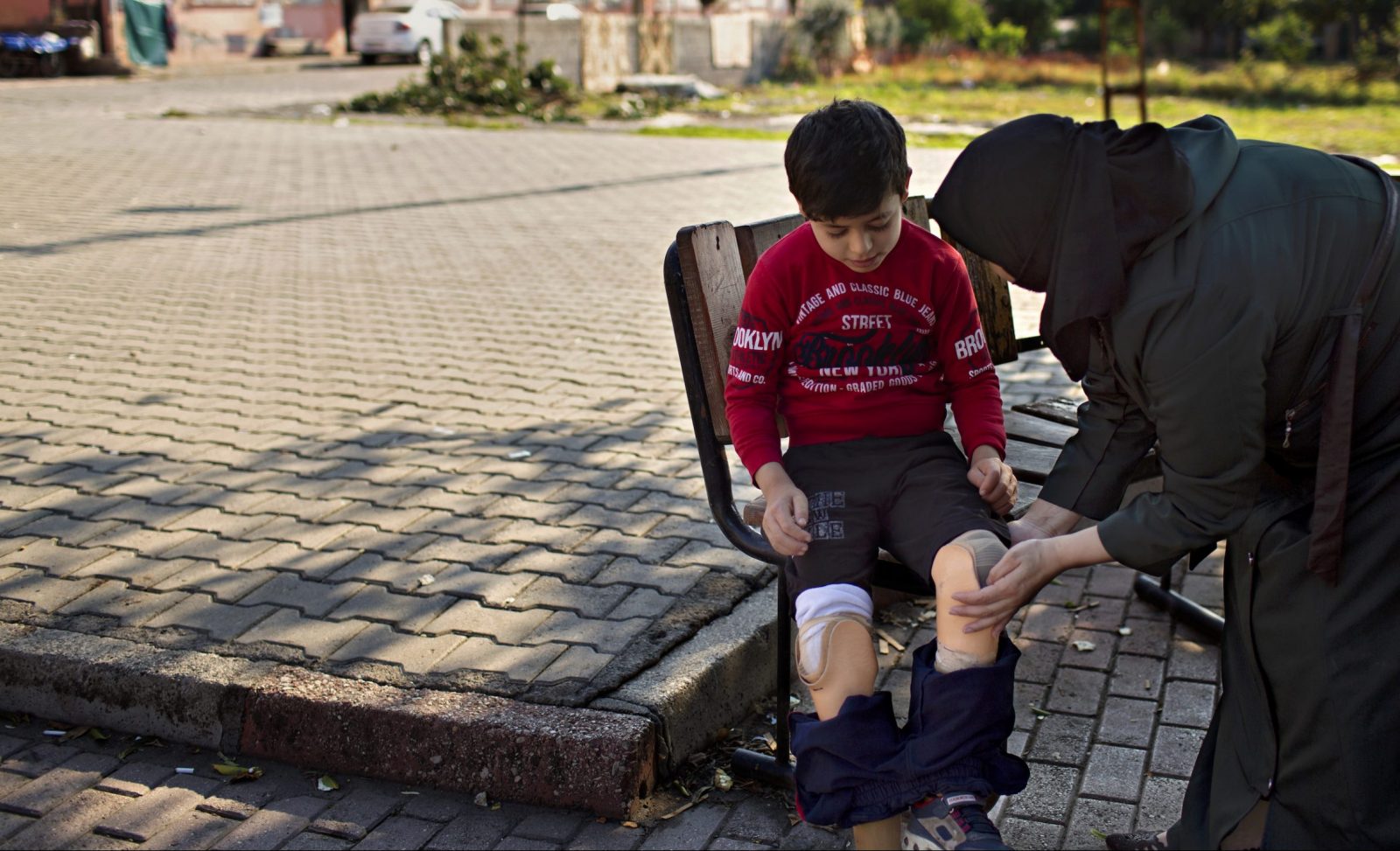 Donate to Relief International
Families around the world are facing crisis. RI is supporting them every step of the way.
Donate now to help us do it!