It's 10 a.m. on November 6, 2013. Typhoon Haiyan, or Yolanda, as its named locally, hovers over the Philippines. The typhoon intensifies in strength over the next two days before finally hitting Guiuan in the Eastern Visayas region. It makes landfall across the central Philippines six more times over the coming days, bringing strong winds and heavy rains that result in flooding, landslides, and mass destruction.
This typhoon is one of the most powerful typhoons ever recorded, and the deadliest the Philippines has ever seen. It claimed over 6,000 lives.
More than 13 million people were affected across 10,701 of the country's villages, known as barangays. Houses were damaged or totally destroyed, leaving over 4 million people homeless.
On the island of Leyte, one of the biggest of the 7,000 islands that make up the Philippines, Yolanda's destruction is overwhelming. Leyte's more than 2 million people are left facing widespread homelessness, loss of income, hunger, lack of clean water, and the imminent threat of contagious diseases.
With over 30 years experience working in the Philippines, Relief International's teams are able to respond immediately.
One of the first things they observe is the contamination of water sources. Sewage pipes have leaked and homes are destroyed, leaving no safe sanitation options for residents. Diseases spread rapidly in the country's oppressive heat, and the lack of clean drinking water is a serious concern. Within days there are reports of widespread diarrhea, especially in children.
Relief International begins trucking in drinking water to villages to meet the immediate need, and works to install community water points thereafter through constructing boreholes. Improving hygiene and sanitation levels is also essential. We train communities on hand-washing and other good hygiene practices and provide essential items such as soap, sanitary products, toothbrushes, washing powder, and diapers. We provide 3,000 emergency latrines and construct 12,000 permanent and semi permanent household level latrines.
We immediately deploy teams of experienced doctors and medical experts to provide medical care and support to the affected population. These teams comprise of 35 medical experts, carrying all their required equipment to serve people in the disaster hit areas.
Our response to Typhoon Yolanda reaches more than 100,000 vulnerable women, men, and children in 90 communities.
Twenty Typhoons Strike Annually
Typhoon Yolanda may have been one of the most devastating storms to hit the Philippines in recent years, but it was by no means the only one. The islands face an average of 20 typhoons a year and are also prone to volcanoes and earthquakes.
But what makes this country so prone to storms and other natural disasters?
Warm seas, low-lying coastal homes, deforestation, and poverty, together with the Philippines tectonic position in the pacific ocean, help explain what makes disasters like Typhoon Yolanda so dangerous for residents of the island nation.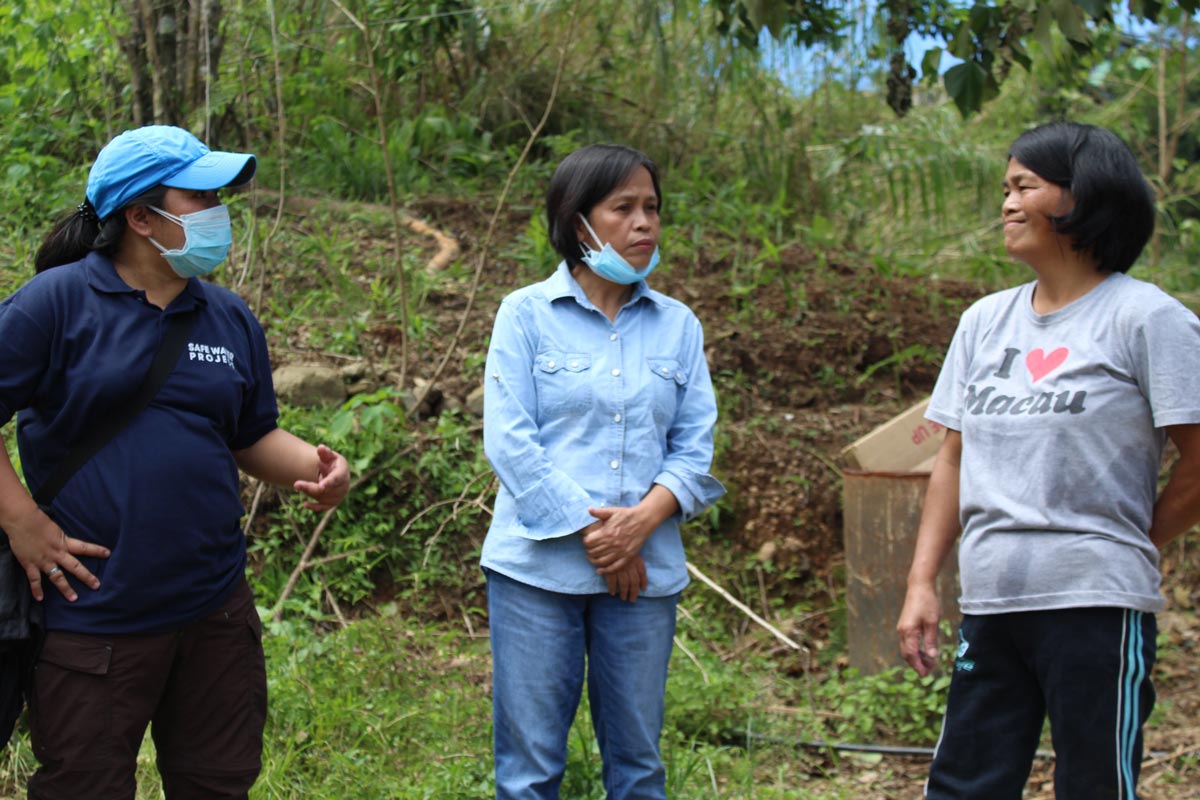 "Climate change means that every year we expect the worse. There is no scaling back in providing support," says Norma 'Bing' Constantino. Bing joined Relief International in 2017 as our Project Coordinator at the time of Typhoon Tembin, or Vinta as it was known locally.
Vinta's gusts of 155 kph caused flash flooding, landslides, and severe damage to agriculture, infrastructure, and other basic services across 1,096 villages in the Mindanao region.
"Many people in the Mindanao had suffered from the recent conflict in the region and were still living in temporary shelter, displaced from their homes," shares Bing. "It was a very challenging time. People were left with nothing. They lost their farm animals and the few possessions they owned. It was very difficult for people emotionally as well as economically."
"Our teams worked incredibly hard, starting very early in the morning. Briefing the teams each day was key since there were still security concerns in the region. We wanted to support the most vulnerable members of the community. This often involved travelling long distances to deliver hygiene kits and other essential items such as cooking equipment and shelter repair kits.
It was stressful work and entailed a lot of commitment from the team, but it was nothing compared to what the people in Mindanao went through".
Preparedness Saves Lives
In addition to providing emergency relief to these communities for the last 30 years, Relief International has been building the local capacity to prepare for these events and mitigate their impacts.
Our efforts focus on the communities closest to the coast – the highest-risk area for typhoons, storm surges, and flooding. We have trained local schools and officials to create village-level disaster risk reduction councils and to produce emergency plans.
Communities' emergency response skills have vastly improved. This was achieved by equipping neighborhoods with early warning systems and conducting hazard mapping, which identifies potential disaster risks. Relief International also promotes emergency preparedness activities and disaster response through awareness events and large-scale simulation exercises.
"It's a long-term intervention that doesn't happen overnight," Bing explains. "It's serious work and it's making a difference. I can't stop doing this work – it's so important and with each natural disaster I just want to do more."