Needaa' spent the past 8 years traveling back and forth across the Jordan-Syria border with her family, fleeing extreme poverty and conflict at every turn. When her family could no longer return home to Syria safely, they settled in Jordan's Azraq refugee camp. They were assigned to Village 5. This fenced-in "camp within a camp" houses more than 9,500 people, all living under intense scrutiny from camp security forces. Nothing enters – or leaves – Village 5 without authorization, including its residents.
It was only last year that Village 5 got electricity and internet access. It still receives less equipment and funding than other villages in Azraq camp, a fact that only exacerbates fragility within the compound's barbed wire fences.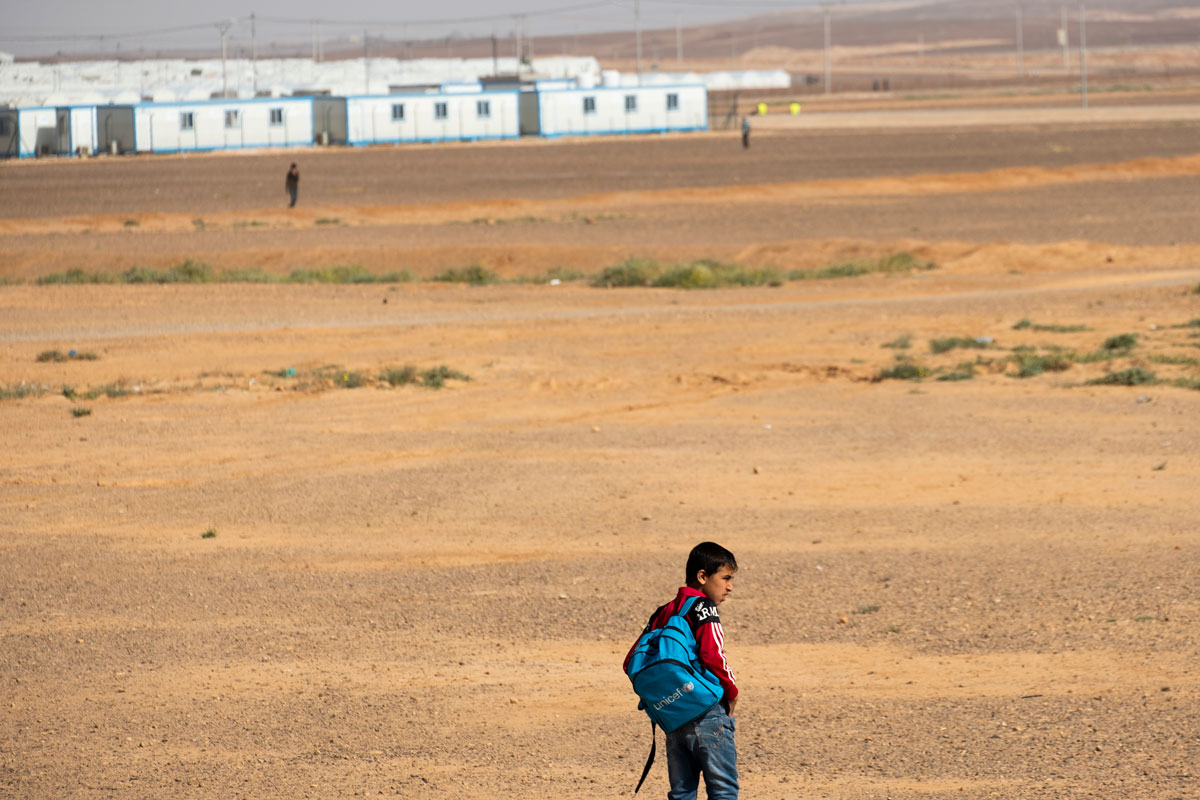 Many experts fear that thousands of young Syrians are in danger of becoming a "lost generation" – an uncertain future that is further exacerbated by restrictions in the camps.
"When I lived in Village 5, I didn't see any point in studying for the Tawjihi because I had just lost my home, family, and any hope that education would get me out of the camp," shares Akeel, 20, a Tawjihi student.
Relief International is the only provider of education inside Jordan's Za'atari and Azraq refugee camps, where we offer a range of innovative programs designed to give students a pathway to pursue higher education or to find jobs inside the camps. Our signature project is a year-long prep course for the Tawjihi, the final exam required for students to take to graduate from high school.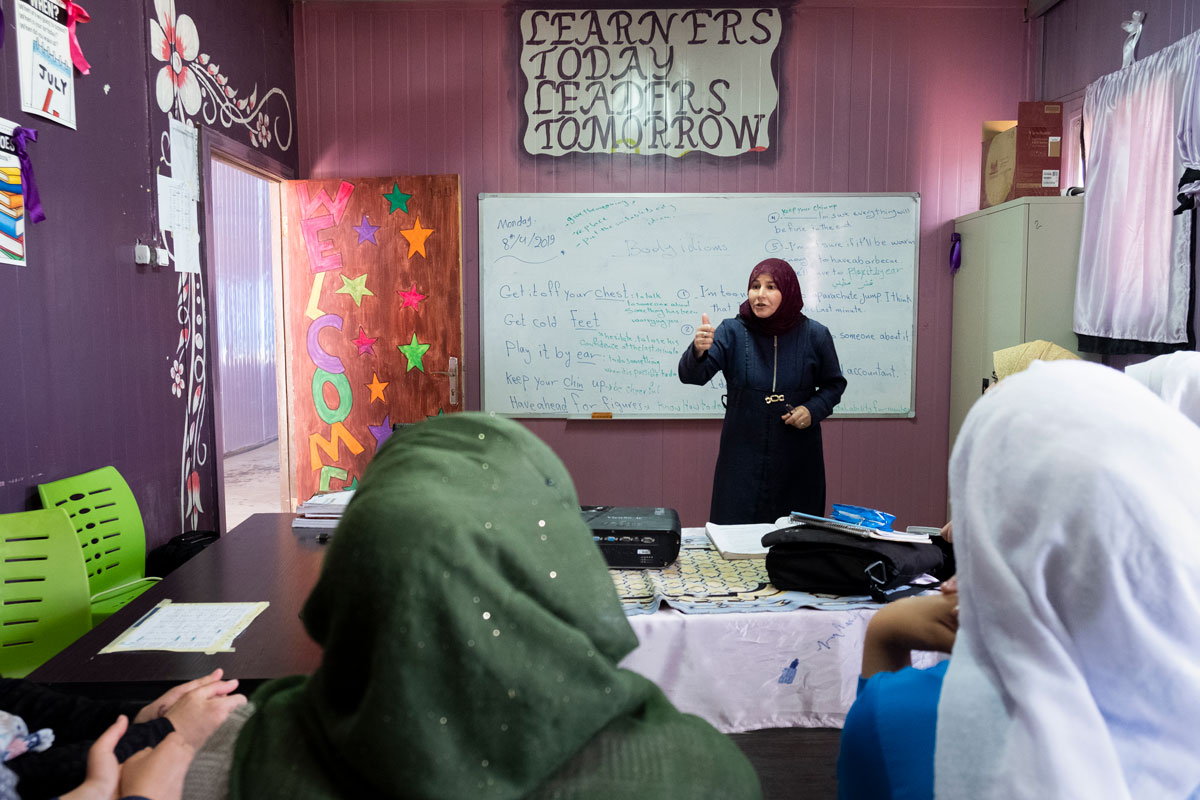 It is notoriously difficult to pass.
In 2014, only 2% of students from both Azraq and Za'atari camps passed the Tawjihi, which served as the catalyst for creating the test prep program. At the end of 2019, 52% of students enrolled in Relief International's Tawjihi prep course passed the rigorous exam, an increase of 50% since the program started.
"Since we started this program, pass rates among our students have skyrocketed in both camps," says Valerie Rowles, Relief International's Country Director for Jordan. "Not only are our students passing the Tawjihi – they're scoring in the top percentiles. This is not just a mark of their success; it is instrumental for securing scholarship opportunities."
But using education to pave a future path outside of the camps is especially difficult under the conditions inside Village 5.
Both Needaa' and Akeel moved into Azraq's Village 5 as teenagers.
"Living here is like living in a prison compared to life back home," shares Needaa' as her voice breaks. "It's hard to survive here with memories of life outside. Most people try to forget everything, including their education. But education was my escape." She and her family have been assigned to Azraq's Village 5 since 2017.
Ever since she can remember, Needaa' was always the first in her class. When she was growing up, her friends and family would jokingly tease her about how she'd grow up to become a doctor or an engineer. However, those dreams were put on hold when the war in Syria broke out in 2011. Despite her family's constant moves, Needaa' never dropped out school. Instead, school turned into her safe haven. In Village 5, her studies provided her with the same solace.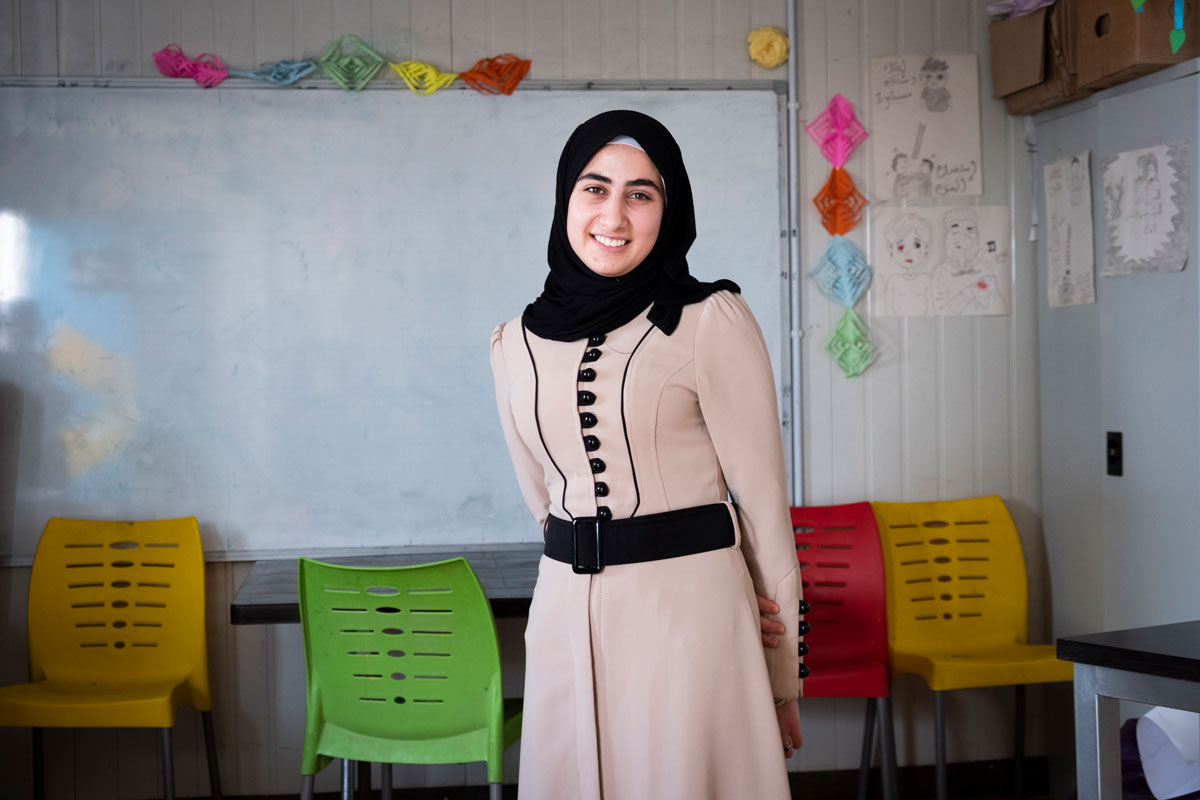 "It's a basic life here," says Needaa'. With little to occupy her time, she turned to studying for the Tawjihi exam as an escape from the daily monotony of eating, sleeping, and waiting for a decision on her family's resettlement. Needaa' studied for upwards of eight hours a day, whenever sunlight or electricity was available.
Needaa' passed the Tawjihi in January 2019 with a grade of 91.3 out of 100 – the highest score in all of Azraq camp.
Despite this accomplishment, it is unlikely that Needaa' will be afforded the opportunity to attend university. Even if she was selected for one of the highly coveted scholarships for Syrian refugees, residents of Village 5 must receive extensive paperwork and security approvals to leave the camp – all of which are excessively difficult to attain. For now, Needaa' remains hopeful that one day she'll be able to become a doctor or an engineer. "The Tawjihi is just the last step that I can achieve here," she says. "Wherever life takes me, I will use my education to get there and continue to build upon it."
"There are a number of talented, smart people in Village 5, but unfortunately there's not much they can do there," shares Akeel, 20, whose family was relocated to Village 5 after making the dangerous border crossing from Rukban into Jordan. "When I lived in Village 5, I lost any and all hope that an education would get me out of there. Now, I feel more hopeful." Three years after arriving to Azraq camp, Akeel's family was resettled to a new metal shelter on the outskirts of Village 2.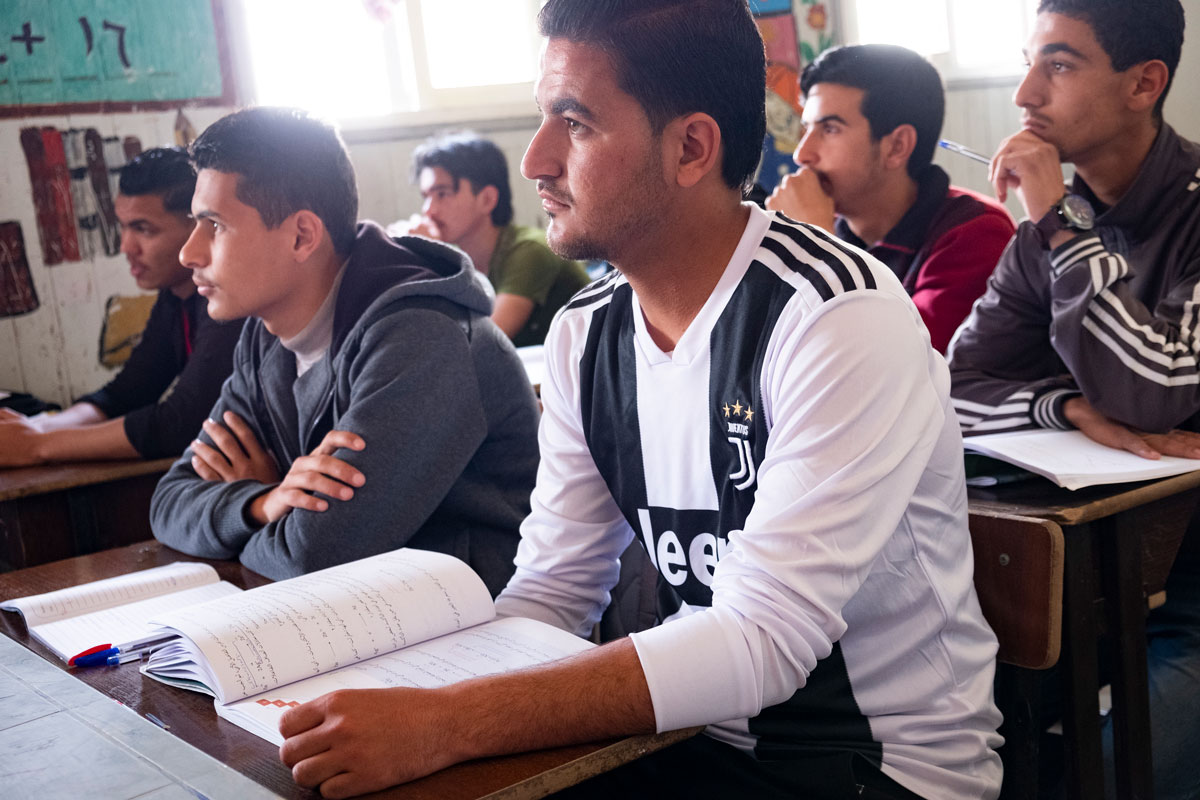 Shortly before the war in Syria broke out, Akeel had just finished the 9th grade. But as fighting closed in on his home in rural Aleppo, he withdrew from school. "I couldn't think of anything – let alone my education," shares Akeel. "I was operating in pure survival mode."
Though Akeel spoke highly of his peers in Village 5, it is a difficult place to thrive. For many reasons, he chose not to resume his education when his family first arrived to Azraq camp. After his family's resettlement, Akeel reclaimed his motivation. He quickly struck up the same routine as his new neighbors and friends in Village 2, meeting them regularly after school to study at Relief International's educational center.
Today, Akeel chooses to visit Relief International's center every day. He spends a minimum of ten hours daily pouring over thousands of pages of material covered on the Tawjihi exam. His family has even designated one of their caravans as his personal study space. He plans to take the Tawjihi in just a few short months, aiming to receive a scholarship to study photojournalism in the fall.
When asked if he's interested in using photography to document humanitarian issues related to the Syrian crisis, Akeel replies, "Syria? No. I hope by then that this will all be over."