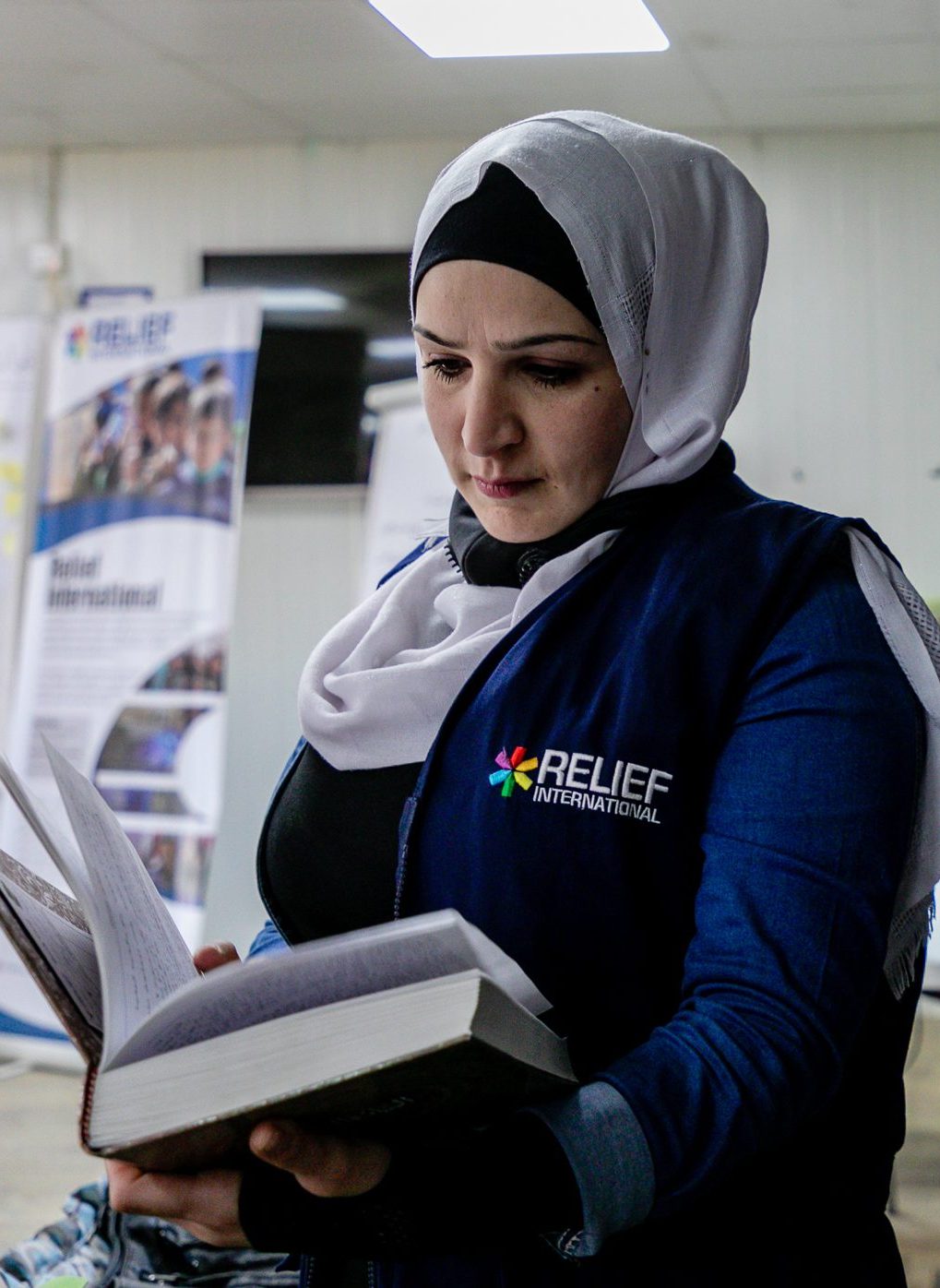 Yara now works at one of Relief International's six libraries in the camps. She says: "I love working at the library, I feel it's like my second home – no, you know, it's even my first home! I feel very relaxed and happy at the library."
Before the war began in Syria, Yara* lived a comfortable life. Like the majority of Syrian women, she was supported by a strong family network, looking after the home and with her husband working to provide for the family. This all changed when the war began and forced Yara to find ways to support her family alone.
"Before the war started in Syria, I was living with my husband in our house with our children. We were happy. We had everything we needed. But then, not long after the start of the war, some armed men came to our house and took my husband away. He never came back. I still know nothing about what happened to him," she says.
"I waited for a year, hoping that he would return but he never did. Then, our house was attacked. We didn't feel safe or have any stability. So, we fled to Jordan."
"The day I decided to leave home in Syria was very hard. While packing I kept crying and thinking of the good days I had when I was happily living in Syria. I kept crying and remembering my childhood and the good life I had and kept thinking how I might never see my homeland again. And now eight years have passed, and I still have no idea if I will ever go back."
Leaving their home behind was only the first step. Yara arrived at Za'atari camp in northern Jordan in 2013 with her three sons and just a few items of clothes. The camp hosts close to 80,000 Syrian refugees. Around 30% of the refugees there are women like Yara who have suddenly found themselves as the head of their households.
"When we first arrived at the camp it was hectic. All the women and children were in one big caravan with lots of beds. We all kept looking at each other and wondering if we were going to stay here and how we would adapt to living like this. But soon after that, each family was given their own independent caravan.
"Once we started to settle in, me with my three boys, I felt somehow happy that I finally had my freedom and independence and that I could start making my own decisions. I felt we could safely build our own nest."
But it did not prove to be easy. Nearly half of the camp's population is of working age and jobs are hard to come by. In 2018, nearly all Syrian refugees in Jordan were living below the poverty line, and female-headed households face additional challenges, with women being passed over for jobs at higher rates.
"I couldn't find work for the first two or three months, even though I had a degree in early education from the university in Syria. It broke my heart not to be able to give my youngest son something tasty like chocolate or a shawarma sandwich. You can't tell a small boy 'I don't have money so I can't buy it,' he couldn't understand," she says.
But Yara was determined to find a way to support her children. "I kept telling myself that there will not be anyone to help us, so I had to gather my strength and take care of us.
"I started registering for different courses to develop and improve myself in order to find a job, so I did a course on how to be a librarian. I managed to get some short-term work, and then eventually I got my current job as a librarian with Relief International. That was four years ago, and I've been here ever since.
"I love working at the library, I feel it's like my second home – no, you know, it's even my first home! And not just a job – I feel very relaxed and happy at the library.
"A lot of people use our library. Of course, our priority is with educational books for students but you would also be surprised how many people from the local community come here to borrow books.
"I have also set up my own initiative to give adult literacy classes and help the local female older community to learn how to read and write. And because I love handicrafts I've been giving lessons to women on how to create things from recycled materials and other crafts."
Relief International runs six libraries in Azraq and Za'atari camps. They were originally set up to help support the 2,000 young refugees enrolled in our educational programs, but the libraries' services are open to all in the camp. Staffed by Syrian refugees, the libraries also provide a means of employment for some of the people living in the camps.
Finding work was not only crucial financially for Yara but it has also given her the strength and confidence to cope with her situation.
She says, "When the conflict first started, I was very weak and shy, I was feeling hopeless and worried all the time because I didn't know what will happen next. But after I started working and became independent, I started to realize that I must try my best to make myself stronger – and make my children stronger.
"Life over the past eight years has changed so much. The difference between the first years and now are 90% different. I take decisions with less fear and with more confidence.
"But to be honest I still face challenges – especially being a single mother. It's hard, because in our culture a single woman is considered weak, and people sometimes try to take advantage of her. Even leaving the house to run an errand was not something we could do alone.
Relief International runs Early Childhood Development Centers in the refugee camps in Jordan, which provides childcare to help make it possible for women to work and study.
"I would love to send a message to any single mother out there who doesn't have support, to be strong and try her best to have hope in the future. She needs to know that – the same as a man – she can support her children on her own and stay strong."
Yara's story is part of our series highlighting the lives and incredible resilience of Syrians affected by a decade of war.
*Name changed to protect identity.
I would love to send a message to any single mother out there... she needs to know that – the same as a man – she can support her children on her own and stay strong."