As the novel coronavirus continues to spread globally, we know that refugees, families displaced from their homes, and the people we serve in the world's most fragile settings will be hit hardest by this outbreak.
The virus has impacted all of the sixteen countries where Relief International works, and we are ramping up our response to COVID-19 in these fragile settings, including Iran, Syria and Yemen. Our teams are on the frontline every day.
Read the latest updates on our COVID-19 response:
BANGLADESH: RI's team at our primary healthcare center in Cox's Bazar have been working hard over the last month administering the COVID-19 vaccination to refugees aged over 55. Our community health workers have played an important role,  mobilizing the community to come forward for their vaccination after the country saw rates increase at an alarming rate. Our center is one of 56 sites across Cox's Bazar delivering the vaccine with 86 percent of over 55s now having received their first dose. The vaccination program is one part of the Government of Bangladesh's plans to roll out vaccinations across the whole country, which has now thankfully seen cases take a downward turn.
BANGLADESH: As COVID-19 cases surge with Bangladesh recently seeing record single-day COVID deaths, RI continues to provide vital healthcare for the local communities and Rohingya refugees in Cox's Bazaar. At RI's hospital our COVID-19 treatment facility all 132 beds are currently being used, providing life-saving care in the isolation unit. In addition to medical care for patients, our unit is running a 24 hour laboratory service and a COVID sample collection site, as well as a 24 hour pharmacy and extensive outreach into the communities.
JORDAN:

After nearly two years of hard work, 67 Relief International students in Jordan's Za'atari refugee camp graduated this week with their 10th grade certificates.

 RI's program has supported the students who have missed three or more years of school after the war in Syria forced them to flee to Jordan.  This year's students have also faced the incredible challenge of accessing classes during the COVID-19 pandemic.

Our staff and teachers put in place a range of ways to make sure students could continue their education, including filmed videos and presentations. We also worked to make all coursework and lessons available online for our students. This way, our students could access videos recorded by their teachers, daily assignments, and the resources they needed to succeed.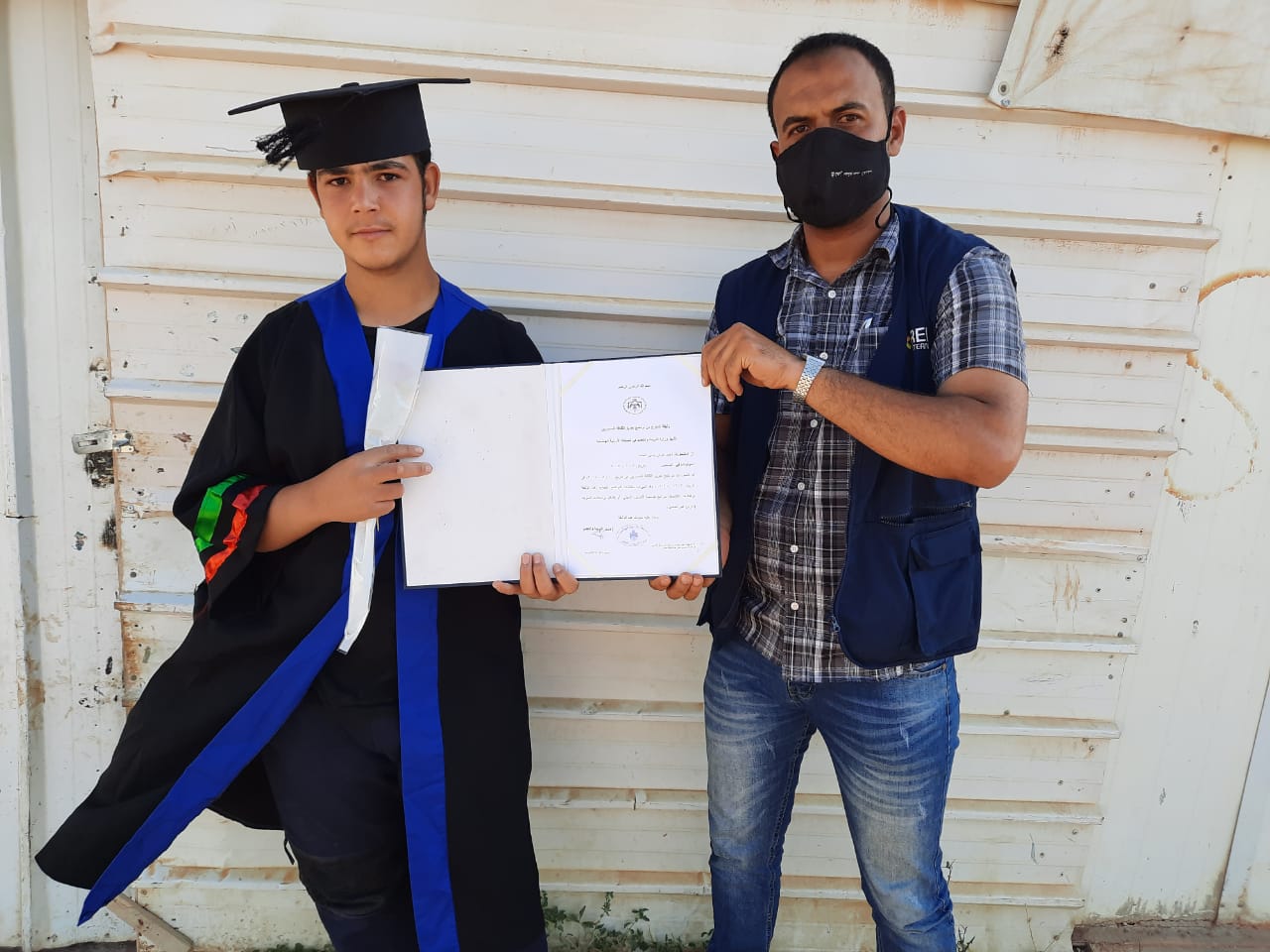 PHILIPPINES: Women in Lanao del Norte and Maguindanao provinces of Mindanao in the Philippines are producing PPE and supporting the COVID-19 response as part of a new Relief International initiative, 'We Work.' Together with its partners, Relief International implemented this new project to increase health support and empower women in vulnerable communities that have been affected by the pandemic. The project has also raised awareness on COVID-19 and its risks and aims to inform communities on mitigation measures and strengthen women's resilience.
PAKISTAN: Relief International has implemented an integrated, multi-faceted COVID-19 response to address the immediate health, food, and protection needs of Afghan refugees in Pakistan. Afghan refugees face several barriers to accessing information and assistance and the majority are often ill-equipped during crises like Covid-19. In order to raise awareness on COVID-19 and its preventative measures Relief International has worked alongside other organizations to create information materials based on the WHO's guidelines. Over 10,000 flyers, 2000 posters, and 100 banners have now been disseminated in targeted villages and 93 trained volunteers have also shared these electronically via WhatsApp networks. To spread these critical messages even further, Relief International engaged local radios and sent four mobile vans to the various villages to broadcast loudspeaker announcements on COVID-19 awareness and prevention.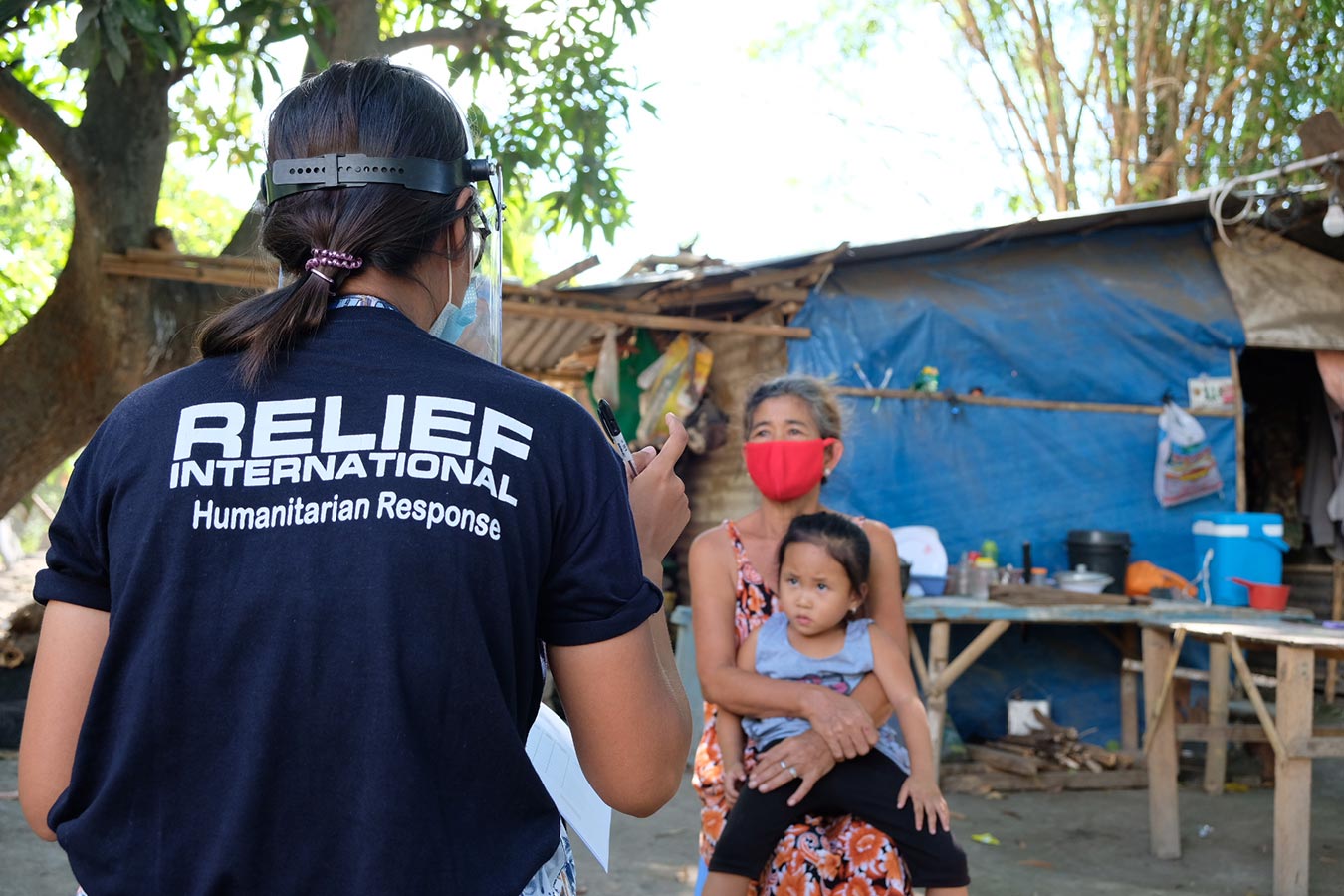 LEBANON: Relief International is regularly in touch with COVID-19 patients in Beqaa, Lebanon. Our staff on the ground are distributing health supplies, equipment, and PPE to where it is most needed, and our community health workers also regularly visit patients like Jamil Ismail, photographed here, who are isolating at home. During these visits, our staff is able to check patients' health but also provide moral support to help them cope during this difficult period. Most recently, we have also integrated a mental health component into our program, which allows hired psychologists and psychiatrists to provide mental health services over the phone to COVID-19 patients and their families.
TURKEY: Murad, a 20-year-old Syrian refugee, is the sole earner in his household, however, the Covid-19 restrictions have reduced his work hours and he is now struggling to make ends meet and provide for his family. The pandemic has made him increasingly anxious as he remains confined to his home worrying about contracting COVID-19 and the financial damage it could cause his family. Thanks to Relief International's photography and storytelling workshop initiated in conjunction with local mental health centers, which Murad attended prior to the pandemic, Murad is able to express himself using storytelling methods when drawing, an activity that helps rid him of his anxieties and negative thoughts.
IRAN: For Zahra, a fifth-grade student in Iran who lives with a hearing impairment, it's been difficult to stay on top of her studies after her school shutdown to prevent the spread of COVID-19. Often, she borrows a family member's phone to tune into her classes, but this access isn't always reliable. Now, thanks to Relief International, Zahra is one of many students who received a tablet device, helping her to stay on top of her school work.
PAKISTAN: Hand washing is essential for preventing the spread of COVID-19. On Global Hand Washing Day, our teams provided training and critical information about how to prevent the spread of COVID-19 to children enrolled in our education program.
LEBANON: Hospitals are nearing capacity as the total number of confirmed COVID-19 cases rises to nearly 50,000. Our teams have delivered much-needed medical equipment for the treatment of critical cases to staff at the Elias Hrawi Zahle Governmental Hospital in Bekaa Valley.
MYANMAR: In response to the global pandemic, our teams are on the ground in Rakhine, setting up screening checkpoints and isolation centers to prevent the spread of COVID-19 in this fragile pocket of the country.
JORDAN: Despite the challenges this school year, hundreds of our students in Jordan's Azraq and Za'atari refugee camps and in neighboring host communities just passed the country's rigorous Tawjihi exam to graduate from high school. This year, 259 of our students passed the exam, with many scoring above 90%!
LEBANON: Relief International is responding in the aftermath of the powerful explosions that sent shockwaves across Beirut last week. Our teams on the ground have donated personal protective equipment, or PPE, and critical medical supplies to two hospitals located on the outskirts of Beirut who are treating victims of the explosion while also grappling with a spike in COVID-19 cases.
YEMEN: The country was labelled the world's worst humanitarian crisis before the pandemic. Now, the outbreak of COVID-19 is pushing families to the brink. In Yemen, our teams are working nonstop to keep our current health programs up-and-running, especially in remote areas of the country.
Relief International - Syrian Refugees Embrace E Learning Amidst COVID 19

Relief International - Syrian Refugees Embrace E Learning Amidst COVID 19
TURKEY: "There are no jobs, no income," shares Ahmad, a Syrian refugee who describes the challenges his family faces amidst COVID-19. Like Ahmad, many Syrian refugees were the first to lose their jobs during the pandemic. Our teams are distributing nearly 2,000 food and hygiene kits to refugee families to help them survive this difficult time.
PHILIPPINES: In the shadow of the pandemic, many families are struggling to rebuild their lives after the Taal volcano erupted six months ago. Our staff are working to provide families with a lifeline through cash assistance, which will allow them to meet their most urgent needs. Pictured below, Relief International staff conduct a needs assessment with a family from the village of Adia.
IRAN: Even before COVID-19, Iran experienced shortages of medical equipment. We are supporting the local production of personal protective equipment, or PPEs, such as masks and gowns in Tehran. This project not only supplies critical protective gear for frontline health workers, but it also provides women in already difficult circumstances with enough money to support their families during this difficult time. Watch as Reyhaneh explains how she's making a difference in the fight against COVID-19.
Relief International - Afghan Refugees Make PPE in Iran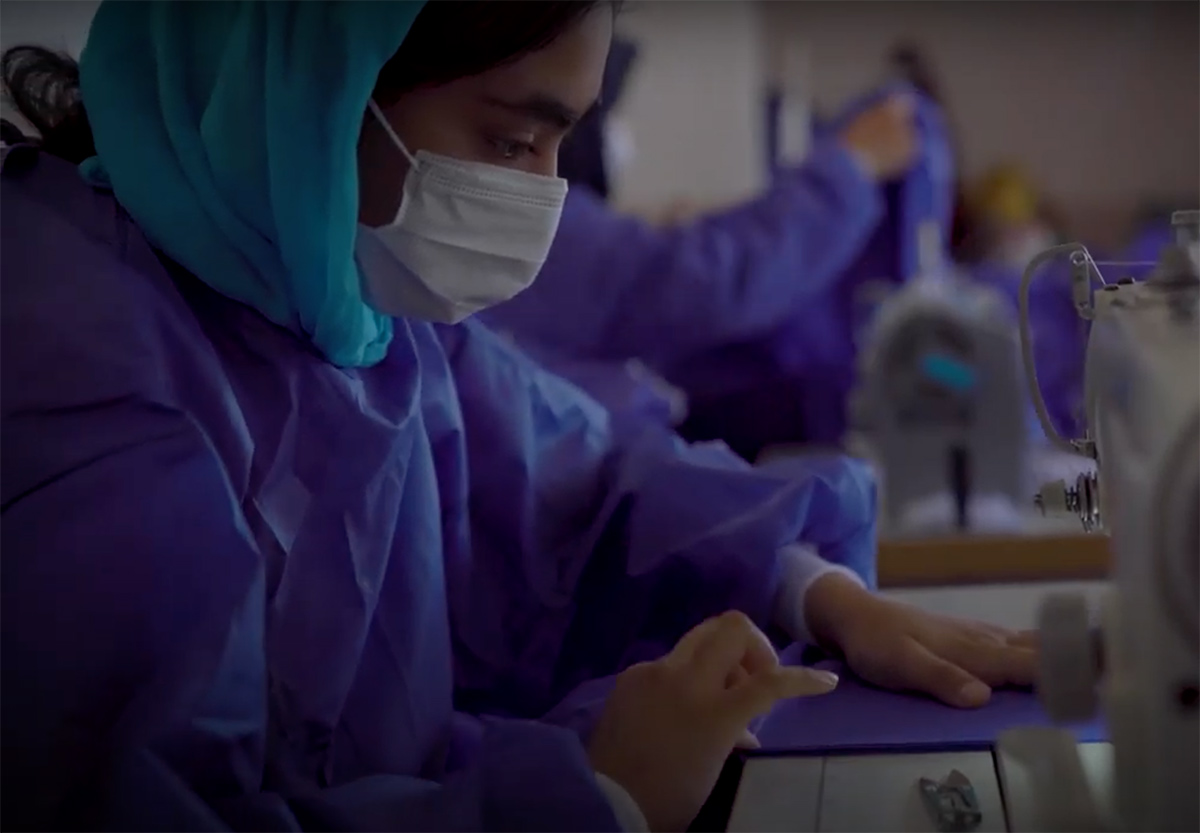 Relief International - Afghan Refugees Make PPE in Iran
AFGHANISTAN: Before the first case of COVID-19 was confirmed in Afghanistan on February 24, our teams on the ground were already ramping up our response. Four months later, the vast majority of cases of COVID-19 are going untested and unreported.
SOUTH SUDAN: The country continues to be gripped by conflict and hunger, and now the novel coronavirus. Since the COVID-19 pandemic was declared, we have been ramping up our response to prevent the spread of the virus in remote areas. Below, our health team in Maiwut sets up a screening area for patients with possible symptoms.
SOMALIA: Few countries are less prepared for a COVID-19 outbreak than Somalia. We are continuing to provide vital healthcare services at ten facilities located in high risk areas. Pictured here, Relief International staff use an infrared thermometer to check a patient's temperature during a visit to a health facility in Hiraan, Somalia. Read our latest project update here.
Relief International discharges first ten patients from COVID-19 center in Cox's Bazar, Bangladesh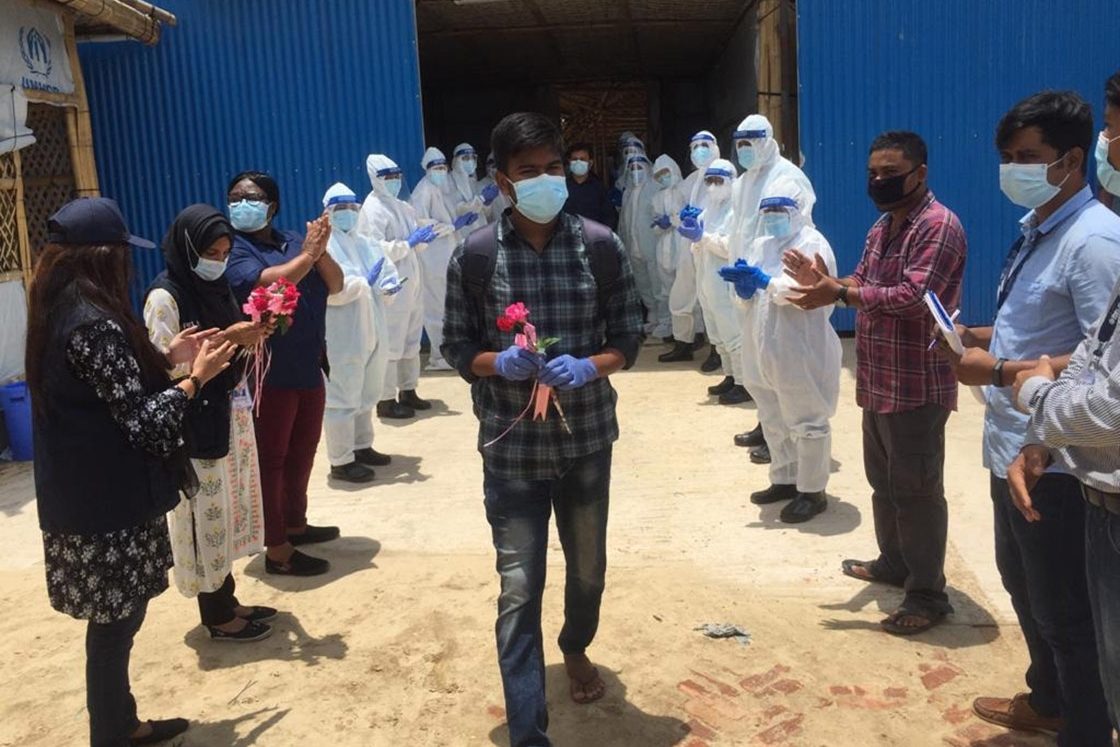 Relief International discharges first ten patients from COVID-19 center in Cox's Bazar, Bangladesh
SUDAN: Equipped with masks and gloves, community health workers trained by Relief International are going door-to-door to share information on COVID-19 with refugees, families displaced from their homes, and local Sudanese families living in Blue Nile State.
TURKEY: While our physical rehabilitation centers remain closed to prevent the spread of COVID-19, our staff are using telehealth to conduct physical therapy sessions online to help patients recover from their injuries. "I show the patients various body movements and ask them to repeat them in front of the camera," shares Relief International's physiotherapist Riad Almasri. "Sometimes I send videos showing the physical movements, and we do them together."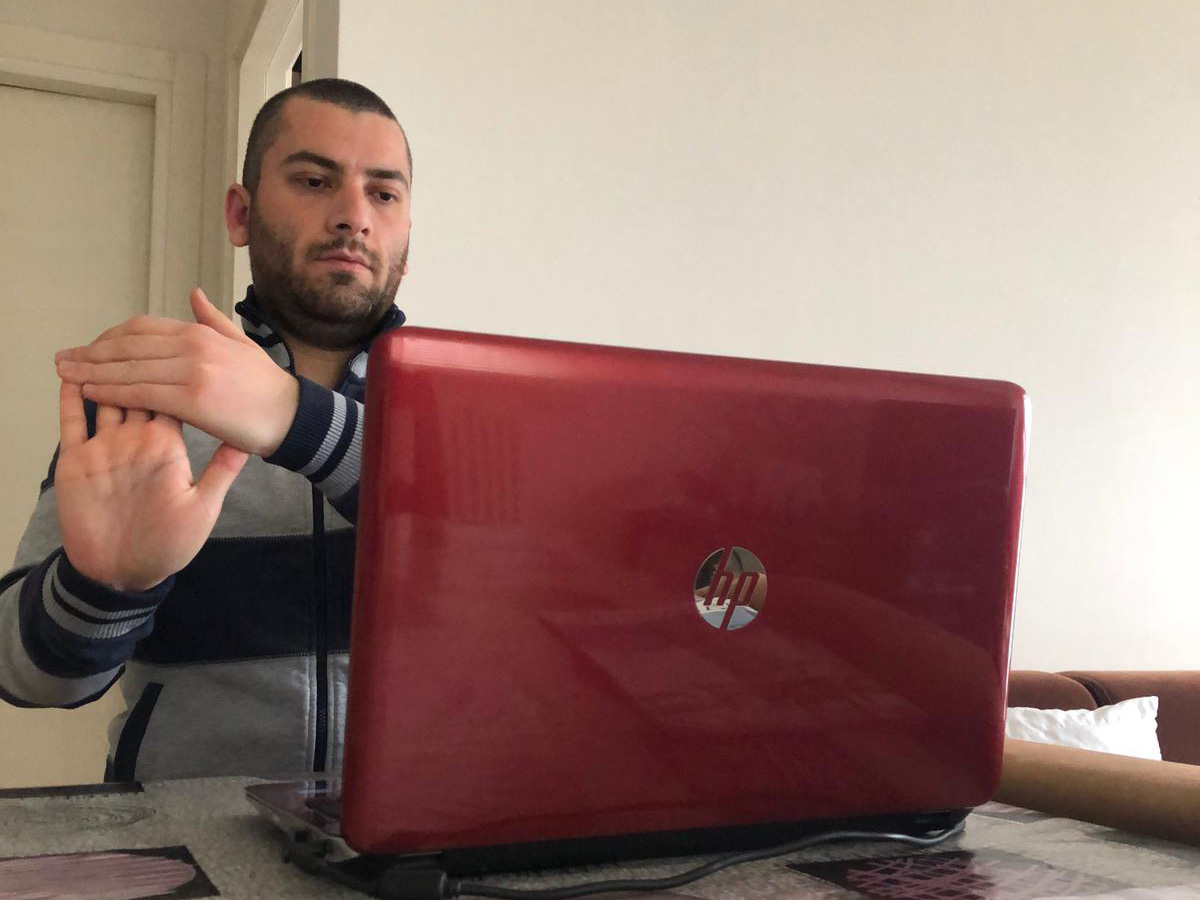 COX'S BAZAR: Just weeks after the first case of COVID-19 was confirmed, the Bangladeshi district of Cox's Bazar has reported more than 700 new cases, including nearly 30 in the world's largest refugee camp. The camp is more densely populated than some of the world's busiest cities, heightening fears for a catastrophic outbreak of the deadly virus. As the number of infections continue to rise, Relief International has received its first 25 patients at our new isolation and treatment center, providing both Rohingya refugees and local Bangladeshis with potentially life-saving care. Read our latest statement here.
IRAN: Relief International's Monitoring and Evaluation Assistant Azadeh Shafiei, pictured below, shares information about hand washing as she distributes hand sanitizer to men, women, and children living in an Afghan refugee settlement in Iran's Yazd province. This information is critical for protecting families in already vulnerable situations against COVID-19.
BANGLADESH: On May 20, Cyclone Amphan, one of the fiercest cyclones to make landfall in Bangladesh, tore through the country's Sundarbans Mangrove Forest. Shortly after the forest was declared an UNESCO World Heritage site, Relief International began supporting local artisans as they work to establish themselves as one of Bangladesh's top eco-tourism destinations. This latest disaster will be devastating for the people we serve in the Sundarbans region who have long relied on the forest for their lives and livelihoods.
COX'S BAZAR: One week after the first confirmed case, Relief International opened our 144-bed isolation and treatment center for Rohingya refugees and local Bangladeshis who have tested positive for COVID-19. Pictured here, our staff take a tour of the center for the first time.
Photo Gallery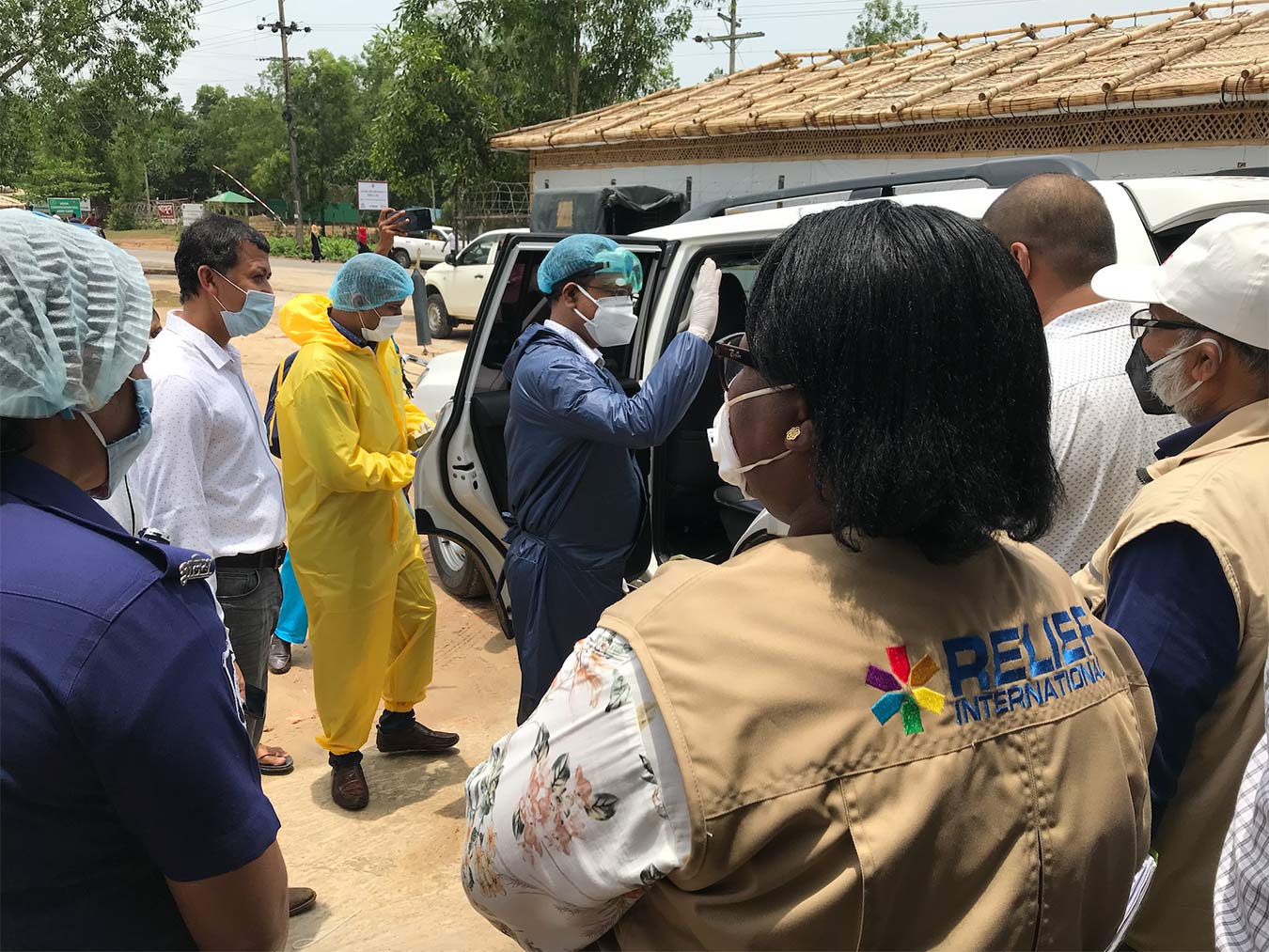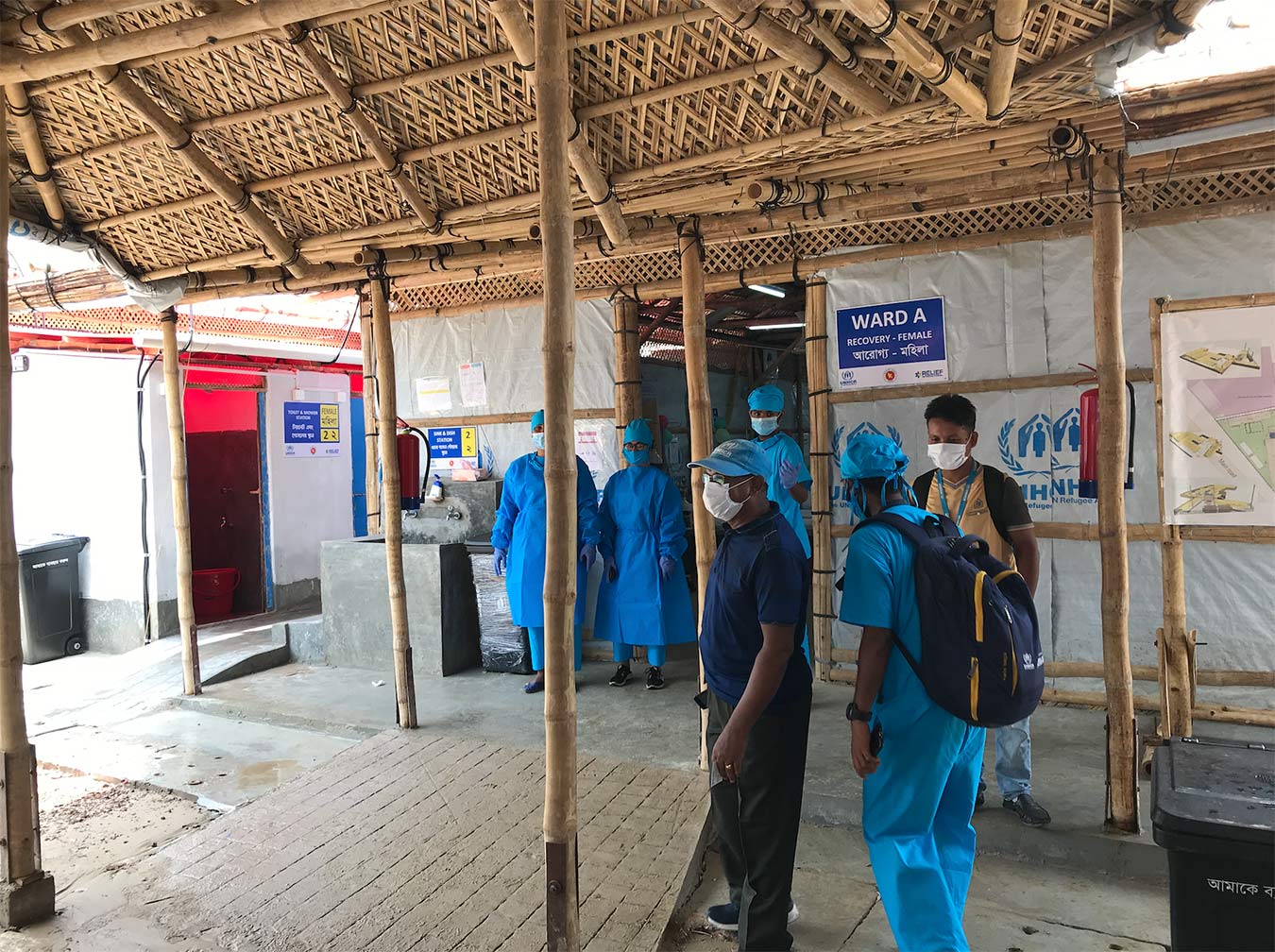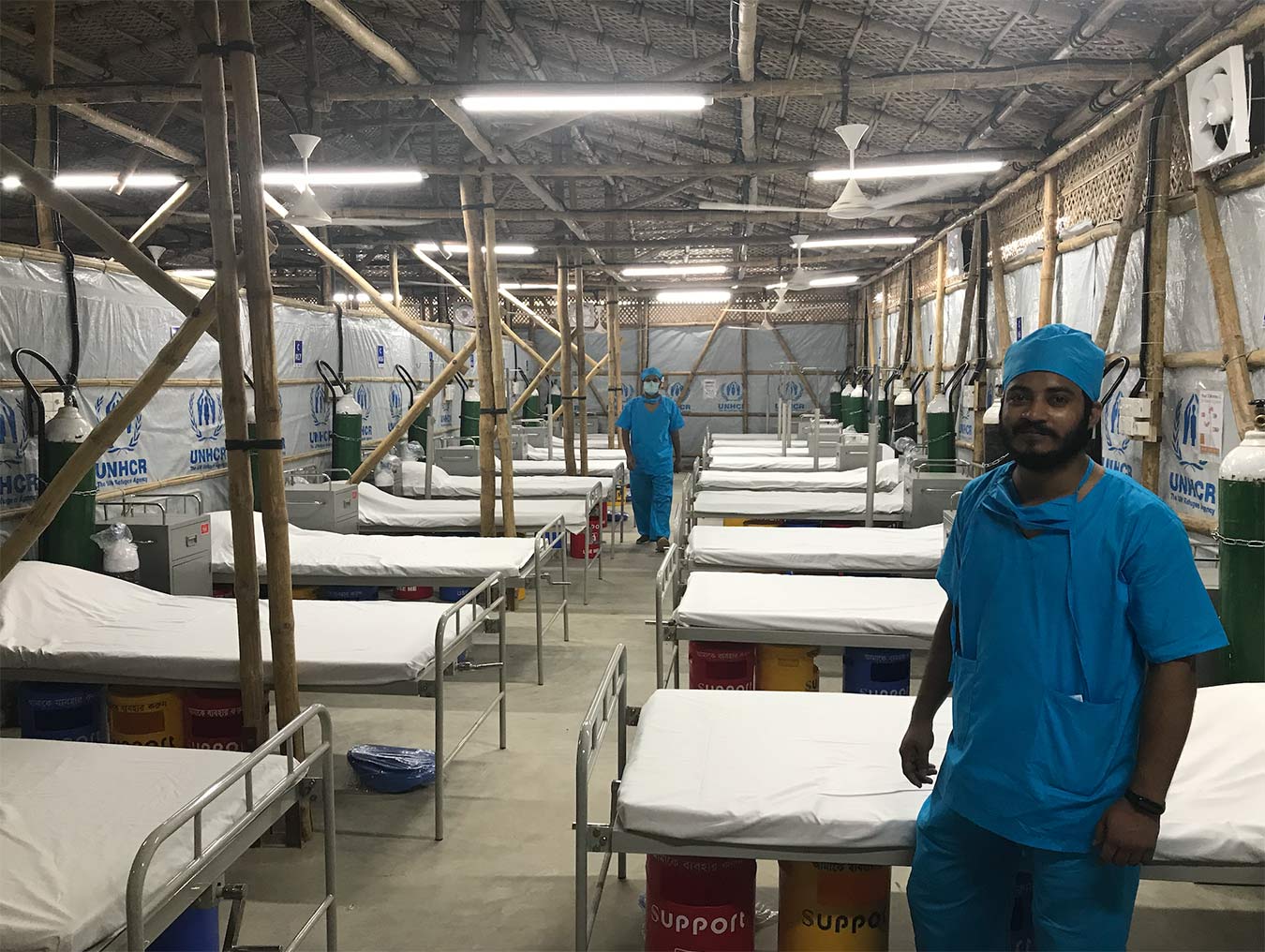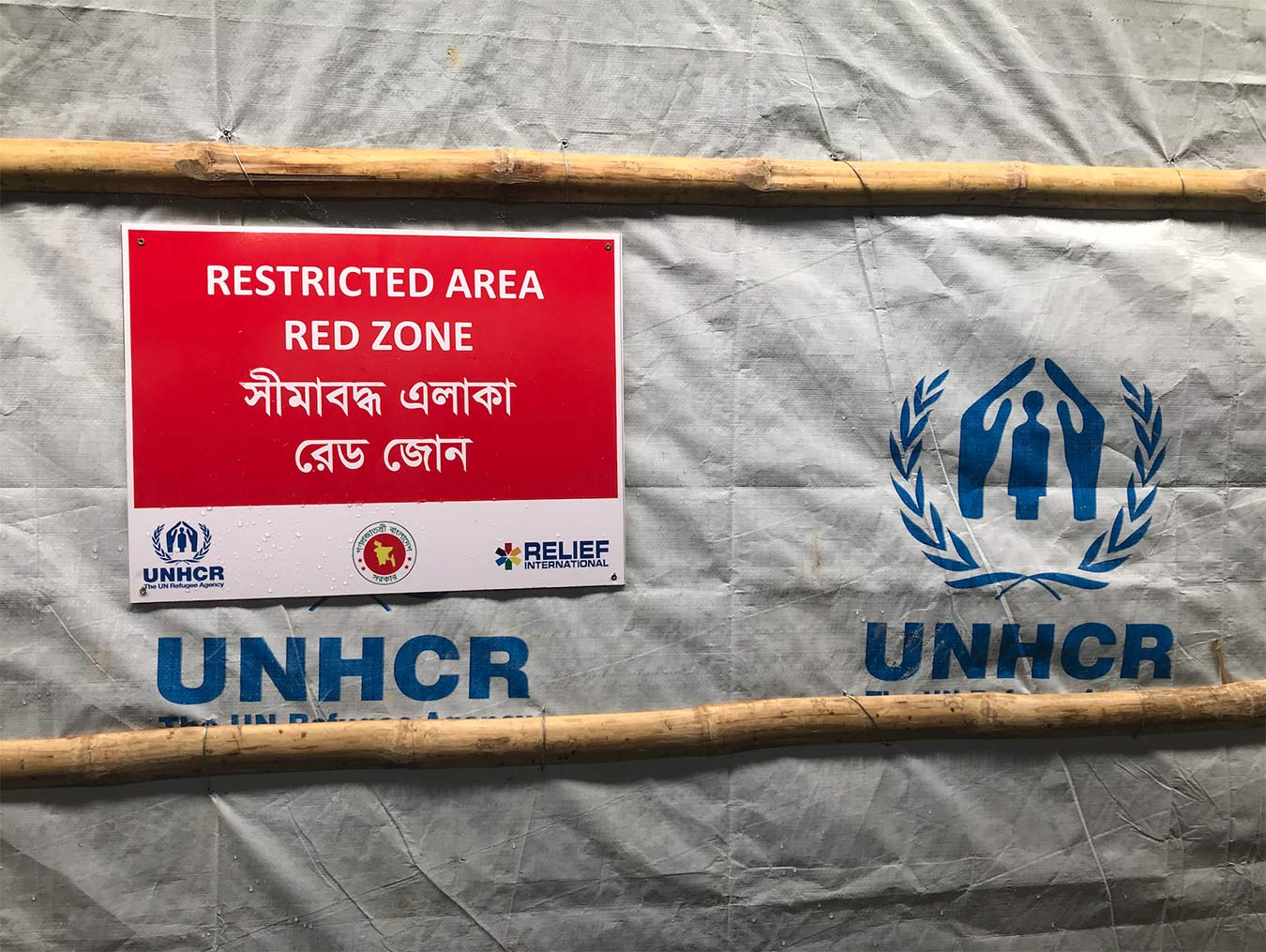 COX'S BAZAR: On May 14, the first case of COVID-19 was confirmed in the world's largest refugee camp in Cox's Bazar, Bangladesh. In anticipation of a major outbreak spreading to the camp, our teams constructed a 144-bed isolation and treatment center for COVID-19 patients with serious complications. It is the largest center of its kind in Cox's Bazar.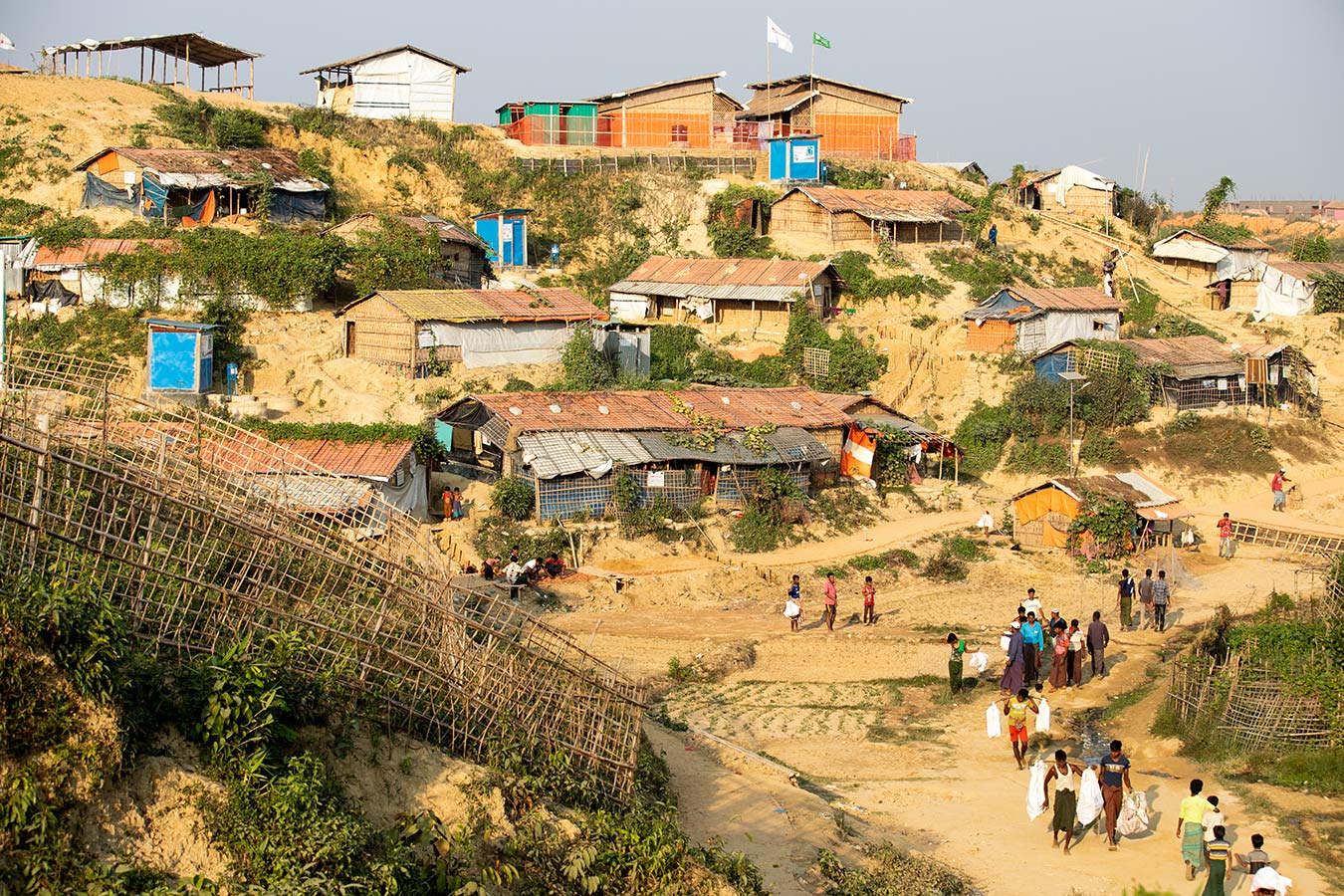 TURKEY: The country is home to more than 3.6 million Syrian refugees. Since the outbreak of COVID-19, many refugees have lost their jobs—and only means of supporting their families—as the country orders a strict lockdown to prevent the spread of the virus. Our teams on the ground are working to continue supporting our patients, many of whom are living with war-related injuries, by delivering care packages filled with food to refugees' homes.
IRAN: On May 11, Relief International's Country Director for Iran Olivier Vandecasteele shared an update on our response to the major coronavirus outbreak unfolding inside the country. Watch his video message below:
Message from Olivier Vandecasteele, Iran Country Director: COVID-19 Update, May 11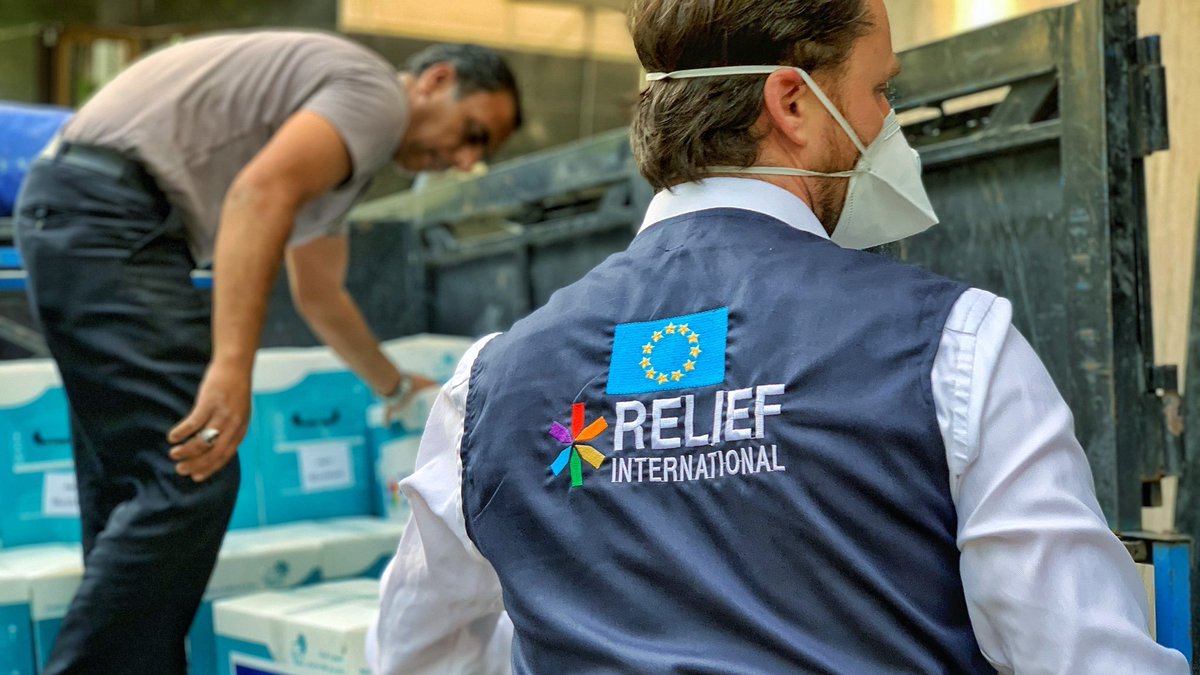 Message from Olivier Vandecasteele, Iran Country Director: COVID-19 Update, May 11
SOUTH SUDAN: Relief International is one of the largest providers of healthcare in South Sudan. Since the outbreak of COVID-19, we have opened six new health clinics to support refugees living in Upper Nile State. We are also training our health staff to recognize COVID-19 symptoms and refer these patients for isolation and treatment.
PAKISTAN: Our teams are working hard to continue providing life-saving aid safely. We are working with Afghan refugees living in Peshawar who will be hardest hit by COVID-19. Last week, families stood six feet apart as they received hygiene kits filled with soap, hand sanitizer, and masks.
YEMEN: On April 10, Yemen confirmed its first case of COVID-19. Hospitals and clinics inside the country have been destroyed or damaged by the country's ongoing civil war. Other remaining health facilities are severely under-resourced, suffering from shortages of essential drugs, medical staff, and basic equipment like ventilators. Our teams on the ground are working to strengthen infection prevention and control measures in preparation for a major outbreak of COVID-19.
PHILIPPINES: During the coronavirus pandemic, the Philippines is also struggling to contain an outbreak of polio. Below, our teams in the Philippines provide information to families on the island of Mindanao about how to protect themselves against both viruses.
SOMALIA: Last year, families living in Somalia's Hiraan region experienced the worst flooding in recent history following the seasonal Deyr rains. Now, they are struggling to rebuild their lives amidst a global pandemic. Our teams on the ground are providing hygiene kits to families at the greatest risk of contracting the virus. We are also working in villages throughout the region to teach families how to best protect themselves against COVID-19 through hand washing and social distancing measures.
AFGHANISTAN: It is clear that the coronavirus doesn't respect borders or boundaries. We have set up screening points along Afghanistan's border with Iran to identify patients with symptoms of COVID-19.
IRAN: Amidst a global shortage, our teams in Iran are working nonstop to import personal protective equipment, or PPEs, to protect nurses, doctors, and health workers working to treat patients. Below, our teams unpack a box filled with gloves, goggles, masks, and a full-body protective suit.
MYANMAR: Handwashing is essential for preventing the spread of the coronavirus. In Myanmar's Rakhine State, we have established handwashing stations in four townships.
IRAN: It is crucial to test people for coronavirus. Our teams in Iran have worked nonstop to import 40,000 diagnostic kits to test patients for the virus.
SYRIA: On March 23, the first case of COVID-19 was confirmed in Syria. In one of the most challenging contexts in the world, Relief International is preparing our health facilities to handle an influx of COVID-19 cases by purchasing supplies, including pharmaceuticals, PPEs, and other medical supplies.
JORDAN: On March 18, Jordan went into mandatory lockdown to prevent the spread of COVID-19. But, our teams are adapting our education programs to online learning so that our Syrian refugee students do not have to put their educations on hold, yet again.
GLOBAL: On March 11, the World Health Organization declared the COVID-19 outbreak a global pandemic.
IRAN: The country has quickly become a regional epicenter for COVID-19. On March 2, our teams received our first shipment of goggles, gloves, and masks for frontline health workers.
IRAN: On February 19, the country reported its first case of COVID-19. Our teams are working nonstop to purchase protective medical equipment for frontline health workers.