Iran was one of the first major epicenters to emerge in the global COVID-19 pandemic, and is now facing a second surge of cases, with daily records reaching new highs. New reported infections averaged more than a staggering 3,000 a day in the first week of June. This figure has dropped slightly in recent weeks to just over 2,000 cases a day — a caseload that is still extremely concerning.
"The Iranian health system has been pushed to the brink and health workers are exhausted after battling the virus these past six months," shares Relief International's Country Director for Iran. "It's more important than ever for them to have the protection they need to do their jobs safely. We cannot beat this virus without it."
Relief International has imported tens of thousands of masks, gloves, hand sanitizer, and other protective medical gear into Iran. However, shipments can be delayed for days or sometimes even up to a few weeks as a result of strict international sanctions.
As COVID-19 surges across Iran, our teams are adapting our model to produce personal protective equipment, or PPEs, locally. This will cut down on shipment delays and deliver critical supplies to health workers in record time. Below, Reyhaneh, an Afghan refugee enrolled in the new program, shares what it's like to respond on the frontlines against coronavirus.
"Before the pandemic, we used to make coats but now we make hospital gowns and masks," shares Reyhaneh. Watch this 2-minute video to go inside our response to the COVID-19 outbreak in Iran:
Relief International - Afghan Refugees Make PPE in Iran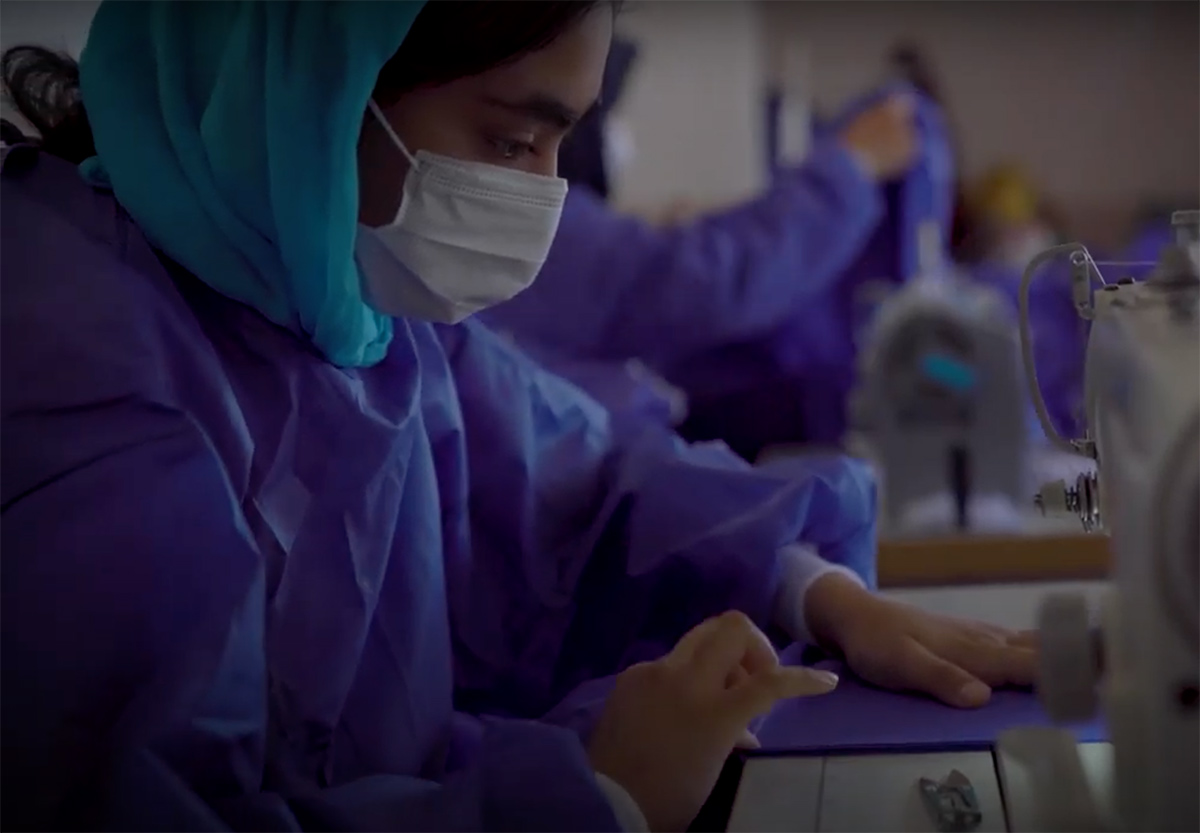 Relief International - Afghan Refugees Make PPE in Iran
Reyhaneh is a refugee from Afghanistan who has lived in Iran for more than twenty years. She is one of hundreds of women, the majority of whom are also refugees, enrolled in our new program who are using their tailoring skills to make protective medical gear for frontline health workers battling against COVID-19.
This program is not only important for preventing the spread of COVID-19, but it also offers a lifeline for refugees like Reyhaneh as they work to support their families during this difficult time. Refugees, especially in the fragile settings where Relief International works, were the first to lose their jobs amidst the global pandemic. This reality has hit women-headed households particularly hard. Now, the women enrolled in this program are able to use their talents to support frontline health workers while also providing for the needs of their own families.
"Refugees have been — and will continue to be — a big focus of Relief International's work in Iran. For us, it's about empowerment."
Learn more about our response to COVID-19 in Iran and the other fragile settings where we work — by reading firsthand accounts from our teams on the ground.